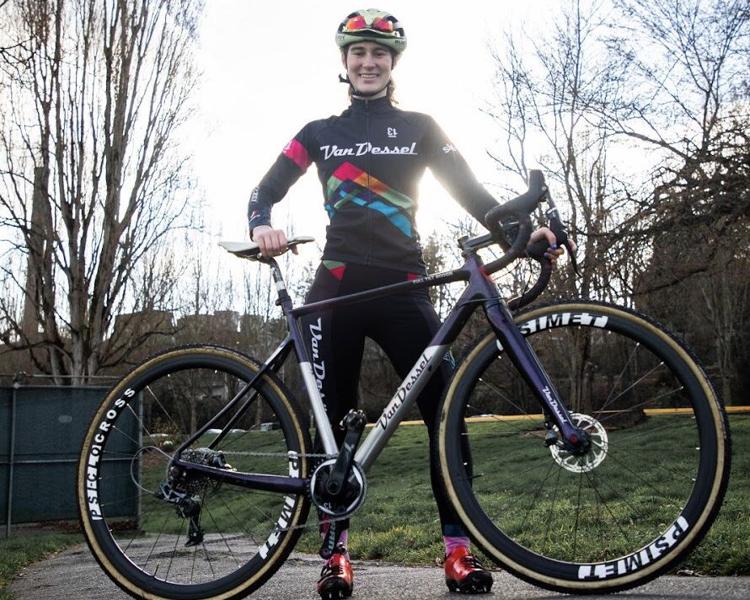 Being covered in mud, run over by bikes, and hit with torrential downpours is just another day of competing in cyclocross for Shannon Mallory. 
A senior at the UW, she has been competing in cyclocross — a mix of road biking and mountain biking — for almost a decade including throughout her time in college.
"Cyclocross is kinda the cross country running of cycling," Mallory said.
A cyclocross course could have anything from sand, hills, and roots to anything the race promoter wants as an obstacle. It is usually a three to five kilometer loop with the races lasting between 30 minutes and one hour. 
"Whenever you're doing a local race then it's perfectly common to have beer handouts," Mallory said. "[At races there are] parties and everybody is just in weird outfits, it's so much fun."
When Mallory was just a little girl, her father took her, along with her three brothers, to a local cyclocross event in her hometown of Bellingham, Washington. Following that race, Mallory was hooked. 
One of her favorite memories during her cyclocross career came from her first race with her best friend. 
"My favorite memory is me just sprinting against my friend," Mallory said. "And this crazy guy in a clown suit just running ringing a bell right next to me screaming, it was the weirdest thing." 
Mallory has been serious about cyclocross since she went to nationals for the first time at 14-years-old. In the nine seasons since, the senior has competed in 189 official cyclocross races. She has 44 wins overall and finished in the top 50% of her races 135 times.
Cyclocross training revolves around high intensity workouts due to the short nature of the races and technical skills practice such as sprints and dismounts of the bike. 
"Normally during the season, [I do] only about 10 hours of training [per week]," Mallory said. "But then during the off season it gets up to like 15 or 20 hours [per week] but never that much." 
Mallory competed for Team USA at the Union Cycliste Internationale Cyclo-Cross World Championships in Switzerland on Feb. 1. She ended up finishing 27th in the under 23 (U23) women's category at that race. 
The cyclocross course can have a large impact on how well competitors do at the race. Some courses involve tight corners, while other courses involve repetitive motion from slowly going through substances such as sand or mud. It's not like basketball where the courts are all the same; each course is different and unique in its own ways. 
"[Worlds] was at an airport, there [was] six inches of mud," Mallory said. "It was terrible, you just go and then you just get stuck. So you're just spinning your wheels trying to get through the mud and it's just faster to run. That's always so depressing whenever it's faster to run your bike then actually ride it." 
This was Mallory's last race in the U23 section, but she plans on continuing her cyclocross career after graduating. 
"I am now officially in the elite field," Mallory said. "So I hopefully will be able to return to the World Cups and World Championships for elite women within the next three to four years just give myself a little bit of time to develop because it's a little bit different when you're not U23." 
Reach contributing writer Nathan Mathisen at sports@dailyuw.com. Twitter: @nathan_mathisen
Like what you're reading? Support high-quality student journalism by donating here.