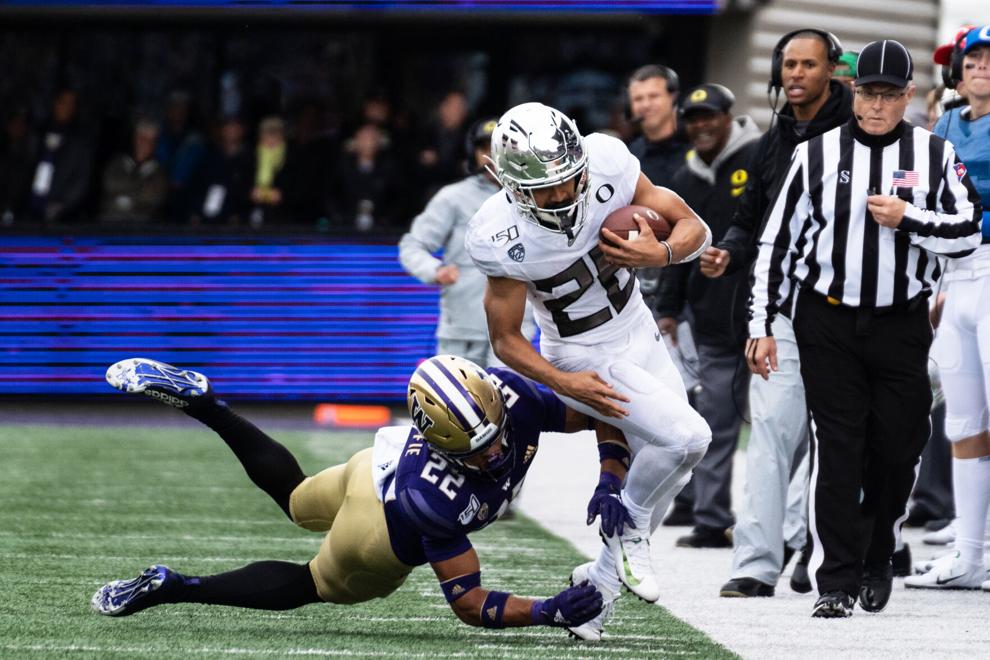 After three weeks of undefeated play, the Washington football team finally slipped up, losing its first game of the season to Stanford last weekend, 31-26.
With an Oregon loss occurring later in the evening, a Washington win would have secured the Pac-12 North title. Instead, with a game to go, all of the marbles are still on the table, and the Huskies (3-1) travel to Eugene to face the Ducks (3-2) for their first road game of the season. A win would put Washington in the Pac-12 title game against either USC or Colorado, while a loss would send them to a consolation game, likely against Washington State.
Before the Huskies travel down I-5 for what is now the Pac-12 North title game, The Daily sat down with The Daily Emerald's sports editor Shane Hoffmann to talk about Ducks football. Here's what he had to say:
Q: Washington fans have become familiar with many versions of Oregon in recent years — what is different this year?
Shane Hoffman: "This is one of the youngest teams in the nation. I think coming into the season most people expected them to be the favorites in the conference. They went 3-0 and they've lost their last two, and the theme has been lack of complete play and culture they had last year. It makes sense, but the expectations versus reality have kind of been a harsh awakening these past two weeks in their back-to-back losses."
Q: Oregon has lost two games in a row — what has gone wrong?
A: "The offense, with the exception of last week versus Cal when it only scored 17 points, has been great. The weird thing is the defense that was so good last year was really struggling: there weren't too many guys making plays, and they were not good in the trenches. All of the turnovers have caught up to them, and it has been a brutal few weeks for the program."
Q: What is different about the Joe Moorhead offense?
A: "It starts with the play-calling. Marcus Arroyo, who had been there the past few years, painfully simplified play-calling. With Moorhead, there's much more creative play-calling. Beautiful run-pass options, quarterback runs, options, and not afraid to take deep shots. It's much more dynamic on paper. The thing with this offense is the skill positions are all talented; matchup nightmares are just about getting the ball out. The weapons are there and the play-calling is there."
Q: How has quarterback Tyler Shough played this season?
A: "He's been kind [of] up and down. Entering last week, he was really high on a lot of statistical boards — he had looked great. Not only was he throwing the ball really well in this Moorhead offense, but the staple of his offense had been quarterback running, and Shough kind of surprised some people with his running ability I think. But the theme is that he was making a few questionable throws every game, or mistakes, then he has two interceptions against Oregon State, and then he really struggles [against Cal]. He definitely had his worst game last week."
Q: The Ducks' defense hasn't been great this year. What's hurting them?
A: "They've definitely gotten unlucky with the turnovers this year, but beyond that, the tackling has been poor this year, just not wrapping up. The most concerning thing is that the defensive line, which is a veteran group, hasn't been making many plays and has been getting pushed off the line every play. So they've been getting gashed on the ground certainly, but there's been some miscommunication in the back-end. They have some guys like Deommodore Lenoir and Verone McKinley, but there's been some missed coverage with the young guys. It starts with the run, certainly, but they have not been great with the pass either, a bit of both." 
Q: The Ducks have two great running backs in CJ Verdell and Travis Dye; what do they bring?
A: "Verdell was the guy and he got kind of knocked up, so he barely played last weekend. [Verdell] is super physical, but he's not very big, but he can break tackles. Travis is the real speedster. They've used Dye a lot in the passing game, and that's where he's been the most effective. Another name is Cyrus Habibi-Likio, who had a touchdown in last year's game. He's only used as a goal lineback, but he's good at what he does. He has an insane amount of touchdowns compared to touches in his career. They'll probably use all three of them again."
Q: Do you have a prediction for this game?
A: "I don't think it will be a particularly high-scoring game. I think it'll be in the twenties, I don't think it gets to the thirties. I'd be shocked if Oregon lost three in a row after starting 3-0, but the way they've played, they haven't made me super confident. I'll say they squeak one out. I hate to pick them just because I feel like a homer, but I've watched enough where I think they have the talent and the pieces that can attack the areas UW is struggling. I think it's something like 24-21 or 27-24."
You can follow sports editor Shane Hoffmann on Twitter at @shane_hoffmann and stay up-to-date on all things Ducks at @ODEsports.
Reach reporter Anthony Edwards at sports@dailyuw.com. Twitter: @edwardsanthonyb
Like what you're reading? Support high-quality student journalism by donating here.