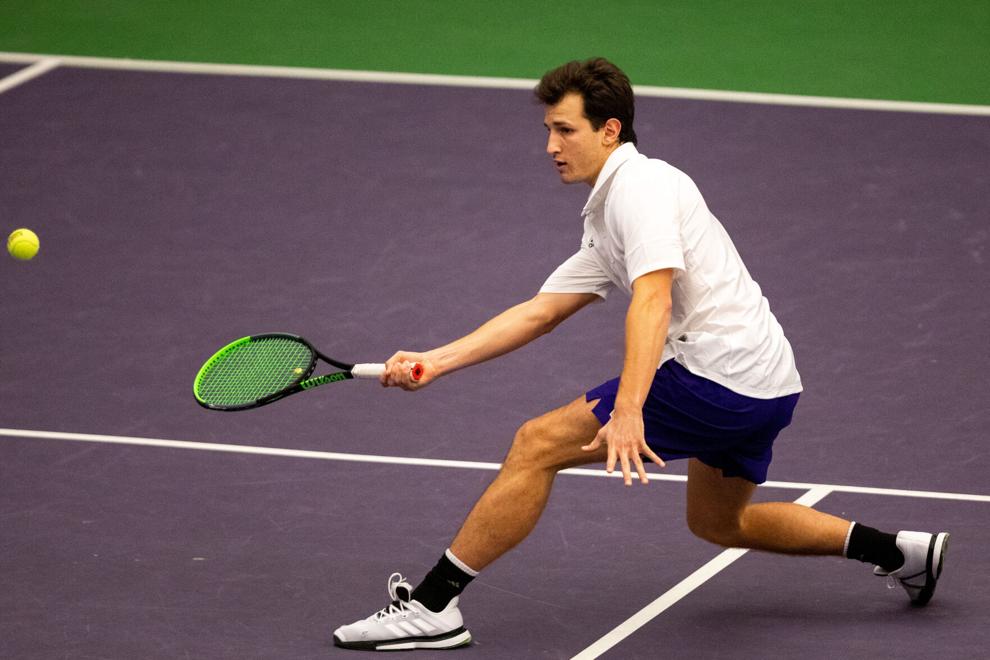 The match was over nearly as quickly as it started, as the Washington men's tennis team rolled to an easy 7-0 over Idaho on Friday afternoon inside the Nordstrom Tennis Center.
Things started nice and smooth for the Huskies (4-2), as they swept all three doubles matches to take the opening point.
Moving to singles, Washington wouldn't take its foot off the gas, as all six matches ended within two sets.
The first match to finish was on court number six, as sophomore Jack Pulliam handed his opponent a bagel and a breadstick, with a 6-1, 6-0 victory. Pulliam has now won three singles matches in a row after opening the season with a loss.
Sophomore Clement Chidekh remained victorious on the season with a 6-1, 6-0 victory on court number one. The transfer from France is now 6-0 in singles and 5-0 in doubles this season.
Junior Jack Davis earned a sweat-free 6-3, 6-1 victory on the second court, his second consecutive victory after a rough road trip earlier this month.
With the overall match already decided, the Dawgs kept firing on all cylinders.
Sophomore Ewen Lumsden and freshman Han-Chih Lin both wrapped up quick straight-set victories, as Lin moved to 5-1 on the season, and Lumsden improved his record to 4-1.
Washington's closest match of the afternoon came on the fifth court, as senior Thibault Cancel split the first two sets with Vandals (0-2) opponent Vivek Ramesh. With the match already decided, a tiebreak was in order rather than another full set.
Even then, the Huskies could not be stopped, as Cancel rattled off a 12-10 victory to close the overall match.
Washington will be back in action Sunday at noon when it hits the road to face Oregon. The meeting was originally scheduled for the prior weekend, but was postponed due to weather conditions. Although Oregon is a member of the Pac-12, the match will be counted as a nonconference contest.
Reach Assistant Sports Editor Anthony Edwards at sports@dailyuw.com. Twitter: @edwardsanthonyb
Like what you're reading? Support high-quality student journalism by donating here.