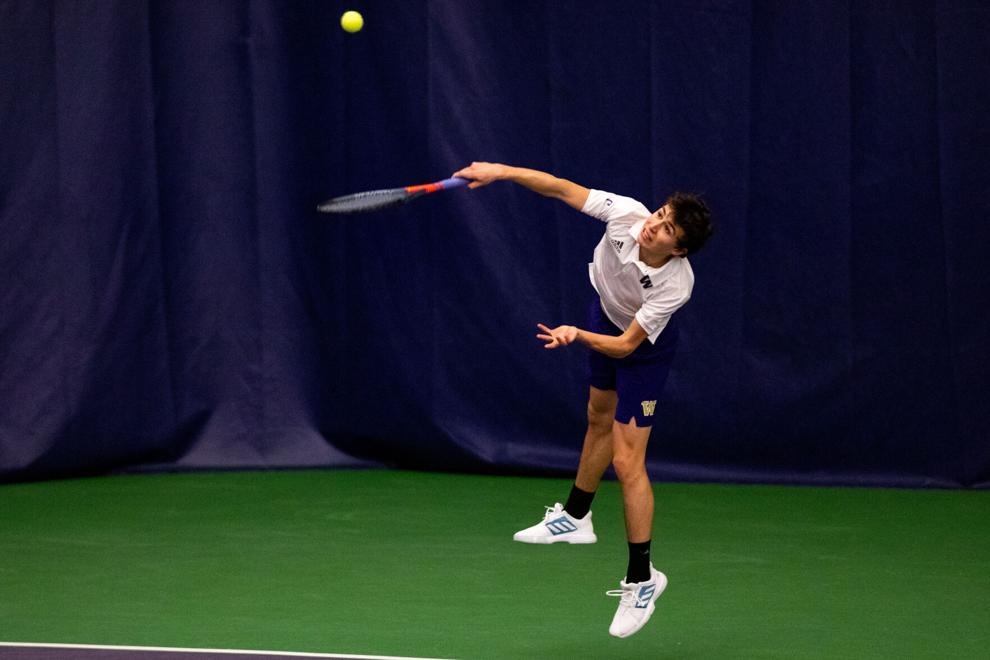 Throughout the Washington men's tennis preseason, sophomore transfer Clement Chidekh has stolen the show.
In his high school and collegiate tennis career in France, Chidekh built up an impressive resume, as he was ranked in the Tennis Europe Top 100 and won a national singles tournament at the age of 13. After spending his freshman year in Lyon, France, Chidekh transferred to Washington where he has found early success in his American tennis journey.
Head coach Matt Anger is already impressed with Chidekh's mindset towards improving his tennis game. 
"He's one of the most self-aware guys we've had in a long time," Anger said. "He's just aware of his strengths and weaknesses and I think that's something really important to help him improve."
Chidekh has also shown that he is a team player, and is willing to assist his teammates whenever necessary. After only being on the team for a couple of months, Chidekh was rewarded with the opportunity to be one of the captains.
"He is one of our captains, as an example of how he was aware and helpful with his teammates," Anger said. "He showed that, not only he had the purpose, but had the team-mindedness to help others."
After seven singles matches, Chidekh has won all of them and has only been pushed to three sets once. The sophomore and his French teammate, senior Thibault Cancel, also have an undefeated 7-0 record in the doubles matches.
It was against Arkansas where Chidekh played his only third set and proved his ability to face adversity. After losing the first set 6-3, he was able to come back and win the last two sets, 6-1, 6-4.
Most impressively, Chidekh has also been able to find success against tough competition.
On Feb. 5, he beat a top-70 player in Tulsa's Kody Pearson, winning in two sets 6-2, 6-4.
Last Sunday, he faced Oregon's Joshua Charlton, who is nationally ranked in the top 30, in a non-Pac-12 match. Again, Chidekh was able to come out on top in a dominant fashion, finishing in two sets 6-2, 6-3. 
Although this performance was outstanding, Anger warns that each game is different and to stay level-headed as they go into the Pac-12 season. 
"He beat a guy that had a little bit more collegiate experience and a very solid player," Anger said. "But each match stands on its own as a new challenge."
Chidekh's first Pac-12 experience begins this weekend where he will face top-50 ranked Jonas Ziverts on Friday. Washington travels to the desert where it will face Arizona on Friday, Feb. 26 and Arizona State on Sunday, Feb. 28 at 1 p.m. in its first Pac-12 games.
Reach contributing writer Spencer Smith at sports@dailyuw.com. Twitter: @spencerssmith24
Like what you're reading? Support high-quality student journalism by donating here.