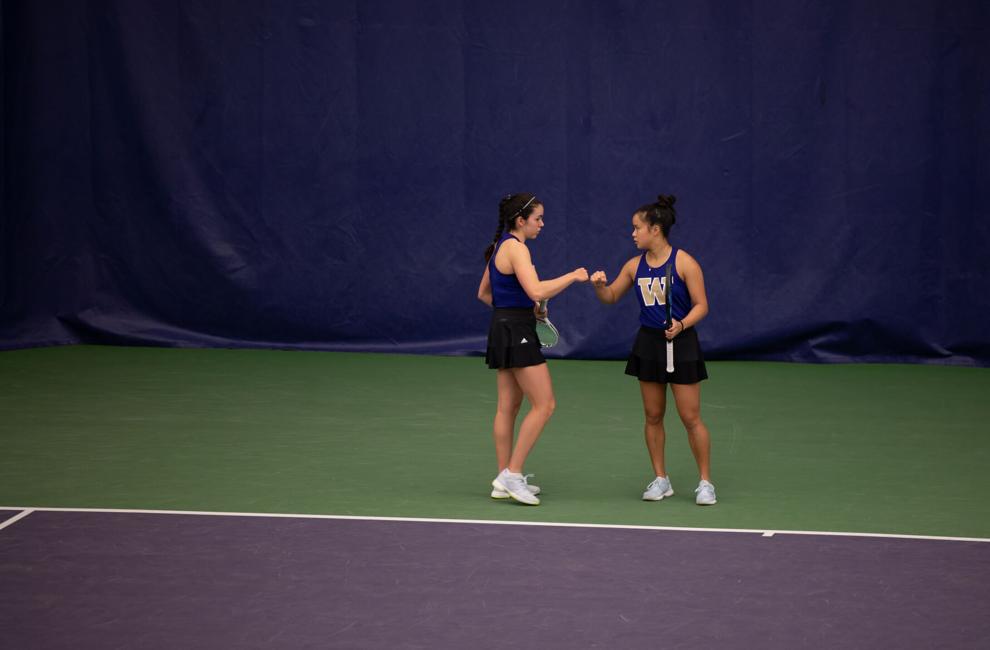 The Washington women's tennis team had three of its singles matches go into third sets on Friday afternoon. It needed all three of them to upset No. 15 USC. 
It was a lot to ask, especially of two untested freshmen playing some of the most competitive tennis of their lives. The Huskies ended up getting two narrow victories in those three sets — one too few to avoid the 3-4 defeat at the hands of the Trojans.
"I mean we could be easily sitting here, winning the match 4-3," UW head coach Robin Stephenson said. "There's definitely no lack of fight in this team. Yes, it's March, and we haven't played a lot of matches, like highly competitive matches, and I think we're just going to get better and better."
While the final score has the Huskies (7-2, 1-1 Pac-12) in the loss column, in many ways, the defeat stood as a victory, especially for the younger players. If nothing else, the women proved they deserve to be mentioned as a team that means business in the competitive Pac-12.
Freshman sixth-singles player Yolanda Lin, who dropped her first set 3-6, rallied to finish off her opponent 7-5, 6-4 in the final two sets for the individual victory, giving the Huskies one of their three needed victories.
"I was playing really well, I had a chance to go up 3-0 in the first set," she said. "I believed that if I just kept playing the way I did, I would definitely have the watch. I just had a lot of belief in myself and my teammates."
But the Huskies would need more than Lin's match to secure the win. On the other side of Nordstrom Tennis Center, on court one, senior captain Vanessa Wong let her second set slide against USC freshman Naomi Cheong, needing a third-set clincher to stay undefeated in 2021.
Tied 3-3, her perfect start to the season looked a little precarious. Then, she came through, rallying off three straight games to finish off Cheong 6-3 and improve to 9-0 in singles on the season.
From there, it was up to another undefeated member of Huskies — second-singles player Sarah-Maude Fortin, who'd started her career at the UW with eight-straight victories. Trailing 4-5, 15-40 in the third set, Fortin brought the game back to deuce. 
But it wasn't enough, as she lost the next point to drop her first match of the season, sealing the victory for USC. 
The Huskies lost the doubles point to the Trojans (7-3, 1-1 Pac-12) to open up play on Friday, and that one-point difference loomed large at the end of the match.
"I don't think we ever, like, panic when we lose a doubles point at all, but, obviously, it makes a huge difference," Stephenson said. "We win that doubles point, we're gonna be very very tough to beat. If we can find a way to get up 1-0, I think that's gonna make a huge difference for us."
The Huskies proved Stephenson's points Friday night, demonstrating their ability to compete with any team, and with No. 6 UCLA coming to town Sunday afternoon, the Huskies will have another chance to cement themselves as a bonafide Pac-12 contender.
"If we're gonna take a loss, then we wanna be learning a lot, and I think we learned a lot about our team today, and they learned a lot about themselves," Stephenson said. "We've played a couple teams that are top-15, and we're right there. We're gonna sneak away with some of these wins soon."
Reach senior staff reporter Nick Mendro at sports@dailyuw.com. Twitter: @m_mendro
Like what you're reading? Support high-quality student journalism by donating here.