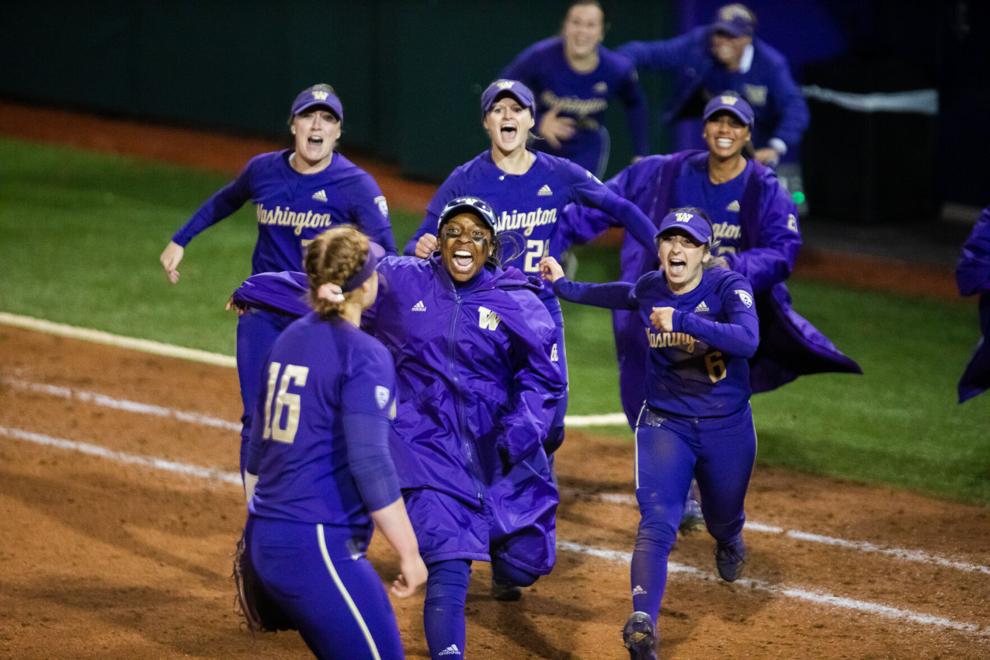 Facing a four-run deficit five innings away from a season-ending loss on its home dirt, the No. 16 seed Washington softball team believed.
They believed that senior pitcher Gabbie Plain had enough in the tank to pitch a second consecutive complete game. They believed they were going to show out in front of their families inside Husky Softball Stadium. They believed they were going to eliminate the opposition. Most importantly, the Huskies believed that their season was going to continue.
It's almost as if Washington manifested the comeback into action.
On the brink of an early postseason exit and trailing by four in the second inning, Washington mounted a massive comeback, reeling off nine unanswered runs, including a seven-run fourth inning, defeating Michigan 10-5, and advancing to the Super Regionals for the fifth straight season.
"It's one of the more proud games I've been a part of," Washington head coach Heather Tarr said. "The players are paying, they're competing, they know what they want to do together, and my role was very limited in that. It was really cool to see them take over and play the game they want to play and they know how to play."
Despite the somewhat lopsided scoreline, the game –– and day –– was far from such for the Huskies (44-12).
After dropping a game against the Wolverines (35-8) on Saturday, the Huskies would have to win three straight games to advance from the Seattle Regional.
An 8-0 win over Seattle U was the first step, but Michigan was certainly going to have the upper hand in any potential back-to-back Sunday games, carrying two aces on its staff to the UW's one, and only having to win one game instead of two.
Although Washington was able to defeat Michigan in Sunday's first game, Plain (32-3) was already at a taxing 97 pitches and north of 250 pitches on the weekend. Her body had almost certainly reached its breaking point, but somehow, the Australian proved that, yet again, she is the woman of the iron shoulder.
"You can just see it in someone's eyes when they know they're going to be fine," Tarr said. "I could see the ball, how it was coming off her hand tonight, she was getting better as the game went along."
Plain picked up her 32nd win of the season, sending the Wolverines down 1-2-3 in five straight innings to end the game, striking out nine, needing 112 pitches to do it. Across both complete game victories, Plain threw 209 pitches, and outside of the four-run, three-hit sixth inning in Game 2, she allowed just five hits and one run across the 13 other innings.
For a while though, before the Huskies' comeback and before Plain stepped into an unfathomable next gear, things weren't going their way.
Michigan's Lexie Blair continued to torment Plain from the get-go, leading off her second consecutive game with a base hit. A sacrifice bunt and an RBI-single gave the Wolverines an early lead, but most notably, forced Plain to throw more pitches than she hoped.
It seemed as if the cord to Plain's seemingly lifelong power supply was finally pulled in the second inning.
Michigan reeled off three hits, two walks, and forced an error, sending nine batters to the plate and scoring four runs, putting itself up 5-1 and nearly forcing Tarr to remove Plain for one of her bullpen arms.
But Plain stayed in and stayed focused and the Washington offense began to climb out of the massive hole it had dug itself against Michigan ace Alex Storako.
"After they had their inning, I knew we were going to have our inning," sophomore Jadelyn Allchin said. "It was kind of just, 'We weren't done yet,' and we know that we had a lot more time to play how we play, and that was kind of to just start it off."
In the third inning, Washington cut the Michigan lead in half, utilizing the middle of its order. Hard contact from juniors Baylee Klingler and Sami Reynolds put two on with one out for senior Noelle Hee. She didn't see many pitches, taking one off the wrist to load the bases for sophomore Kelley Lynch.
The Newnan, Georgia native came up with the biggest hit of her Washington career, slapping a two-RBI-single to left field. Tarr waved around Reynolds from second, who slid in just in front of the tag, making it a 5-3 ballgame.
"To be able to go two bases or three bases at times, especially when people are playing back at the fence, it's hard to hit the ball over people's heads," Tarr said. "You either have to hit it over the fence or truly in the gap, and [Kelley] threaded the needle in one of the at bats and we knew we had to score as many runs as we could."
If the third inning was the fuel to the fire, the fourth inning was the spark.
Allchin didn't waste any time trimming the deficit to just one, sending the first pitch she saw over the wall in right-center field. It was the sophomore's first home run in nearly two months and her fourth of the season.
"My approach changed today, I was just hunting certain pitches," Allchin said. "During batting practice I was being more intentful, so carrying that into the game, it really helped me."
The home run forced Storako out of the game, as the Wolverines went back to their arm from Game 1 in Meghan Beaubien (16-5), but the potential solution to the problems Washington was creating failed to succeed.
Beginning with the top of their order in graduate senior Sis Bates, the Huskies put together an offensive stretch unlike any other this season.
Bates reached on a single, and junior Baylee Klingler doubled to score Bates from first, tying the game at 5-5. Then, Michigan intentionally walked graduate senior Morganne Flores to get to junior Sami Reynolds.
The strategy nearly worked, as Reynolds bounced one to second base, but Michigan first baseman Lou Allan dropped the ball, loading the bases with no outs.
After senior Livy Scheile's bunt attempt failed, the Huskies tried a safety squeeze again, but instead of ending with an out, Lynch hit her second RBI of the game, as Flores slid under the tag to put the UW in front at 6-5.
Three more RBI base hits from fifth-year senior Taryn Atlee, junior Madison Huskey, and Bates blew the game open at 10-5, setting up Washington for its fifth-straight Super Regional trip.
Despite throwing more than 200 pitches in the span of six hours, Plain still managed to dominate, preserving the lead, ending the game with a strikeout before being swarmed by her teammates, as the Huskies defended their home turf in thrilling fashion.
Next up, Washington will travel to Norman, Oklahoma, for a Super Regional matchup with No. 1 Oklahoma.
For Tarr and her team, the winning attitude is certainly going to carry over into next weekend, as the UW looks for its fourth consecutive Women's College World Series berth.
"We have a whole lot of bad, blank, women on this team that want to win."
Reach Co-Sports Editor Anthony Edwards at sports@dailyuw.com. Twitter: @edwardsanthonyb
Like what you're reading? Support high-quality student journalism by donating here.