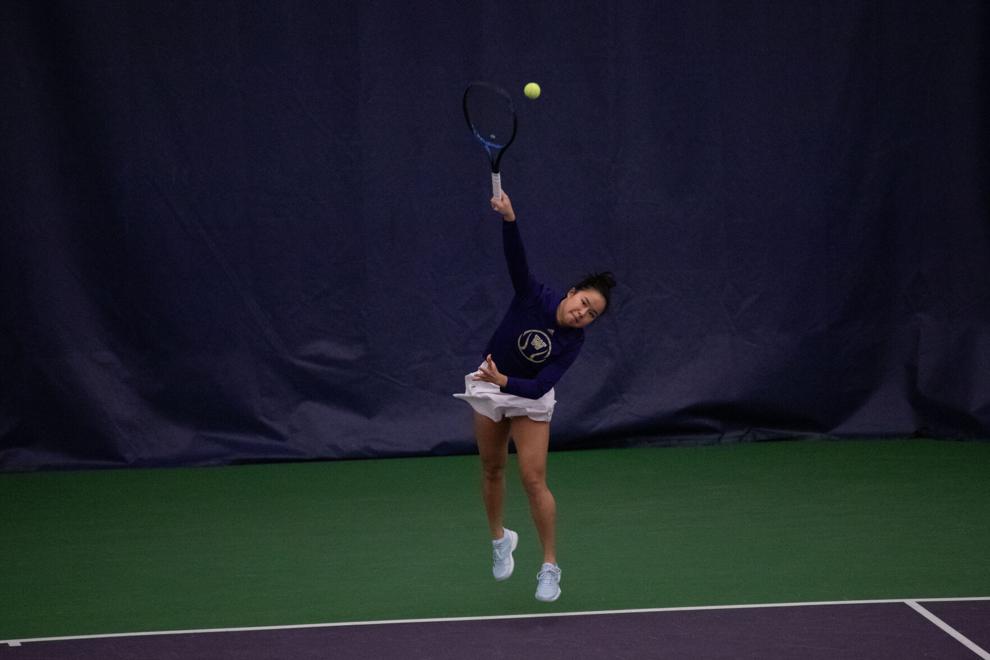 A deuce point away from taking a decisive 3-0 lead in the first set of her singles match against Eastern on Friday, senior Vanessa Wong forced her opponent to loft up an inviting, shallow lob, just under a racket's length in front of the service line.
As Wong approached the net for another machine-like putaway, her coaches and teammates prepared to cheer and shout encouragement after a second consecutive service break to start the match. 
Instead, the Washington women's tennis captain did something she seemingly hadn't done all year: She missed.
Wong's unforced error emphasized a team-wide reminder that resounded throughout the Nordstrom Tennis Center during Friday's 6-1 victory over EWU: the Huskies (5-0) are human after all.
"We didn't play our best, for sure," UW head coach Robin Stephenson said. "Just a lot of things to clean up. Obviously, you want to win in straight-sets, but it's not gonna happen all the time. Maybe, you're not playing your best — you lose a set. But how do we mentally respond to that?"
While Wong is still yet to lose a set, she needed a certain type of mental regrouping of her own. After she put the typically routine overhead into the top of the net, her struggles continued. Soon, it was 3-3. Then, 3-4. 
But, like the rest of the team, she settled down and started playing her game again, winning nine of the last 10 games after trailing 3-4 for a final set score of 6-4, 6-1.
"I started off slow, just making a lot of errors that were unnecessary and sometimes going for too much when I didn't need to," Wong said. "Going through that process of battling from either a set down, or coming back, I think that's really good for the team — and just having this under our belt, that we can fall back on and be challenged a little more."
Wong, for her part, has faced challenging opponents and battled back from a deficit before. Some of the Huskies, however, had not.
In fact, the gritty victory may have proved most beneficial for the team's undefeated freshmen. Following yet another 6-0 first set — her fifth-straight in singles — freshman Sarah-Maude Fortin lost her first set of 2021, a 4-6 defeat that tied the match 1-1.
But she battled back, winning the third set 6-1. Meanwhile, freshman Yolanda Lin, after battling back from 3-0 to take her first set 6-3, also dropped the second set 4-6 before rallying back to finish off her opponent 6-1 in the third.
"Our opponents played well, and I thought [the Huskies] did a really great job regrouping," Stephenson said. "I thought our freshmen rebounded really well after losing a second set, and that's what you want to see. Being able to come out quickly in the third and close out the match was really impressive."
So, the match revealed weak spots in the Huskies' previously impenetrable armor. And it even included the team's first individual defeat of the season —  junior Sedona Gallagher's lost badly, 2-6, 1-6.
But it also may have done more to boost the group's morale than the four 7-0 sweeps it had to start the season.
"It was a great match for us to play," Stephenson said. "Eastern came out playing really well and, I thought, challenged us, and we needed that. Obviously, we split some sets there, and, honestly, it's a good thing going forward, just being in this position. At the end of the day, a win is a win, and we're better for playing this match."
The Huskies will stay in Seattle and try for their sixth straight win to open the season against Portland on Thursday, Feb. 18.
Reach reporter Nick Mendro at sports@dailyuw.com. Twitter: @m_mendro
Like what you're reading? Support high-quality student journalism by donating here.