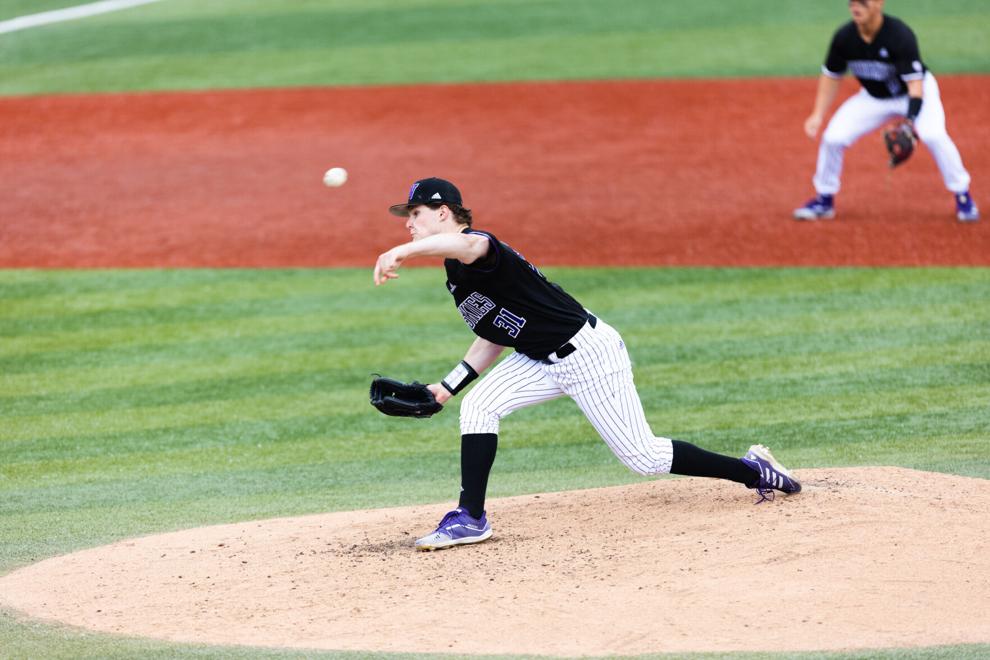 With two outs in the top of the seventh inning and runners on first and second, the Washington baseball team held a rapidly diminishing one-run lead. Utah's redshirt junior third baseman Rykker Tom drilled a liner past the outstretched glove of UW senior shortstop Ramon Bramasco for a hit.
With the Utes rounding third, heading for the tying run, the UW's senior left fielder Kaiser Weiss scooped up the baseball and fired home to his long-time teammate and fellow senior Michael Petrie behind home plate.
Utah's base runner drov for home, but he was too late. Petrie's glove beat him there, and the UW fan base cheered as the ump closed his fist, solidifying the Huskies' slim lead late in their 6-5 win over the Utes on Senior Day.
"It's good to send those guys off with a good memory," Washington head coach Lindsay Meggs said. "That's one of the things we talked about before the game — the opportunity to win the series at home, in the last game they'll ever play at home. That was special."
Thirty minutes prior to first pitch, 13 Huskies stood shoulder-to-shoulder along the first base line, soaking up that pregame feeling for the final time at Husky Stadium, as the announcer read out their names in recognition of their service in the purple-and-gold.
After a few emotional minutes on the field, they jogged back into the dugout to gather their gear and resume warmups, gunning for just one more opportunity to make an impact in their collegiate baseball careers.
And they did not disappoint, putting together one of the more inspiring performances of an otherwise forgettable 2021 campaign.
"It's been a tough year," Petrie said. "We're battling a lot of different challenges, but it's been a great five years. Today kind of just summed it all up. Just really grateful to be a part of this program, part of this university, and we celebrated that today with a win.
Weiss' throw and Petrie's tag were just part of a dominant overall performance on both sides of the diamond from the Huskies' seniors on what will most likely be their final game on Montlake.
Alongside his spectacular outfield assist, Weiss added a clutch two-out RBI-single in the fifth inning, while Petrie contributed a multi-hit outing of his own. Senior shortstop Ramon Bramasco added an RBI of his own in the first inning.
Bramasco's groundout RBI finished off a sequence in the first frame that could only be remembered in the annals of UW baseball lore as uniquely 'Braiden Ward-esque.'
Fresh off his recognition in pregame, Ward slapped a liner to left to take first base. Within seconds, he was standing on second — and then third — as a stolen base and wild throw from a pressured pitcher moved him into scoring position.
From there, it didn't take much for his fellow senior to put him across. A batter later, right fielder Christian Jones joined in on the senior hitting parade, driving a ground-rule double to deep left for his first of two hits. Jones also left his final game at Husky Ballpark with an RBI.
Meanwhile, relief pitchers Dylan Lamb and Davis Delorefice — both of whom stood along the first base line before the game — pitched a combined 1 ⅔ scoreless innings in the eighth and ninth to preserve the Huskies' one-run lead.
Aside from a barrage of poignant punctuation marks on a multitude of meaningful careers, Sunday's series-winning affair with Utah also established a metaphorical "passing of the torch" from one generation of Huskies to the next.
"That's exactly right in terms of trying to pass on the things that are important and making sure guys understand what matters," Meggs said. "I think our guys did a great job of that with the younger guys."
The youth picked things up where the seniors left off. Freshman starter Adam Bloebaum (3-4) threw five-plus innings on the mound and picked up the win, making just two mistakes — both home runs. 
Meanwhile, fellow freshman Michael Snyder continued his tear to finish up 2021. The big first baseman finished the game a triple shy of the cycle, hitting his first career home run and scoring three times for the Huskies in a game in which they needed all the run support they could get.
"It was senior day — it was a really special day to honor them," Snyder said. "This is their last home game here at Husky Ballpark, so just playing for them. Playing hard for them, as a team. At the end of the day, just play for the seniors."
All in all, today was about the seniors. And, boy, did they deliver for friends and family in their final game on Montlake.
Up next, Washington will drive across the state to Pullman next weekend for its final series of the season against Washington State.
Reach senior staff reporter Nick Mendro at sports@dailyuw.com. Twitter: @m_mendro
Like what you're reading? Support high-quality student journalism by donating here.