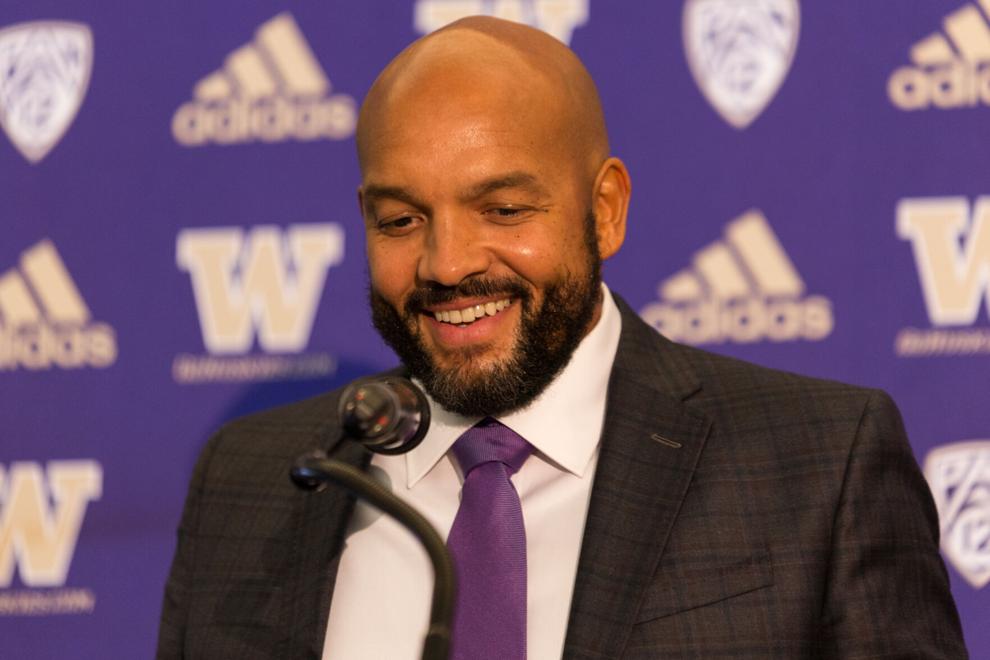 In an action-packed offseason which included a pandemic, social justice movements, a season postponement and a reversal on said postponement, senior defensive back Elijah Molden admitted football hasn't been the first thing on his mind over the past six months.
"I think right now, it has been more tough than it ever has been to stay dialed in and focused," Molden said in a press conference Tuesday afternoon. "Really, I have just been focusing on what I can control and what I can't. Especially right now, there is so much uncertainty and everything is changing day-to-day and week-to-week. 
"I just take one day at a time and focus on what I can control: the playbook and what I can do on the field."
But with the Pac-12 deciding to welcome back a football season Thursday, the Washington football team is now back on the field and preparing for a shortened seven-game season. The Huskies held their first practice since August on Monday, and head coach Jimmy Lake was grateful for the opportunity to be able to compete this season. While Lake expects a little rust for now, he thinks his team's focus throughout the whole process will set them up for success come the first game in less than six weeks.
"The teams that handle this virus accordingly, the ones that condition, that over-prepare now, those are the ones that are going to be the ones holding up that Pac-12 trophy in December," Lake said.
As of Sept. 23, UW athletics has reported 19 total COVID-19 cases, three active, across all of its athletics programs, far less than other schools throughout the country that have had dozens of cases each, including Notre Dame, which reported 18 coronavirus cases on Monday.
Junior tight end Cade Otton said he feels confident in the procedures in place by both the Pac-12 and Washington athletics to keep the virus out of the UW football facilities.
"We've been able to keep the virus out of our facilities throughout this whole entire time, and I feel very safe," he said.
Veteran leadership key in shortened season
Amid the turmoil of the past six weeks, the veteran players have stayed in Seattle to continue lifting weights and doing off-field workouts. True freshmen were sent home for nearly four weeks, though, meaning week one starters will likely be evaluated on previous experience.
With the departure of stand-out pass-rusher Joe Tryon, the Huskies will have to quickly find a way to replace its sacks leader from 2019. While former five-star recruit Sav'ell Smalls might be the immediate answer to some, it wouldn't be a surprise to see a more seasoned verteran start at outside linebacker in week one, at least according to Otton.
"I've seen a lot of growth from our ends Zion [Tupuola-Fetui] and Laiatu [Latu]," Otton said. "Both really good players, obviously it's too bad we won't have Joe with us. I think we are in good hands with the other edge guys we have."
Tupuola-Fetui and Latu are both entering their sophomore year, and also played in 12 games last season. Latu got his name on the stat sheet a bit more, recording one-and-a-half tackles-for-loss and a half sack, but both have similar body types and bring back key experience to a defensive line that lost a lot of production during the offseason.
In the secondary, Molden cited the shortened offseason as a challenge for not only himself, but for the younger guys too, especially noting the lack of a spring camp.
"I know, as a young guy, spring was a great time for me to grow and learn the playbook and stuff," Molden said. "But we had a lot of time sitting at home on our couches, and that is when we dove into the playbook, had meetings, and got right mentally. It's going to be different, it's going to be a new transition, but I think we're going to be OK."
Reach reporter Anthony Edwards at sports@dailyuw.com. Twitter: @edwardsanthonyb
Like what you're reading? Support high-quality student journalism by donating here.