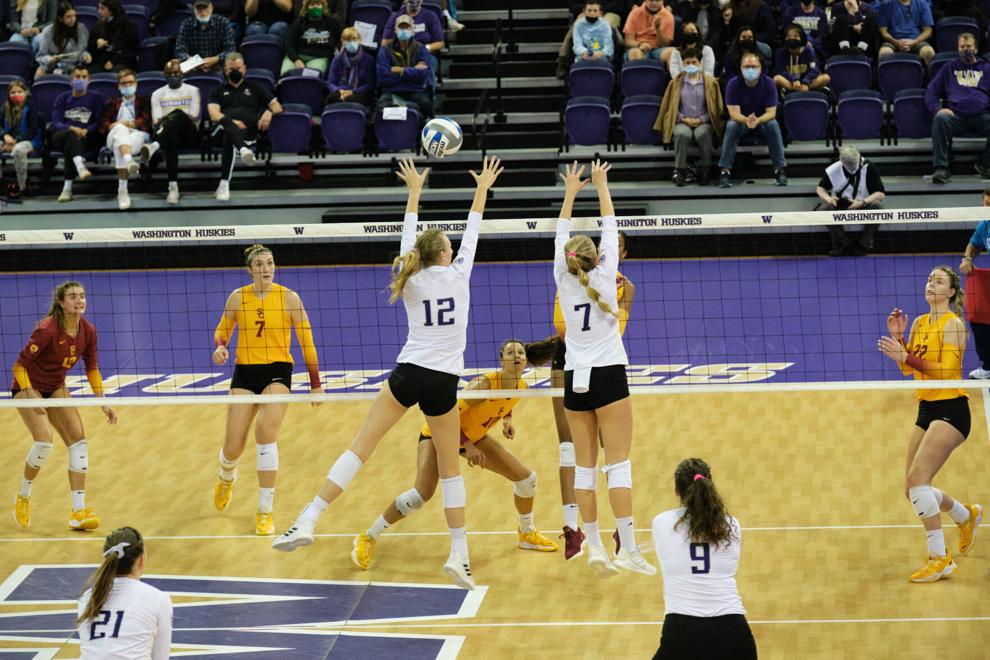 This weekend showed that the No. 13 Washington women's volleyball team is fully capable of facing adversity.
After two five-set losses last week, the Huskies (9-3, 2-2 Pac-12) had much in store for the Trojans (6-7, 2-2 Pac-12), defeating them 3-1 to cap off a successful weekend at home. 
"The game tells you when you need to check in and ask yourself some hard questions," head coach Keegan Cook said. "But you got to reinvent yourself a couple of times every season and you saw us reinvent ourselves this week."
Despite the win, Washington didn't get off to the greatest start, managing .226 hitting percentage but not pulling ahead. USC won 25-22 and took an early 1-0 lead.
But it's not like Washington has never been down a set before.
With the help of four aces, including a run of three in a row by junior Ella Powell, the Huskies calmly took the second set 25-20.
The momentum only continued for Washington in the third. After taking an early lead, the Huskies continued to extend their lead and dominated on both defense and offense. Hitting an impressive .625, the UW easily took the third set. 
Once again Washington closed out the game with ease, continuing on top until a final block by junior Marin Grote gave the Huskies a 25-20 set victory to cap off a successful weekend. 
It was a consistent overall performance from Washington, which managed 10 blocks, 10 aces, and .377 overall hitting.
"Distribution felt really good today," Cook said. "We went back to just hitting great shots and moving the ball around."
The Huskies were able to turn things around this week, finding two wins against both L.A. schools that will likely move them back up in the conference standings. Personnel changes are going well with freshman Lauren Bays continuing at libero and freshman Emoni Bush and junior Shannon Crenshaw playing outside. 
"Emoni Bush in that position is just really firing," Cook said. "[Bays] creates so many opportunities for us to score and I think she's having fun. Young players have to experience success and, as they do, they learn about who they are."
With momentum on their side, the Huskies go to the desert to face Arizona on Oct. 8 at 6 p.m.
Reach reporter Spencer Smith at sports@dailyuw.com. Twitter: @spencerssmith24
Like what you're reading? Support high-quality student journalism by donating here.