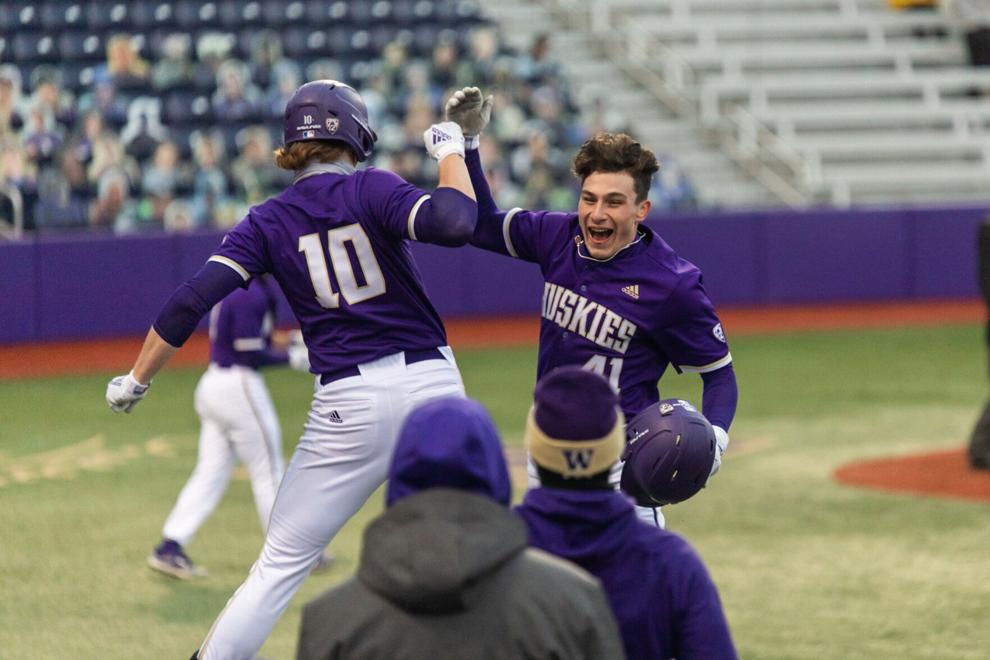 After tallying just one run in its past 19 innings, the Washington baseball team badly needed an offensive resuscitation heading into Saturday night's game against LMU.
So head coach Lindsay Meggs shook things up.
Junior center fielder Braiden Ward and senior shortstop Ramon Bramasco, the first two names on the UW lineup card for its Game 2 matchup with LMU, took the diamond with a combined 204 games under their belts in a Husky uniform.
The next seven batters in the lineup — a group consisting of two redshirt and five true freshmen — had only played a combined 49 times in purple-and-gold.
"We wanted some guys in there we haven't had a chance to really see that we know can play and just give some life, too," Meggs said. "And it's great to see them get rewarded."
That youth ended up being just what the Huskies needed. Meggs' lineup mix-up sparked an offensive outburst unlike any other so far in 2021. The Huskies' 13 hits and seven runs both set season-highs, with nine of those hits and four of those runs coming from freshmen.
By the end of the second inning, the Huskies (4-5) had quadrupled their run output and matched their hit totals from the past two games combined, scoring four runs on seven hits in the first two frames.
One of those runs came from the legs of true-freshman right fielder Emilio Corona, who in the second inning, slapped the first pitch he'd ever seen as a college athlete to right field. He became the third true freshman in program history to get a hit in their first-ever collegiate at-bat this season.
"Emilio's got good makeup — he was a really good high school quarterback," Meggs said. "He's an athletic guy trying to figure it out right now, and he's got some really special tools, and he's not afraid. You saw that tonight."
Right after him, freshman catcher Carson Blatnick — who'd accomplished the same feat a week earlier — moved him to second on a sharply hit single to center. Corona showed off his wheels a batter later, sliding head-first into home on an infield single from Ward.
"Just staying ready for an opportunity to play," Corona said. "I mean all these older guys have taught me a lot, just sayin, 'You're gonna get a shot, you're gonna play.' It's a team game, and that's what I've had to learn. I've learned a lot since I've been here from all those guys."
By the game's end, the UW freshmen had gone 9-for-25 against the Lions (5-4), driving in six of the Huskies' seven runs. Redshirt-freshman Will Simpson, who'd personally contributed 21 of the freshmen's 49 total games, added two more RBIs to his team-leading six on the season.
The Huskies looked sharp all across the lineup Saturday night, hitting .342 as a team and a blazing hot .364 with runners on base. Meanwhile, junior starter Jack Enger (2-0) pitched another gem, picking up his second win and driving his season ERA down to 0.66 in five shutout innings. LMU starter Jimmy Galicia (1-2) took the loss. 
But, more than anything else, tonight was all about the freshmen. And with the series rubber match just a day away, Meggs and his offensive unit will need to keep their bats alive to finish off the series with a victory.
"You know, we gotta score early tomorrow," Meggs said. "I think that'll be important for us to put some pressure on them, and it changes the game if you can do that."
Reach senior staff reporter Nick Mendro at sports@dailyuw.com. Twitter: @m_mendro
Like what you're reading? Support high-quality student journalism by donating here.