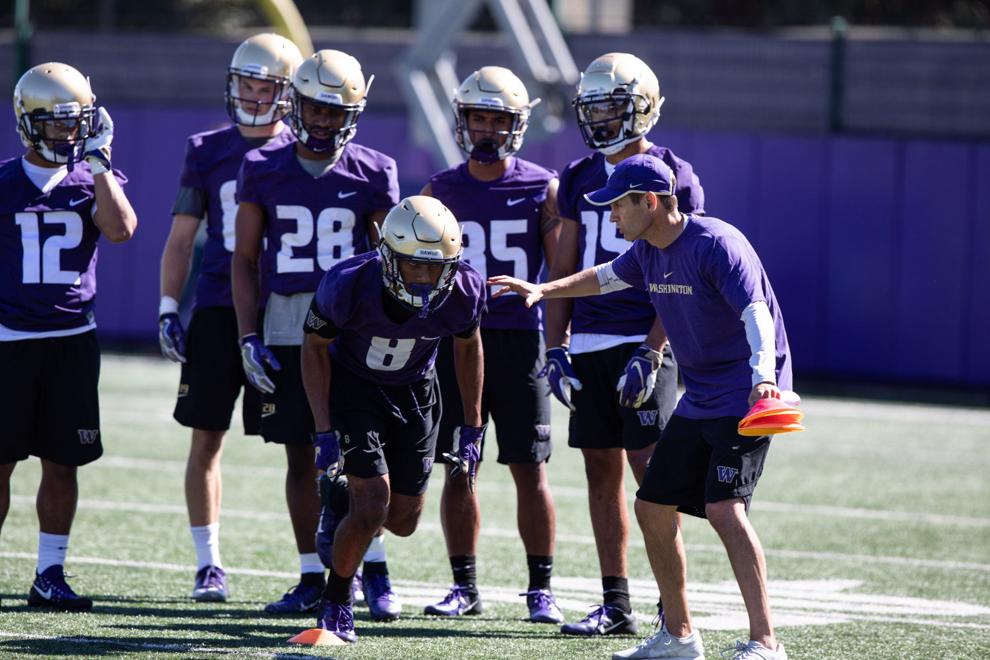 A four-year starter at quarterback, tailback, and both tackle spots is a good start to any successful offense. Just about any team in the country would take all that experience in those four positions. However, as has become a norm for UW the past couple of seasons, the wide receiver group has been labeled as the weak link of the offense spearheaded by first-year offensive coordinator Bush Hamdan.
"I don't see it that much different than 2016," Hamdan said of this year's squad. "At that time, we knew [John] Ross had speed, but that was the weak link then too, supposedly. I think it's that edge that you have to create and I think there's a lot of guys out here who'll make some plays."
Losing star wideout Dante Pettis was a big blow to Washington's receiving room, but with guys like Aaron Fuller, Andre Baccellia, and Ty Jones ready to step up and contribute, the outlook for this group is positive, at least in their eyes.
"We've seen the stuff in the media about us being the biggest issue and stuff like that but we don't think too much of it," Fuller said. "We use it as a motivator, and just knowing we have that expectation put on us, that we're not supposed to do well, just pushes us to work harder."
With the addition of junior wideout Chico McClatcher, who's back from injury after missing most of last season, the Huskies could be poised for another year like 2016, where Jake Browning threw for over 3,000 yards and 43 touchdowns.
"It's one of the most balanced groups I'd say," Hamdan said. "Aaron Fuller has done a great job from a leadership standpoint, Andre Baccellia has really taken the next step, but I think there's a good group of a lot of really solid players. It'll be fun to see how that sorts itself out."
McClatcher's back, and the UW brings in three talented true freshmen in Marquis Spiker, Austin Osborne, and Trey Lowe, who all have the chance to play this season and contribute in some way.
"It's all about mental reps," McClatcher said. "Film study, you know listening to your coaches. It's a big translation from high school to college so staying in the film room everyday is big. That's what we teach our young cats right now, staying in the film room and asking questions."
While Chris Petersen, Hamdan, and even Fuller himself have labeled the junior as one of the key leaders on the unit, the wideout hopes to see big improvement from the group and himself this fall.
"Just being more savvy," Fuller said. "I came in and people knew me as savvy but recognizing defenses, seeing all the safeties, and just being locked in with Jake every route, and every play are ways I can contribute."
And so far, the group has looked good in camp, with Jones, Fuller, Baccellia all contributing heavily with the starting unit.
"What I've seen so far is we have grit," Fuller said. "We have a strong bond with each other, we've been hanging out all summer and pushing each other to get better."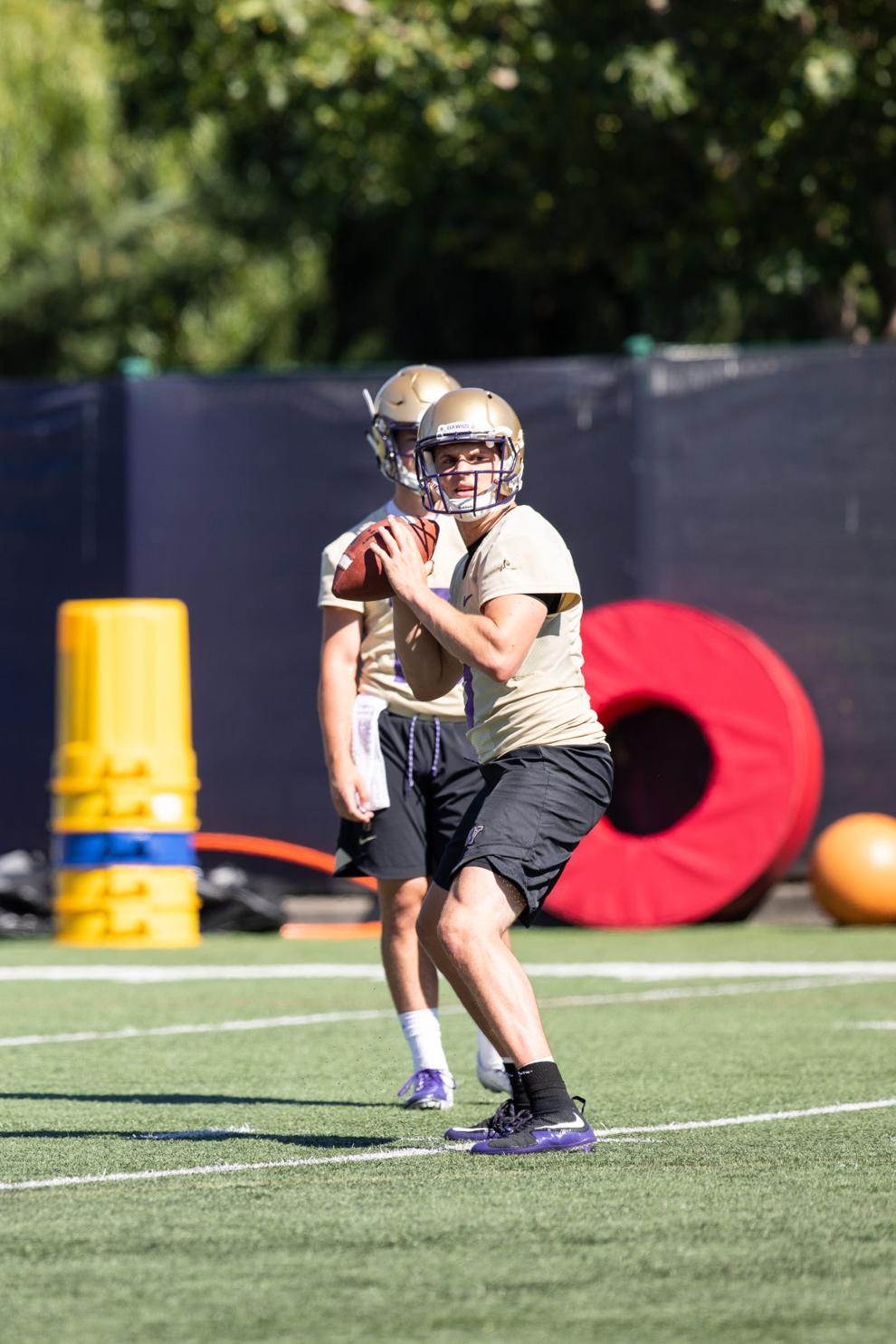 Other notes from practice:
- The starting offensive line shuffled around a little more, with Kaleb McGary (RT), Luke Wattenberg (LG), and Nick Harris (C) as regulars, but with Henry Roberts rotating with Jared Hilbers at left tackle and Roberts also rotating in with Matt James at right guard.
- The defense came away with four turnovers during scrimmaging periods. Browning was picked off twice, once by Taylor Rapp after his receiver, McClatcher fell, and another when he hit Jordan Chin, but defensive back Austin Joyner ripped the ball loose and right into JoJo McIntosh's hands.
The other turnovers came against redshirt freshman Jake Haener, who muffed a snap from backup center Jesse Sosebee and threw an interception in double coverage to Elijah Molden.
This wasn't the first time Sosebee and Haener had issues with the snap, as they've had to work on their exchange with Haener under center a few times already in two days. Sosebee has recently taken over the backup center spot, which was held by James last season.
- The kickers struggled again today from around 30 yards. At the beginning of practice, both Peyton Henry and Van Soderberg hit from around 33 yards on the left hash, but at the end, Henry missed from both hash marks at 35 yards out, and Soderberg missed from the left hash. True freshman Dylan Williams however, hit from both hash marks from that distance.
- Bush Hamdan spoke highly of Browning, who is entering his fourth year at the helm of the Washington offense:
"There's nothing like veteran leadership," Hamdan said. "He's a guy that understands what it takes, he understands the importance of decision-making, and he's played a lot of football. He's a special player."
Hamdan also spoke on how hard it was to leave guys like Ty Jones, who he had just recruited before joining the Falcons last season:
"It was one of the hardest things of my career to recruit them and then not be here when they got here," Hamdan said. "But I'm proud of those three guys, I think they are all taking the next step and I'm excited for sure."
Reach Assistant Sports Editor Alec Dietz at sports@dailyuw.com. Twitter: @AlecCDietz