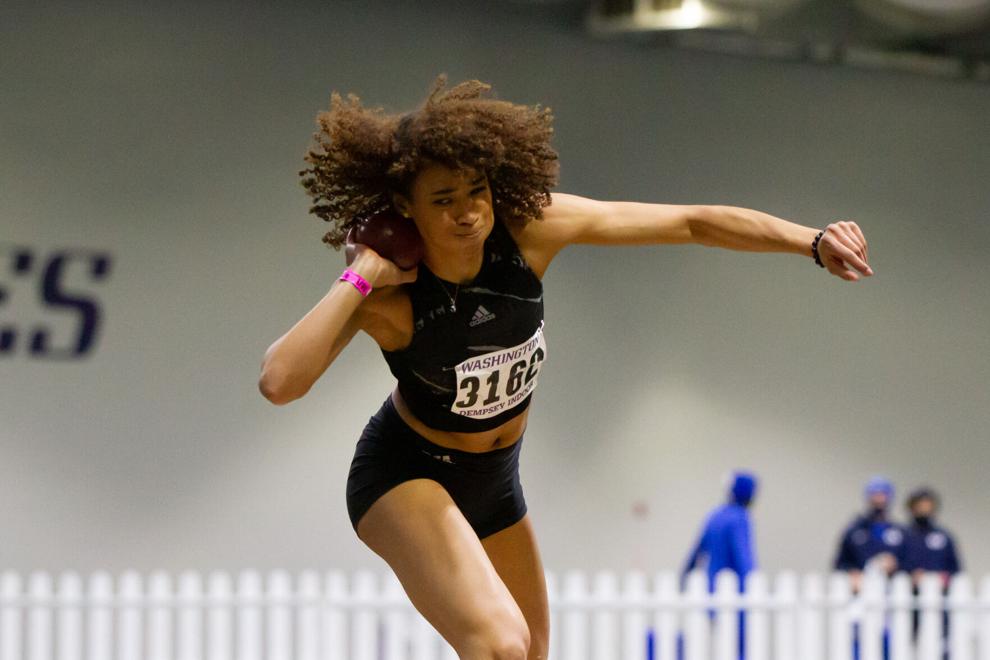 Washington grabbed the heptathlon gold, for a second straight year, with Lyndsey Lopes winning the event at her old stadium.
Lopes, who transferred to Washington from USC after the 2019 track season, finished in first in three of the seven events at the heptathlon. 
Her first place finishes came in the high jump with a height of 5 feet, 7.75 inches, in the 200-meter run with a time of 24.25 seconds, and in the very next event with the long jump, jumping a distance of 20 feet, 1.75 inches.
Overall Lopes put up 5,735 points, winning by a mere eight. Her overall score put her at No. 2 in Washington history at the heptathlon.
While Lopes was the headline, Ida Eikeng had a great showing alongside her in her first Pac-12 Championships of her career.
Eikeng will be going home with a bronze medal after placing in third, scoring 5,659 points, only 65 behind Lopes in first.
The Norway native placed first in two events. She placed in first at the shot put with a distance of 44 feet, 11.50 inches. Coming off of a career day at the Ken Shannon Invitational for the javelin toss, Eikeng kept that momentum finishing in first with a toss of 151 feet, 9 inches. 
As far as the men in the decathlon, Ollie Thorner's had a very strong showing completing his first full collegiate decathlon and finishing in second with 7,388 points, earning him a silver medal finish and earning Washington 8 points.
Thorner's best event finish was first in the pole vault where he tied with fellow husky Parker Kennedy at a height of 15 feet, 9 inches.
The Street, England native also managed a second place finish in the high jump at a height of 6 feet, 2 inches. 
Needing a strong showing in the 1,500-meter race to close out the decathlon and hold onto his second place finish, Thorner found just that as he finished in third with a time of 4 minutes, 41.80 seconds.
Thorner's decathlon point total moved him to No. 7 in Washington school history.
The Pac-12 Championship continues tomorrow and will get underway at 1:15 p.m. on the field with the final for the men's discus throw.
Other notes
Jonah Wilson had his first Pac-12 Championship podium finish. Wilson finished in third in the shot put with a distance of 64 feet, 0.50 inches. 

Madison Heisterman ran a PR time of 2 minutes, 5.46 seconds in the 800 meter run to qualify her for the finals tomorrow. Her time put her at No. 4 in Washington school history.

Carley Thomas also qualified for the finals in the 800 meter run with her time of 2 minutes, 5.57 seconds.

Julian Body and Jonathan Birchmam both qualified in the 110 meter hurdle with times of 14.05 and 14.20 seconds respectively.

Mick Stanovsek qualified in the men's 800 meter final with a time of 1 minute, 49.25 seconds.

Joe Waskom finished in second at the 3,000 meter steeplechase with a time of 8 minutes, 35.71 seconds, only .39 seconds behind first. Waskom still earned 8 points for the Husky team with the third fastest men's steeplechase in Washington history.

In the women's 3,000-meter steeplechase, Katie Rainsberger broke the Washington school record with a time of 9 minutes, 38.84 seconds, finishing in second and earning 8 points.
Reach reporter Nathan Mathisen at sports@dailyuw.com. Twitter: @NathanMathisen
Like what you're reading? Support high-quality student journalism by donating here.