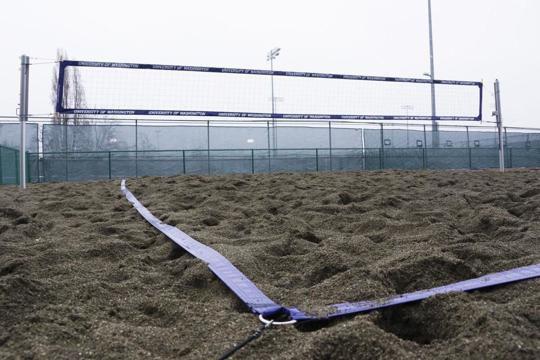 In the past, the majority of the UW beach volleyball team have also been players on the indoor team. But this year, the team is different. With six players who solely compete in the beach season, the beach volleyball team is branching away from its indoor counterpart.
"The program is growing, which is awesome," senior Destiny Julye said. "It is such a fun sport to play, and it has been awesome being out here."
With the team and program growing, the indoor players have decisions to make every year about whether they want to play beach volleyball or not. The option to compete is always there, but many factors go into the commitment.
"Every person is different," Julye said. "Some girls really want to focus on indoor. A lot of our freshman are doing that right now, especially in the spring getting ready for the upcoming season, but also I think if you want to play, there is an option for you to do that."
Even though beach and indoor volleyball have many of the same rules, there are also many differences a spectator might not notice or realize.
Head coach Steve Whitaker compared learning beach volleyball after only playing indoor to learning a new language.
"There is an adjustment that definitely has to be made," Whitaker said. "I know you are still passing, setting and hitting, but the court size is different. It's a smaller court, so your attacking has to be more precise."
Precision has been a huge focus for the Huskies this season, knowing that they can't simply swing away like you see in the indoor game.
"With indoor, a big thing that any team wants to do is hit high and hit hard off of hands," senior Destiny Julye said. "Versus here on the beach I think people hit 30 or 40% and shoot the rest of the time, shooting meaning hit it a half-speed shot and looking to see where the defender is, so it is a lot slower in that sense."
For fifth-year senior Kristen Gengenbacher, who only plays beach, the mental aspect on the sand is much more individualized.
"It can be super frustrating sometimes," Gengenbacher said. "But when you are winning and things are going right, it is one of the most fun games on earth. The highs are high and the lows are low, so we try and stay somewhere in between. Every point is a new point."
Despite that individual mindset with only two players on either side of the net — compared to the six in indoor — the Huskies are focused on being versatile and building a cohesive team across their pairings.
"That's what I love about it, it makes a pigeon-hole player become an all-around player," Whitaker said. "You just have to take time with it and go with the process and have a belief in yourself that you can."
This season, the Huskies this season have struggled at some points but have also been playing the country's best in the Pac-12 conference. With the postseason rapidly approaching, the Beach Dawgs are buckling down for the Pac-12 playoffs starting Thursday.
"We have been working really hard this season," Gengenbacher said. "This is what we play for, this tournament, so going out there with a nothing to lose mentality, having fun and playing for each other are the goals."
Reach reporter Madison MacPhee at sports@dailyuw.com. Twitter: @madison_macphee  
Like what you're reading? Support high-quality student journalism by donating here.