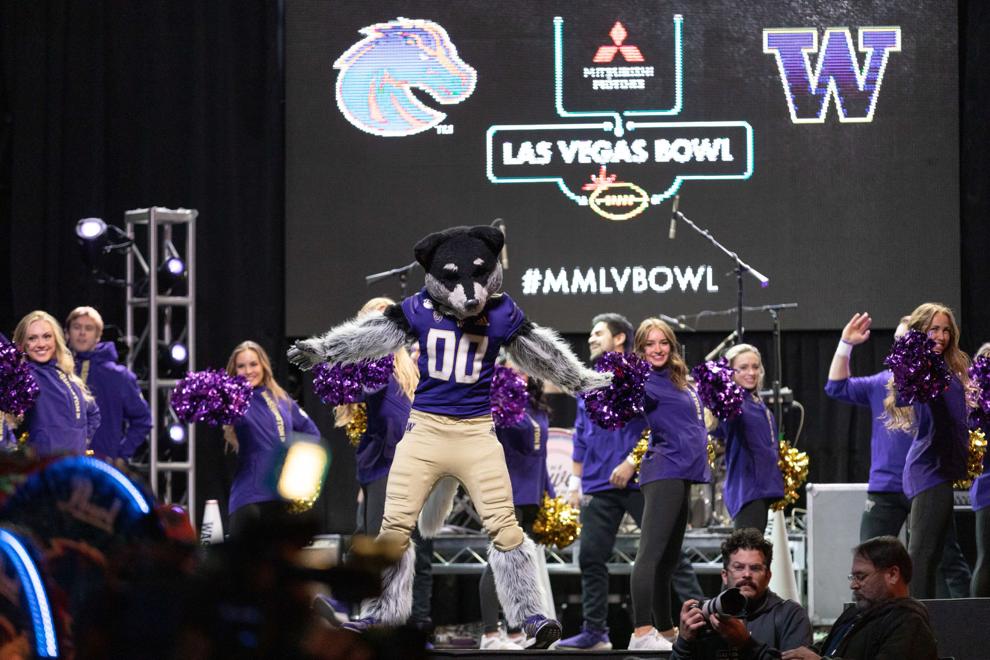 There's a small part of the Washington coed cheer team's competition routine senior Isaac Iñiguez has stuck in his head.
"It's a rewind," he said. "So you throw the girl, she does a backflip, you catch her on her hands, she pulls a Liberty, pops down, you catch her on your chest, you flip her into a handstand, and then you pop her back through your hands."
Simple, you know. Just like that.
"We've done it so many times, it's like engraved in my brain at this point," Iñiguez said, laughing.
It's just one piece of one routine, itself one piece of a packed weekend at the UCA & UDA College Cheerleading and Dance Team National Championships in Orlando, Florida, itself just one small facet of the team's packed season.
It's just the second time the program — consisting of a traditional coed squad, a dance team, and Harry the Husky — has sent all three of its parts to nationals after yet another year of growth began back in July.
There isn't one route athletes take to becoming a cheerleader at the UW. Head coach Kenny Dow and his coaching staff go to different states' high school tournaments in the offseason to find possible recruits. Many, like Iñiguez, come into cheerleading in college, hearing about the program from friends.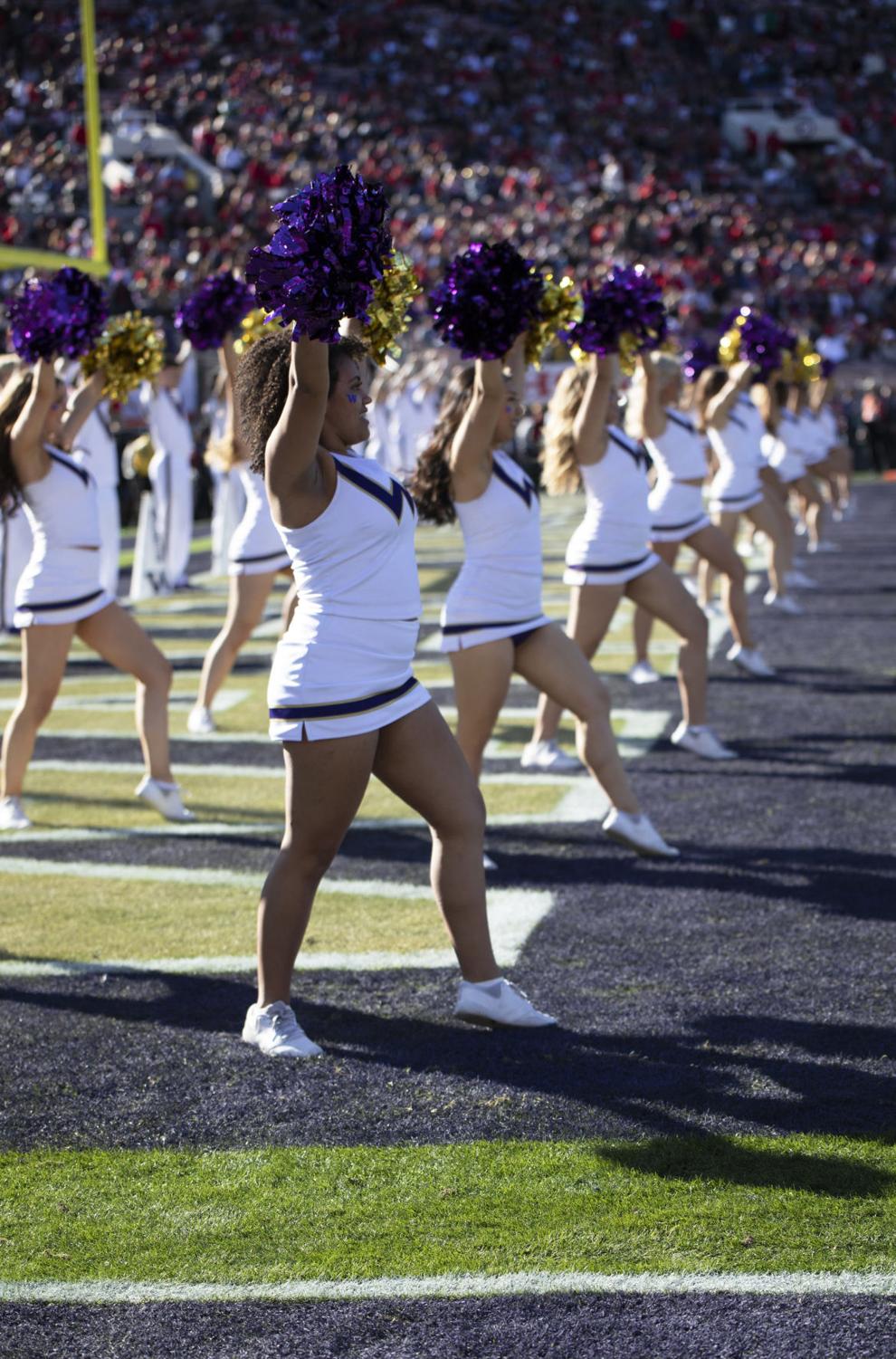 "I actually had a workout buddy that saw the team around and had been going to some practices," Iñiguez said. "He was like 'Hey, you should come try it out, they do flips, they throw people in the air, it's not what you think.' I was like 'OK, I'll give it a shot. It seems fun.'"
Senior Tessa Locknane, on the other hand, is a dance team legacy. Her mother was on the team in the 1980s, and has stuck with the program as an alumni since graduating. 
"It was the best way I could possibly be involved in the school and continue my love of dance," Locknane said.
And no matter what each individual's specific background with cheer or dance or the UW is, Dow said the selling point to pretty much every potential member is the same — and simple.
"You get to cheer for one of the best athletic programs in the country and go to school at one of the best institutions in the world," Dow said. "That's it. There's no better recruiting pitch that we have."
That emphasis on the UW Athletic Department's success is no small factor in the cheer program's growth these past few years either. 
Wherever the teams go, the cheerleaders follow. That means trips to three New Year's Six Bowl games in the past four years, along with the women's basketball Final Four in 2016 — Dow's first year as the coach — the men's basketball tournament last year, and every postseason run the volleyball team has gone on.
"It provides a lot of exciting moments that these athletes get to be part of just because they cheer here," Dow said. "Some schools, you just can't offer that same experience."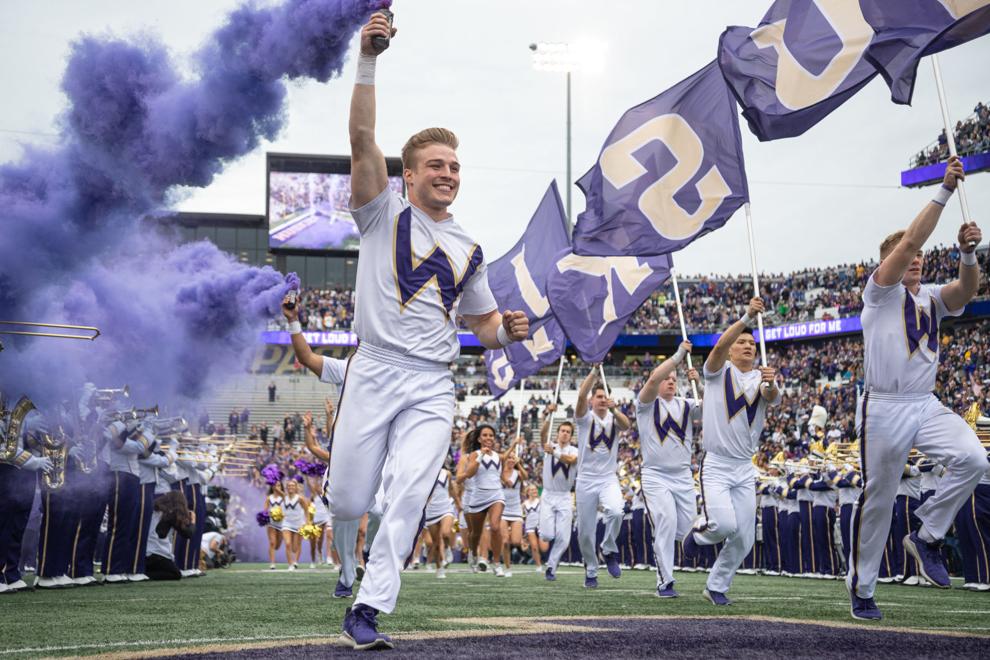 Once Dow and his staff have his team assembled, the Huskies get going in the middle of the summer, preparing for the football and volleyball seasons. From the last week in July to the beginning of school, the teams practice four hours a day, four days a week, which doesn't include any weight training done outside of practice. 
And of course, that also doesn't include the actual games.
"I think the one moment that really stuck out to me was my first football game," Iñiguez said. "It's one of those things where we are going the whole game. We're throwing people the whole game. We're doing flips the whole game."
Once school starts, the practices scale back to three hours, three times a week. But by the end of fall quarter, the cheerleaders balance classes, practices, outside workouts, football games, volleyball games, men's and women's basketball games, and preparation for nationals.
"You really just have to grow up and figure out fast how to organize your life and manage your time wisely and most effectively," Locknane said.
When the quarter ends and other students are decompressing after finals, the cheer and dance teams ramp everything up, with four hour practices again, five to six times a week to put the finishing touches on their competition routines.
Returning from Orlando with three top-10 finishes — one each for the coed squad, the dance team, and Harry — the UW cheer program will finish out the basketball seasons before starting try-outs for next year's teams.
Come July, the season will start all over again, and another year full of little pieces will come together, just like the experience of being a UW cheerleader.
"I knew I'd get to dance on the sidelines, which is in itself so exciting and so fulfilling," Locknane said. "But I've gotten to travel across the country for bowl games, for postseason trips. I've gotten to work with and meet the most amazing people who have pushed me in so many ways and made me grow."
Reach Managing Editor Josh Kirshenbaum at sports@dailyuw.com. Twitter: @J_Kirshenbaum
Like what you're reading? Support high-quality student journalism by donating here.