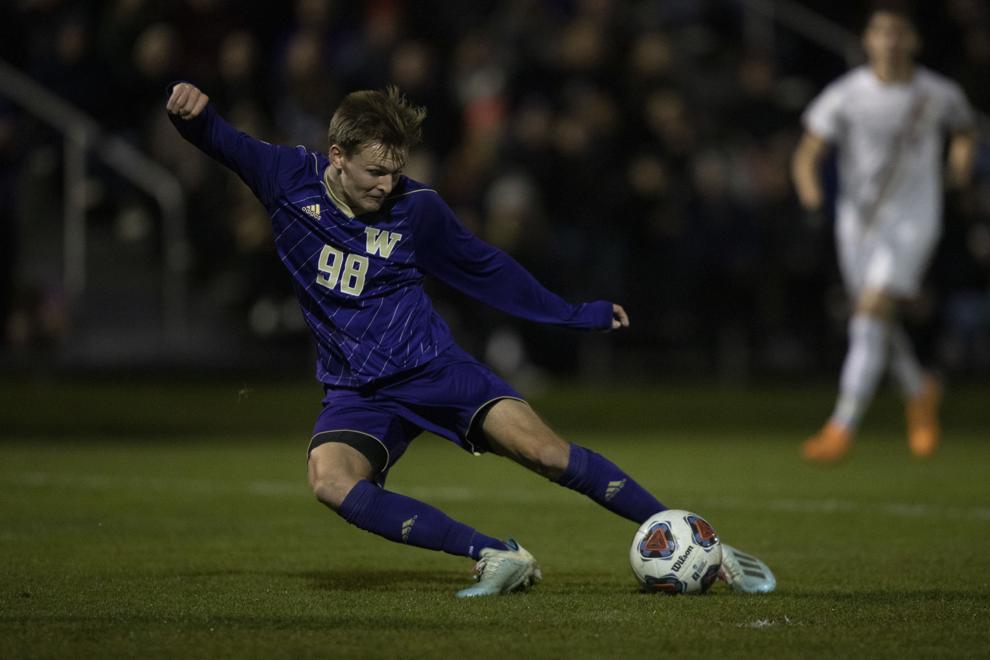 The No. 6 Washington men's soccer team, in the midst of one of its best seasons ever, isn't quite in uncharted territory yet. But the Huskies, who take on No. 11 Marshall at 5 p.m. on Sunday in the Sweet 16, can take another step toward it.
On the line is a spot in the Elite Eight, a place the UW has only reached one time in program history.
So how are Huskies (16-3, 8-2 Pac-12) preparing? The same way they've done all year — by focusing the most on themselves.
"We've been more so geared toward how we play than in past seasons," senior midfielder John Magnus said. "I think we do less scouting and more focus on what we do. I feel like in past seasons, we've changed the way we play based on who we play, and we haven't done that at all this year. That's been a big part of our success."
So when the Huskies got back to work after their 2-0 win over Boston College in the second round of the Tournament last Sunday, they started getting ready for their matchup with the Thundering Herd (16-2-3, 5-1-1 C-USA) by instead looking inward, focusing on film of their own win.
 The tape — of a game which the UW spent almost entirely in its attacking third — did show a couple flaws, according to head coach Jamie Clark. The Huskies weren't able to get solid opportunities on any of their 16 corner kicks or any other set piece. 
"That's something you really can focus on the other team and expose a few moments or space, and I don't think we did a good job," Clark said. "We let their best guys impose themselves on us."
Marshall presents a different sort of challenge, bringing a roster that features 17 foreign-born players, many of whom came to the U.S. with previous playing experience in their home countries.
And now that Washington is solidly in the postseason, learning its next opponents with just a few days to prepare, Washington's success based on its internal focus could make things easier.
"If we can play our best, I think we can beat any team in the country," sophomore midfielder Lucas Meek said. "That's been a big thing for us this year."
At any rate, the approach has worked for the Dawgs. Their 40 goals scored this year is tied for third-most this century for them. On the other side, the 11 goals they've allowed is tied for the fewest in a season since 1980.
After two straight years of first-round exits, the Huskies, who already went into the postseason relaxed, felt that last Saturday's result got them a bit over the hump for the rest of their run. Now, it's just time to see how far it'll go.
"They want this team to accomplish something they've never done before," Clark said. "And we've got a chance."
Reach Managing Editor Josh Kirshenbaum at sports@dailyuw.com. Twitter: @J_Kirshenbaum