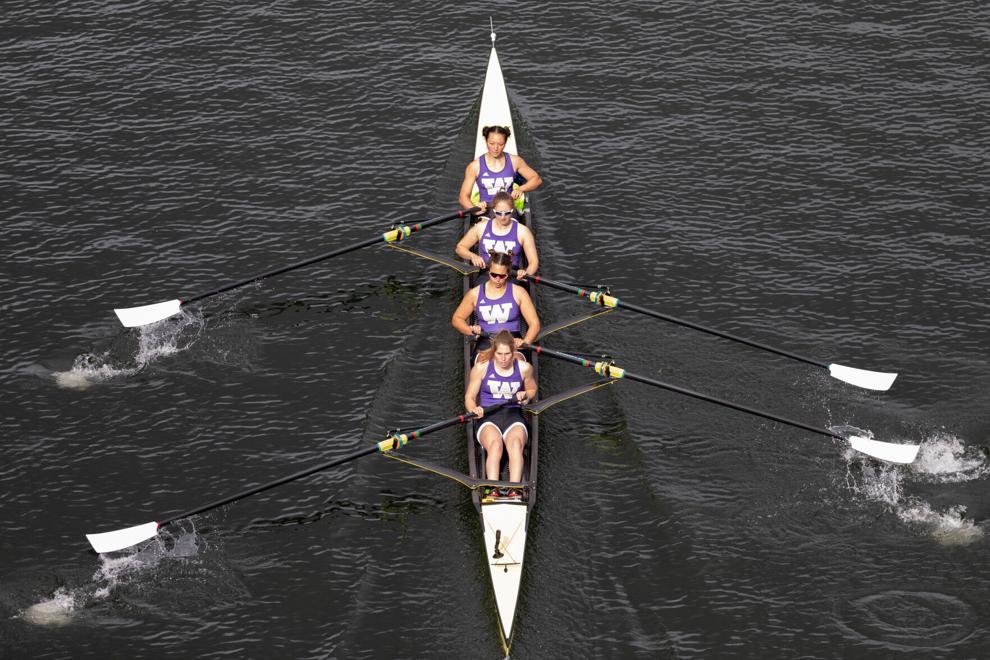 After sweeping the field in the last NCAA Rowing Championships, Washington had its eyes set on repeating 2019's success. Unfortunately for No. 2 Washington, it came up just short in the final race of the day and finished third overall. 
After finishing second in the Pac-12 Championship and second in their semifinal race Saturday, the Washington four boat came into the day with something to prove. 
For the first 1,000 meters it was anyone's race, with Washington, Texas, and Stanford all battling it out within a few seats of one another. At the 1,500 meter mark, Washington began to separate themselves and had found themselves with a much more comfortable three second lead.
However, Washington's lead slowly began to disappear, as Stanford gave a huge final sprint coming down to the final few strokes trying to overtake Washington. But Stanford's push was too little too late, as Washington crossed the finish line in first with a time of 7:02.17, beating Stanford by 1.086 seconds.
Coming up next was the second varsity eight race, where for the first time all year, Washington's boat found themselves in third for a large portion of the race, trailing behind Texas and Stanford.
At about the 1,000 meter mark, Washington began to make their move on Texas and slowly overtook second place, but they were still just under a boat length behind for first place.
After rowing a lower stroke rate for the majority of the race, Washington had a huge push in and they began to slowly but surely make their final sprint with less than 500 meters to go.
Unlike Stanford in the four boat race, Washington's final sprint was enough. With each stroke Washington made, they began taking a seat from Stanford, before they eventually passed them and started to gain a seat lead with each stroke.
After finding themselves in either second or third place for the first 1,500 meters, Washington finished in first with a time of 6:23.23, beating Stanford who led nearly the entire race by 1.25 seconds.
The Washington varsity eight race was all set to get underway when a weather delay caused them to have to put the event on pause for nearly two hours.
When the race restarted, Washington was in for the toughest battle of the day with four boats neck and neck for the first 500 meters of the race. Over the next 500 meters, the field began to separate and Washington fell to third by the 1,000 meter mark and trailing 1.6 seconds behind the leader.
Stanford and Texas' lead only grew from there, with Washington never being able to have that final push that they showed in the varsity four race and the second varsity eight race. In the end, Washington finished in third with a time of 6:21.72, 2.83 seconds behind second place Stanford and 4.33 seconds behind first place finisher Texas.
In the overall points battle for the NCAA title, it was a three-way tie between Washington, Texas and Stanford. The tie breaker is the placing in the varsity eight race, meaning Washington finished third overall and earned bronze at the 2021 NCAA Women's Rowing Championship.
Reach reporter Nathan Mathisen at sports@dailyuw.com. Twitter: @NathanMathisen
Like what you're reading? Support high-quality student journalism by donating here.