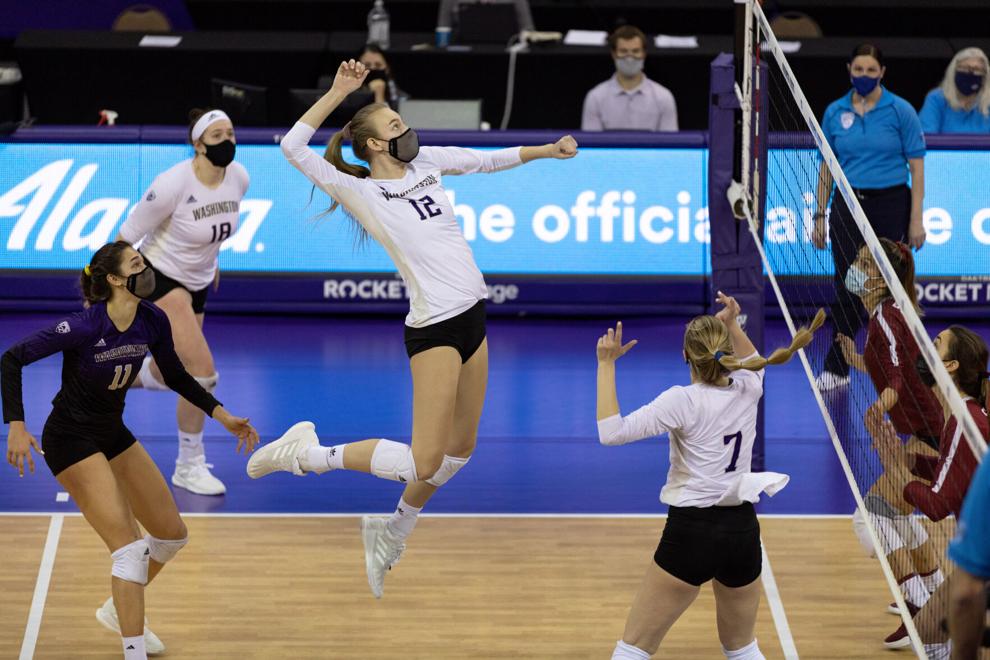 It was all going smooth for the No. 11 Washington volleyball team until the end of the third set. 
Up two sets and tied 23-23, it looked like the Huskies (2-1) were about to pull ahead for their second sweep of the season. Instead, the Fighting Illini (3-1) pushed back to deny the Huskies an easy win, keeping the set alive to an incredible 32-30 score. 
Characteristic of the competitive match, both teams went back and forth on a teetering match point until Illinois managed to find two in the row to extend the game.  
Luckily for the Huskies, who came in Friday's game looking to rebound their loss to No.19 Utah, the dominant gameplay of the first two sets returned in the fourth and they pulled through with a 25-21 set win to finish the day. 
Serving dominated the game for both teams, who combined for 18 aces over four sets, with both teams continuing to force the other into out of system rallies. For the most part, Washington was able to get more of a hold on serve receive and turn chaotic rallies into productive hits. 
Facing an undefeated Illinois team, Washington covered all fronts well, bringing serving and hitting together to keep an advantage nearly the entire night. The UW hit much better than in last week's loss, ending the night at .227. Juniors Claire Hoffman and Marin Grote led hitting Friday with 12 kills. Grote, a middle blocker, hit an extremely high .526.
Four Huskies found two or more aces, with Hoffman leading at three, and the team ended with just five service errors. The Fighting Illini ended with 12.
Friday was Washington's most cohesive game since the season's start, with serving and offense flowing to keep the UW in control  — with the exception of half the third set. The third featured the UW's worst hitting of the night and was the only set of the game where Illinois had a hitting percentage advantage. 
Staying in Champaign, Illinois, Washington picks back up in less than 24 hours to take on Iowa. The teams will play Saturday, Sept. 4 at 3p.m.
Reach Co-Sports Editor Sydney Nash at sports@dailyuw.com. Twitter: @sydneym_nash
Like what you're reading? Support high-quality student journalism by donating here.