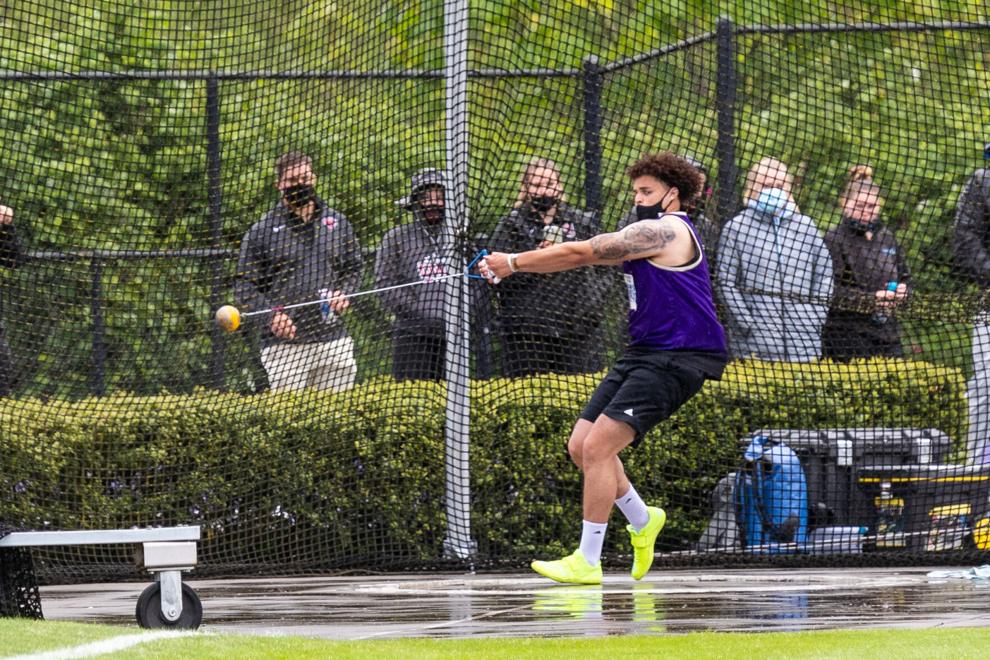 Not one, not two, but three PRs were set by Connor Jost in the hammer throw at the Ken Shannon Invitational on Friday morning.
As a senior, this may have been Jost's final time competing at Husky Outdoor Track, bringing with it special emotions. While practice leading up to the meet may not have been his best, hitting the cage a number of times, Jost knew that he had to go out there and make some noise in possibly his final home meet.
The Gig Harbor, Washington, native did just that, setting a new PR three times, saving the best throw for last. On his sixth and final hammer throw he threw a distance of 203 feet and 10 inches, enough for that new PR and second place on the day.
The only competitor with a better throw on the day: freshman teammate Jayden White.
White has made quite a name for himself in quite a short time on the team. During indoor track and field, White set the school record in weight throw and headed to the NCAA Championships.
Now outdoors, the local Everett man is looking to keep improving in all of his events, as he prepares to head to the Pac-12 Championships that take place next weekend.
On Friday, the freshman got off to a great start, as he only needed one throw to win the event. In his very first hammer throw of the day he reached a distance of 214 feet and 3 inches. 
Finishing towards the top has been a theme for all the Washington throwers at each meet on the year. Jost and White credit that to both the great coaching staff as well as the teammate support that they receive while competing.
Both Jost and White will be looking to use this event as a confidence builder, as they each head into their first ever Outdoor Pac-12 Championships.
Another Washington competitor who made some noise today was multis competitor redshirt freshmen Ida Eikeng.
In pole vault, Eikeng had the two best throws of her career, setting a new PR. The redshirt freshmen's first place throw on the day went a distance of 171 feet and 1 inch, which put her at No. 3 in school history and No. 3 in the Pac-12 on the year.
"I felt good, it's been good this year, so I was just trying to be relaxed and work on my approach, which worked," Eikeng said.
As a multis event competitor, Eikeng can't spend all the practice time working on one specific event or skill, this can make it hard to fully master each event, but Eikeng feels the practice schedule has helped her do her best at each event.
"It is a little hard to have enough time for everything," Eikeng said. "Especially with school and we have other stuff to do and not to work your body too much. But I think we have a good schedule for a week and get through most of the event every week."
In the pole vault event the Porsgrunn, Norway, native definitely left her mark. Heading into the day, she was confident and leaving the day she has now built up confidence for the Pac-12 Championship next week.
"The more you compete, the more confidence you gain," Eikeng said. "It's just nice to feel secure in all the events.
Other notes
Sophomore Makenna Barton won the pole vault jumping over a height of 12 feet and 7.5 inches.

Puyallup, Washington, native Jelani Heath won the long jump jumping a distance of 17 feet and 9.5 inches.

Nolan Such finished first in the shot put with his new season best throw of 54 feet and 1 inch.

Julian Body finished first in the 110-meter hurdle, running a time of 14.41 seconds and finished first in the 200-meter dash with a time of 21.55 seconds.

Victoria Gersch won the women's 200-meter dash with a time of 24.74 seconds.
Washington track and field will be back in action Friday, May 14, in the Pac-12 Championships in Los Angeles, California. 
Reach reporter Nathan Mathisen at sports@dailyuw.com. Twitter: @NathanMathisen
Like what you're reading? Support high-quality student journalism by donating here.