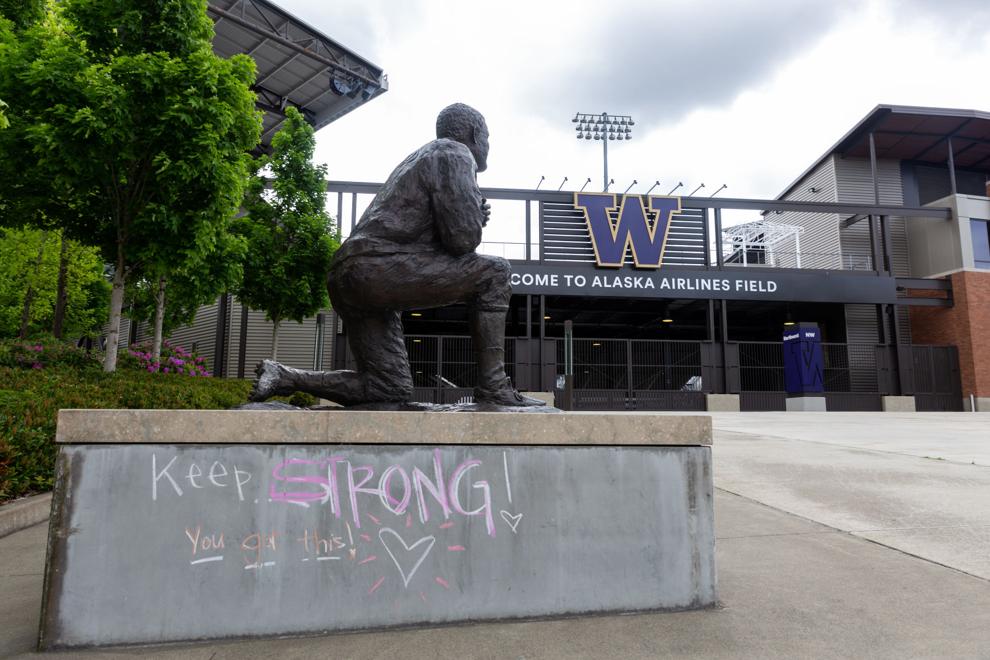 University of Washington Intercollegiate Athletics (ICA) announced plans for the phased return of student-athletes to campus beginning June 15 with voluntary workouts. 
"We have been advised by some of the top medical experts in the country," athletic director Jen Cohen said in the press release. "And we will continue to evaluate our process as we work through this first phase. It's critical for us to be able to provide these resources on campus, as COVID-19 is one of many things that impact the health and well-being of our students. We are eager to take this step to begin to welcome our students back to Montlake." 
The plan, which is in accordance with guidelines set up by the UW, King County, and the Pac-12, will see returning student-athletes from football, men's basketball, women's basketball, volleyball, women's soccer, and men's soccer allowed back on campus starting June 15. Groups of five or less will be allowed to participate in voluntary outdoor workouts, with the Husky Stadium field, concourse, and East Practice Field being the only facilities open to start. 
Weight lifting equipment will be moved onto the Husky Stadium concourse to provide open-air space for workouts.
Starting June 22, incoming freshman football players will arrive, along with returning student-athletes from women's tennis, men's tennis, women's rowing, and men's rowing. Baseball, softball, and other sports by request may bring back their returning student athletes on June 29. 
"We recognize in the face of this global pandemic, we must proceed cautiously," UW head team physician John O'Kane said. "With this in mind, we have instituted a return to training plan including COVID education, testing, enhanced physical assessment, regular symptom inventory, and an emphasis on social distancing whenever possible."  
The UW Athletic Department also held a virtual town hall with student-athletes and their families where the school's medical team gave a detailed presentation about the reopening plans.
"We will reintroduce our training in phases, systematically increasing the numbers of student-athletes training together while continuing to monitor their health, as we work toward return of competition," O'Kane said. 
The schedule, which was devised with the help of the UW head coaches, will also allow student-athletes access to on-field facilities on an individual basis. 
Incoming freshmen and any other returning student athletes for volleyball, men's basketball, women's soccer, and men's soccer will return to the UW July 6, with women's basketball's newcomers arriving July 13.
Women's cross country, men's cross country, and incoming freshman on both rowing teams will return July 27. And beginning as early as July 6, Alaska Airlines practice courts, the indoor weight rooms, batting cages for baseball and softball, outdoor tennis courts, Husky Track, and the Dempsey Indoor could open in that order.
The last sports to arrive will be returning or incoming athletes from gymnastics, men's golf, women's golf, men's tennis, women's tennis, baseball, softball, track and field, beach volleyball, or any other members of the rowing team who are on track to return at their normal time in September. Connibear Shellhouse and the Graves Annex are also allowed to reopen after August.
The reopening will be supervised by the UW ICA's COVID-19 Committee, which will report to Cohen weekly. 
"While our current situation is certainly challenging, the goal of our medical staff is the same as always; to provide an opportunity for our student-athletes to get a great education, compete in the sports they love, and to be the best versions of themselves, in as safe an environment as possible." 
Reach Sports Editor Andy Yamashita at sports@dailyuw.com. Twitter: @ANYamashita
Like what you're reading? Support high-quality student journalism by donating here.