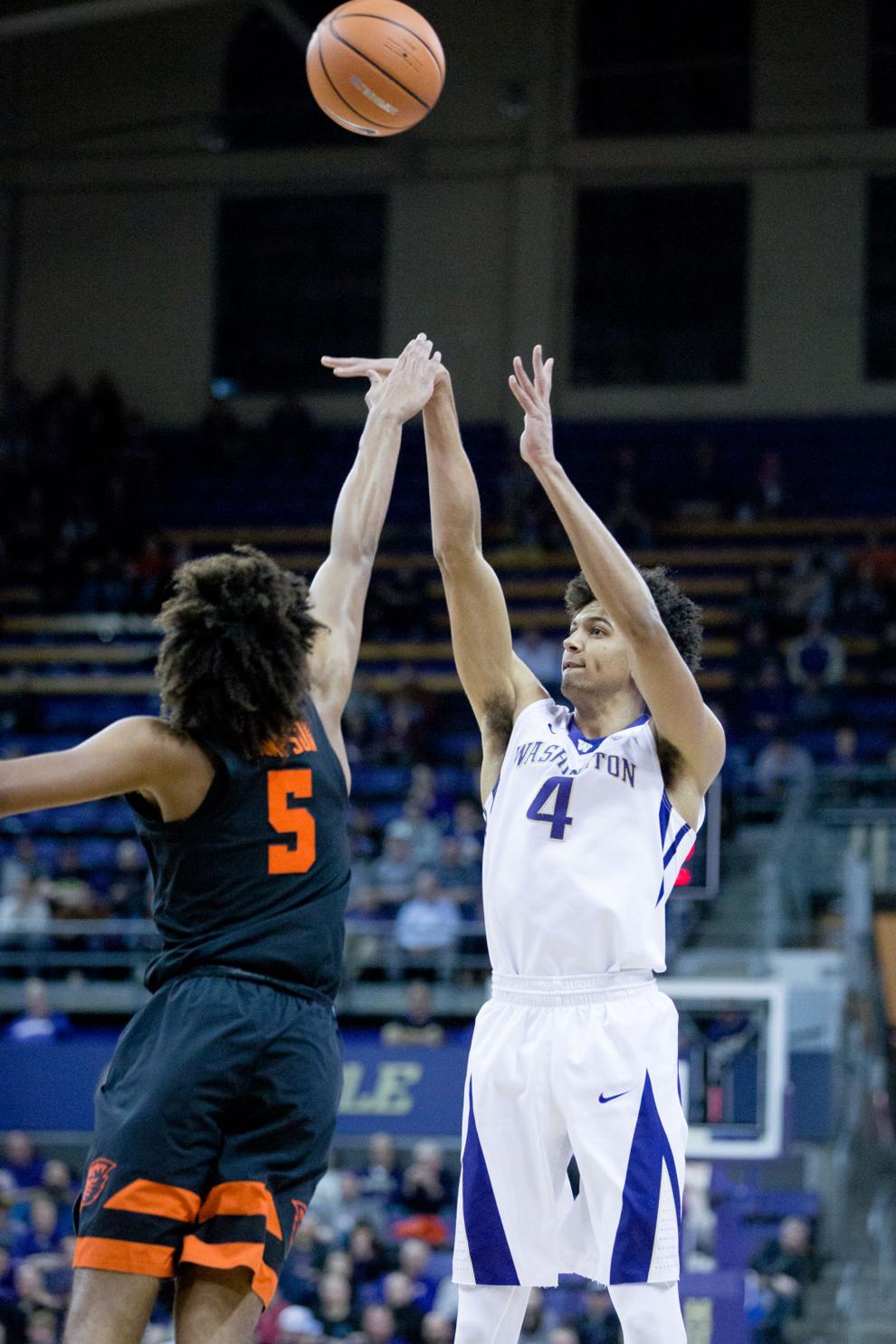 After losing to the two Oregon schools on the road almost a month ago, the Washington men's basketball team came into its rematch with Oregon State on Thursday knowing it needed to put that bad stretch in the rearview mirror and pick up a much-needed victory for its resume. The Huskies (20-10, 10-7 Pac-12) did just that against the Beavers (14-15, 6-11 Pac-12), winning in a close 79-77 finish.
They became the first Huskies team since the 2011-12 season to win 20 games, when players like Terrence Ross and Tony Wroten were wearing the purple and gold.
"Twenty wins is a lot of wins," junior forward Noah Dickerson said. "It's a hard feat to do. I've never done it, [Matisse Thybulle] has never done it, so it's pretty exciting. Just coming out here with my team and just get a win and play well and play great defense and you feel pretty good."
Dickerson was a workhorse inside once again, scoring 25 points on 10-of-13 shooting. Surprisingly, he only collected five rebounds, but he was fighting hard for post position all night against the trees of Oregon State.
Junior guards David Crisp and Matisse Thybulle and freshman guard Jaylen Nowell each finished with 12 points. Crisp and Thybulle each made three 3-pointers, while Nowell went 8-for-10 from the free-throw line.
Freshman forward Hameir Wright only had five points and committed four fouls, but he played hard defense, an effort that earned praise from his teammates after the game.
"He saved the game, really," Thybulle said. "He stepped up big time. What we've needed from him all year and he stepped up."
Dickerson got things started for Washington with a dunk off a feed from Crisp. Then sophomore forward Sam Timmins rattled in a couple of free throws to give UW an early 4-0 lead.
OSU went on a 6-0 run of its own before Thybulle drilled two threes on consecutive possessions, one from each corner.
"Just being in rhythm and taking good shots," Thybulle said on his recent good shooting. "When Jaylen drives and they double down on him and when we get the ball in the post to Noah and they double down on him, there's someone open, and these past four games it's been me."
The hero for the Beavers in the previous matchup against the Huskies, junior guard Stephen Thompson Jr., then made three threes of his own in a three-minute span, one coming after a Thybulle block sent the ball in his direction.
Freshman forward Nahziah Carter added yet another montage-worthy dunk, and two possessions later made a nice crosscourt pass to junior forward Dominic Green in the left corner, who drained his second three of the first half. These buckets came as part of a run that stretched the UW's lead out to 32-24 a little over halfway through the first half.
Then both teams went on scoring droughts. OSU didn't score for over three minutes, and the UW didn't score for over two minutes before Thybulle scored five straight points behind his third three of the first half and a driving layup.
The Beavers went on a 6-0 run in the last two minutes of the half to pull within five points. Junior center Gligorije Rakocevic made a short jumper for OSU as the half wound down.
The Huskies did a good job containing sophomore forward Tres Tinkle in the opening half, holding him to just seven points. Offensively, Washington shot 60 percent from the field and 7-for-12 from three, but did not score in the last two minutes and 12 seconds.
OSU continued its run to start the second half. Freshman guard Ethan Thompson scored his first five points of the game in the first three minutes of the half, including a three that tied the game up at 44.
The referees got very involved as the half wore on, calling 13 fouls through the first 10 minutes of the half, much to the chagrin of the Dawg Pack and every fan inside Hec Ed.
The Beavers took a 61-59 lead with 8:36 to go, but Crisp nailed his third three of the night to give the lead right back to the Dawgs on the very next trip down.
As usual, Washington leaned on Dickerson to work hard inside and carry the offense, and in the second half, he played out of his mind, putting up 15 points on 5-of-6 shooting. On a play with 6:08 to go, he ripped the ball away from an OSU player and converted a hard earned layup with the defense draped all over him.
The defense tightened up as well, forcing OSU into two shot clock violations, including one with 3:56 to go.   
Washington rode the efforts of Dickerson and the defense to a 70-65 lead with 2:45 left. Tinkle then made a short jumper in the paint before Wright made two free throws to make the lead five again.
After a timeout, Thybulle missed a wide open corner three, and Thompson Jr. made a quick jumper to cut the Washington lead to three.
Nowell then got an isolation opportunity up top, took his time, then drained a pretty running jumper. On the ensuing possession, Thybulle stole a Thompson Jr. pass, and Nowell got fouled and split two free throws.
Tinkle converted an and-one opportunity at the other end to cut UW's lead to three with 15.4 seconds left. With Oregon State running a press, Nowell used his dribbling wizardry to maneuver around four defenders before eventually getting fouled again, this time making two free throws.
Thompson Jr. came quickly down the other end and made a floater, but Crisp made his two free throws, salting the game away, though Tinkle did make a 30-foot 3-pointer at the buzzer.   
Now that Washington has 20 wins, the players can look back and be proud of the fact they exceeded all expectations set for them, including their own. When asked if the team ever thought a 20 win season was possible at the beginning of the year, Dickerson could only laugh and say "Not at all."
Reach reporter Chris Angkico at sports@dailyuw.com. Twitter: @chrisangkico