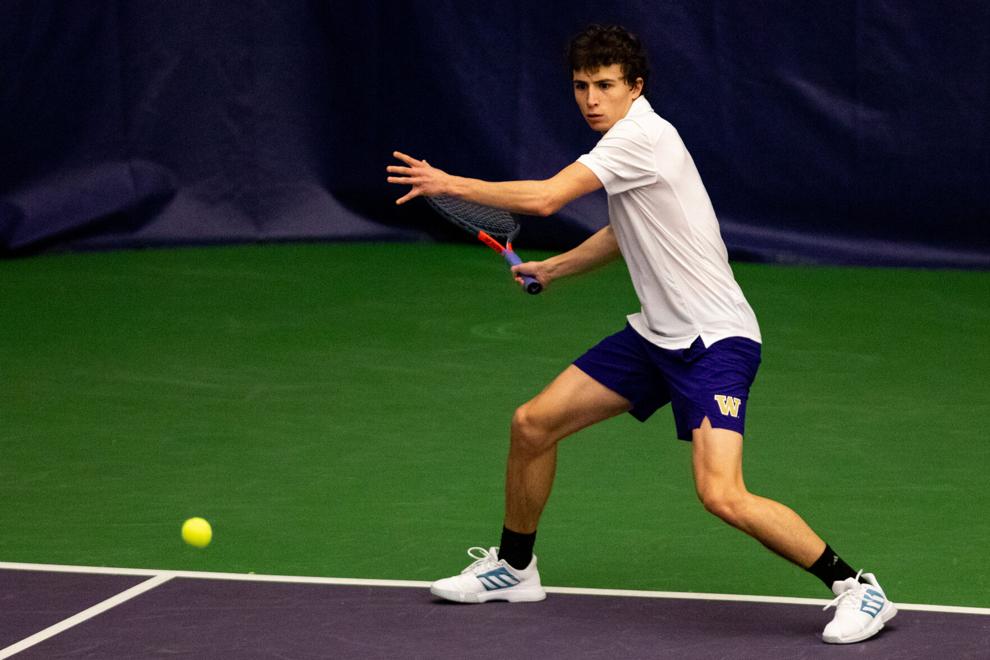 Two games into his first collegiate tennis match, Clement Chidekh was trailing 2-0.
Less than an hour later, Chidekh cleaned up his mess and wiped his opponent off the court, winning 12 of the final 13 games to help the Washington men's tennis team come away with a double-header sweep of Eastern Washington, 7-0, 7-0.
"I know the first point can be difficult," he said. "I made some adjustments and tried to focus on what makes me play well, my footwork, my intuition to go forward, and afterwards it just comes and I don't miss."
The comeback didn't just fall into his lap, though. It was representative of the hard work the sophomore transfer from Lyon, France has put in since joining the Huskies last fall.
Sporting the letter "C" on his sleeve, Chidekh demonstrated enough determination and commitment over the half year to earn a role as captain on head coach Matt Anger's team.
"Clement is just every day trying to get better in every way," Anger said. "Here we are today, he's played two doubles, two singles, and I'm trying to keep him off the court, but he's begging guys to go out and hit more balls with him. Of course I don't want him to hit more, but there's a part of me, I love it. I love guys that want to be out there more and more and more. It's almost, if you knew him, you'd ask, why is he not a captain?"
The trust Chidekh earned from Anger is not only evident in the letter on his sleeve, but his performance on the court, as the Frenchman took turns with junior Jack Davis on the top singles court against the Eagles. Across four matches, Chidekh failed to drop a set and won his lone match on the top singles court, 6-1, 6-1.
In his overseas career, Chidekh defeated five players in the French top 100 and was ranked in the Tennis Europe Top 100. Heading into this season, Chidekh was rated as the No. 8 newcomer by the Intercollegiate Tennis Association, joining Davis as the only other Washington player named in the ITA preseason rankings.
Chidekh demonstrated why he was so highly regarded Wednesday afternoon, frustrating opponents with his deep returns and ability to hustle across the baseline on defense. If he can continue playing like he did against the Eagles, Chidekh would add a lot to a Husky squad that lacked consistency last season outside of Davis and sophomore Ewen Lumsden.
For now, all Chidekh is focusing on is getting comfortable with his new teammates and life in a new country.
"I would say it's a good transition year for me because I don't know what's normal," Chidekh said. "So I just spend time with my teammates and my coaches and I try to work out with some daily routine to follow. For me I just try to take the positive of the situation, even if I don't have the most fun college experience, it's a good transition experience to next year."
Maybe things won't be any different next year though, because it seems all Chidekh wants to do is spend time on the court anyway.
Reach reporter Anthony Edwards at sports@dailyuw.com. Twitter: @edwardsanthonyb
Like what you're reading? Support high-quality student journalism by donating here.