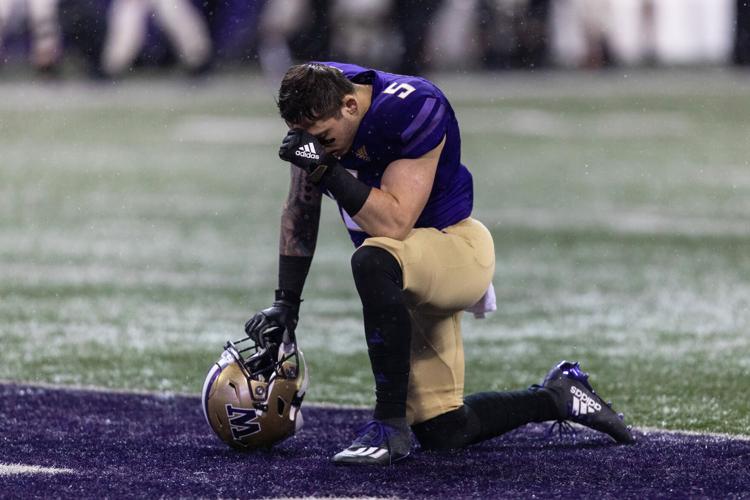 Sean McGrew has never been the biggest guy.
A senior on the Washington football team, McGrew is regularly the smallest player on the field, standing only 5-foot-7 and weighing 175 pounds — 15 pounds lighter than other tailback on the Huskies' roster. Jason Negro, head coach at St. John Bosco High School, says that's been the case ever since McGrew showed for his first practice nine years ago. 
"Imagine him coming in as a freshman," Negro said. "He was real slight of build, but he was super, super fast."
Speed has been McGrew's defining attribute for years. In his sophomore year of high school — McGrew's first as a starter — St. John Bosco took on the nationally ranked Chandler High School team. Not having many stats to his name, McGrew came into the game as a bit of an unknown.
It only took one play to set him apart.
Taking a handoff up the middle, McGrew put a foot in the ground, raced by the defenders on his way to an 80-yard touchdown.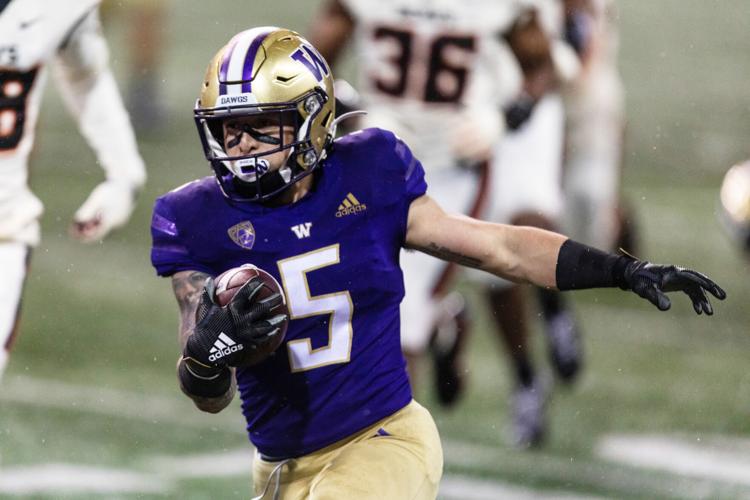 "Everybody in the stadium was like, 'Oh my gosh, this kid is blazing fast,'" Negro said.
From that point forward, his speed would no longer go unnoticed, as McGrew took his talents from the football field to the track the following spring. By the end of his sophomore year, McGrew was one of the fastest track stars in California, finishing second in the 100-meter dash at the state championships with a time of 10.56 seconds.
While McGrew has never been the top back for the Huskies, the redshirt senior has made plenty of impact in his role as the change-of-pace back.
In 2019, McGrew had his best collegiate season yet, rushing for 342 yards on 55 carries. His 6.2 yards per game would have been third in the conference, had he qualified.
Seven years after proving himself in high school, McGrew finally has a chance to do it again at the collegiate level, following four seasons of waiting behind Myles Gaskin and Salvon Ahmed at Washington. 
"He's been patient," McGrew's trainer Ayinde Bomani said. "I talk to him: 'You're in college. It ain't like you've got some sorry running backs in front of you, there's some talented kids. Just wait your time, and when your time comes, you're gonna be ready.'"
Following the departure of Ahmed, it seemed as though it was finally McGrew's time to shine. But just as he had to overcome his height in high school, McGrew faced yet another road bump.
Two months after Washington hired a new coaching staff in head coach Jimmy Lake and offensive coordinator John Donovan, McGrew and the rest of the Huskies were sent home due to the pandemic.
Instead of letting the pandemic get him down, McGrew used the time off as an opportunity to get better. Going back to his high school trainer Bomani, McGrew went back to old-school workout routines — dodging trash cans, running through the sand, and hopping through hoops.
While he had always been vertically fast, Bomani knew that to go from good to great, McGrew would have to translate that quickness in all directions.
"Like a point guard, you come down the field, you want to shake somebody and go to the basket," Bomani said. "We basically focus on [McGrew] being Allen Iverson as a point guard: being able to get in the middle of the field and make people miss."
After four seasons of waiting in the wings and with three-dimensional speed at his disposal, McGrew is locked and loaded for his senior campaign.
"It's awesome to understand the game as a whole and line up out there and look at the defense and understand what they're going to do based on tendencies," McGrew said. "That's not something I would have ever thought about when I first got here. I just thought I was getting the ball and they were telling me to run this way and I would find the hole that way."
It's easy to see why the Huskies were excited about the former four-star prospect from St. John Bosco; and now with a new role, a new head coach, and a new offensive coordinator, the senior running back presents loads of untapped potential.
In the first game of the season, it was obvious that Donovan was going to find a way to utilize McGrew's talents. Behind a line consisting of 335-pound Ulumoo Ale and 295-pound Jaxson Kirkland, McGrew rushed nine times against Oregon State for 91 yards, an average of 10.1 yards per carry.
So maybe that lack of height comes with its advantages, especially when McGrew can play hide and seek with the defenders.
"Just being short, being able to hide behind them, the defense has a hard time seeing me," McGrew said. "Once I hit the hole, I'm already running full speed."
Reach reporter Anthony Edwards at sports@dailyuw.com. Twitter: @edwardsanthonyb
Like what you're reading? Support high-quality student journalism by donating here.