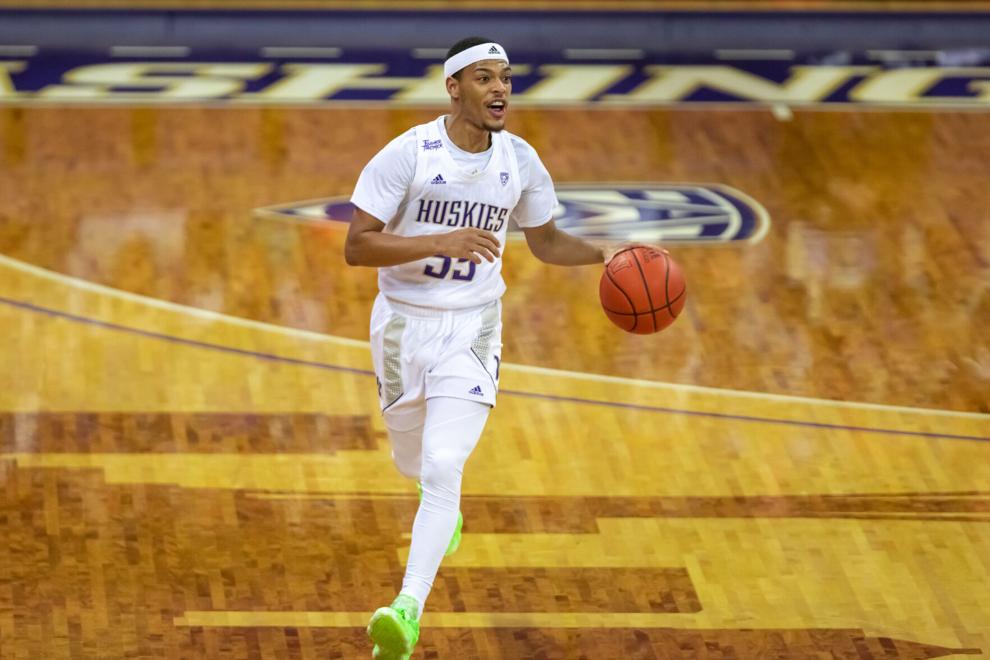 Fifteen seconds into Saturday's game, Travis Rice made the second field goal of his career. 
Starting for the Washington men's basketball team against California for senior night, Rice came around a screen and found space for himself on the right wing. It was a play head coach Mike Hopkins drew up specifically for the walk-on senior, and Rice let his shot fly. 
He buried the three-pointer, hitting nothing but net and sending his teammates into a frenzy on the bench and the court. 
"I was excited for him," senior Quade Green, who provided the assist on the play, said. "Travis' first game starting and, you know, senior night at that? It go out with memories, that's what we did for him. And he did it himself too by putting the work in every day to hit the shot really. It comes down to that moment and he was successful."
While Rice's heart-warming three-pointer got the Huskies started, it was another Washington senior, Green, who led the UW to a 62-51 win against Cal. Potentially playing his final game at Alaska Airlines Arena, the former Kentucky transfer was the catalyst, the floor general, and the closer Saturday night. 
"I went out and got a win on the last game here and that's the only thing we were focused on," Green said. "Our last game of the season and we got a win today so now we can look at it that we got our last win in this uniform." 
Making his 33rd start for Washington since arriving in 2019, Green didn't begin the game in a particularly notable fashion, but finished near his best. The senior ended the game with a team-high 17 points, 11 of which came in the final eight minutes. 
It's the 15th time Green has been in double-digits, and third time in the past four games he's scored at least 14 points. 
Green was clinical too, going 6-of-11 from the floor — his most efficient performance since the Jan. 16 matchup against UCLA — and a perfect 4-of-4 from the free-throw line. He also added six rebounds and three assists in 31 minutes, and only turned the ball over once, his most secure performance with the ball since the team's Jan. 20 win against Colorado and impressing Hopkins. 
"He was a lot more in control," he said. "When he's playing like that he's as good as any guard on the planet." 
Yet it was Green's poise and clutch performance down the stretch which stole the spotlight Saturday night. Foul trouble bothered the Huskies all night, forcing them to chop and change rotations, despite taking a 30-23 lead into halftime, the Golden Bears went on an 8-0 and later a 5-0 run to cut Washington's lead, which had been 14 at one point, down to just three with nine minutes to play. 
But just as it seemed Washington might let the lead slip away, Green took over. The senior ended Cal's run with a clutch three-pointer before helping the Huskies outscore the Bears 17-9 during the final nine minutes. Green scored nine points, grabbed two rebounds, and assisted a Jamal Bey three-pointer during the stretch. 
"We wasn't going to let this team lose," he said.
Green and Washington will now go back on the road to wrap up the Pac-12 regular season, heading to the desert to take on the Arizona schools starting with a makeup game against Arizona State in Tempe, Ariz. Tuesday, Feb. 23 for a 6 p.m. tipoff at Desert Financial Arena.
Reach Sports Editor Andy Yamashita at sports@dailyuw.com. Twitter: @ANYamashita
Like what you're reading? Support high-quality student journalism by donating here.