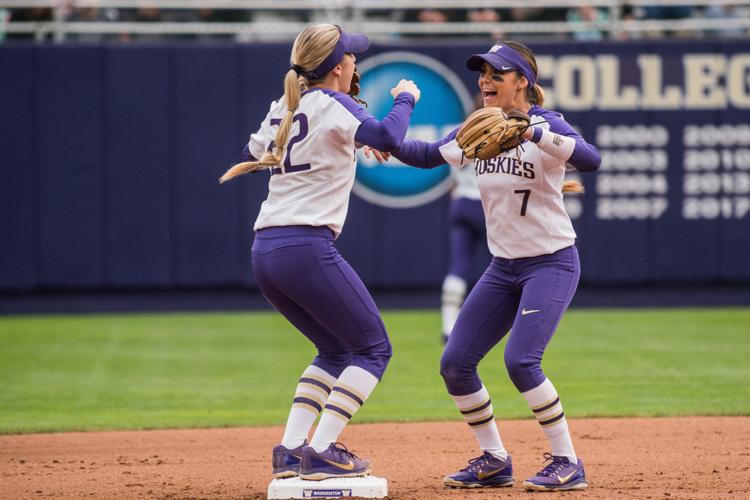 While their eligibility was only in doubt for a few weeks, the Washington softball team finally has a sense of how next season's roster will shake out with the confirmation that all four seniors will continue their education at the UW and return to the team in 2021.
With shortstop Sis Bates, catcher Morganne Flores, and second baseman Taryn Atlee already planning to return, the Huskies were just waiting on the outcome of utility player Kaija Gibson's graduate school application. The Redmond native was accepted to a one-year program in Intercollegiate Athletic Leadership on May 2, and will begin her pursuit of a master's degree this summer.
"A lot of students do that if they have another year of eligibility," Gibson said. "It's like for coaching, athletics leadership, people who want to be athletic directors or coaches after they are done with school."
Gibson appeared in 19 games in 2020, making 14 starts at first base and in the outfield. She hit .292 with a .721 OPS in 24 at bats. She also added a triple, two walks, and seven runs scored. 
Flores will return for the second year of a two-year program in leadership and higher education, for what will also be her sixth season playing for Washington after taking a redshirt season in 2018. Flores was one of just four Huskies to start all 25 games for Washington this past season, hitting .313 with four home runs and was second on the team with 21 RBIs.
She confirmed her return to the Seattle Times on April 2.
Bates follows in the footsteps of Flores, beginning her first year in the same education program that Flores is currently finishing. The two-time Pac-12 defensive player of the year originally planned to be a graduate assistant for the Huskies in 2021, but will instead continue to take the field. 
The shortstop missed 10 games in the shortened 2020 season due to a concussion she suffered against UCF on Feb. 12, but led Washington with a .529 batting average and had a perfect fielding percentage. Bates announced her return in a video interview with the NCAA on April 22. 
As for Bates' middle infield partner, Atlee will push her graduation back to next winter in order to play in 2021. 
"We've been designating our whole life to this," Atlee said. "So we should have the choice to say whether we want to come back or not."
Like Flores, Atlee also started all 25 of Washington's games — all at second base — and was third on the team with a .441 batting average. She also accumulated a 1.169 OPS, led the team with three triples, and was second in runs scored with 24.   
"I decided to push back my graduation and do a post-baccalaureate so I'll graduate next winter," Atlee said. "In the meantime I'm going to take a couple internship classes because I'm really into sports journalism and media."
The NCAA's decision to grant spring sports athletes an additional year of eligibility also means the team can have an expanded roster next season and carry more than the standard 12 scholarships. The Huskies have five incoming freshmen for 2021: Lilly Agan, Raigan Barrett, Jenn Cummings, Stormy Kotzelnick, and Sarah Willis.
Freshman Hannah Dardano, who redshirted the 2020 season while battling injury, recently entered the transfer portal, which would free up another roster spot. 
Reach reporter Anthony Edwards at sports@dailyuw.com. Twitter: @edwardsanthonyb
Like what you're reading? Support high-quality student journalism by donating here.