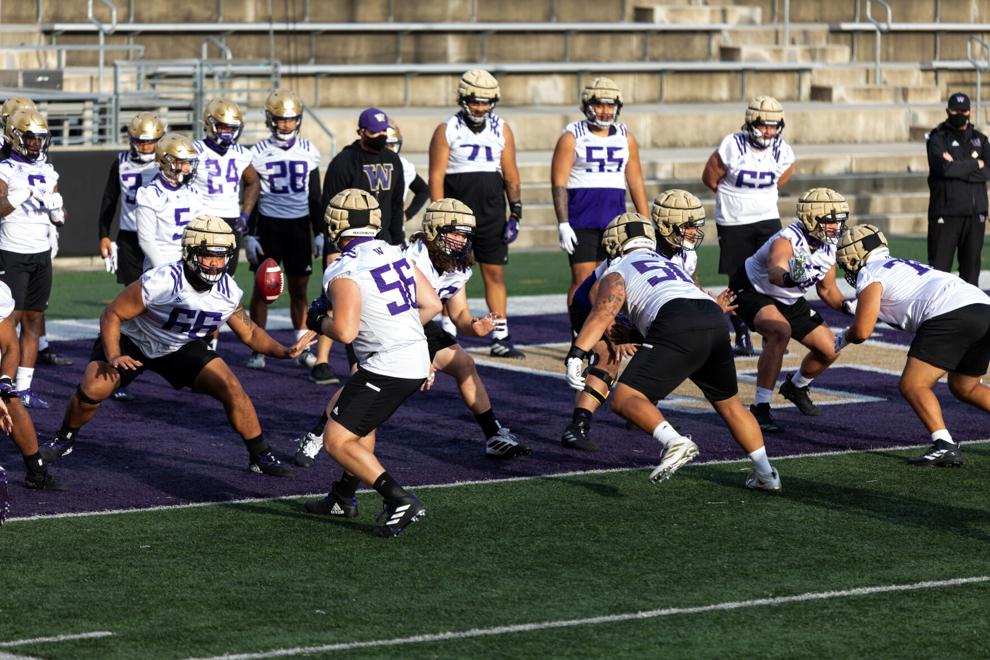 While quick decision-making on the field will be a high priority, the quarterback position remains unclear, as offensive coordinator John Donovan has yet to make the tough call regarding who will handle snaps under center.
"Right now, it's just been mix-and-match and see who can handle it — who reacts well and makes good decisions," Donovan said at a press conference on Tuesday. "If we've got a guy, I'd love to be able to say, 'This is our guy right now.' At this point, we're not at that point."
The rest of the offensive depth chart is just as foggy. With a solid mix of untested but talented players — who on Wednesday had their first padded practice since January — Donovan could talk for hours about his guys' physical ability. He's just working on getting them to translate it into production. 
"We're not where we want to be, but we're working to get there," he said. "We think we've got guys that are definitely talented, just don't have the experience. The more you know, the more you'll process and make good decisions."
Meanwhile, the offensive line returns only two starters from a year ago — junior Jaxson Kirkland, who has made the move to left tackle, and senior Luke Wattenberg. Outside of the two veterans, the rest of the line remains up-in-the-air.
However, sophomores Victor Curne and Ulumoo Ale appear to have made important strides during the extended offseason. Both Donovan and Kirkland mentioned the two big men as playing important leadership roles in what will be only their second season. Even a veteran on the defensive side of the ball, senior defensive lineman Josiah Bronson, credited Ale as a relentless competitor across the line of scrimmage at practice
Beyond the returning players, Kirkland has been blown away by the progress and work ethic of the incoming freshmen across the roster, part of a core unit that looks forward to playing for — what the senior calls — Donovan's pounding, "attack-mode type offense."
"They've been light-years ahead of when I was a freshman," Kirkland said. "I think their development is way more than most average freshmen coming in."
Healthy defense ready to go
Inside linebackers coach Bob Gregory spoke at length about the depth of his full-strength linebacker corps on Wednesday, reveling in the returns of redshirt freshman Josh Calvert and sophomore MJ Tafisi from injury.
"[Tafisi] looks fine — he's making strides," Gregory said. "[Calvert], a little bit slower — he's fine, he's 100 percent, he's completely cleared. I don't think he's quite where Junior is right now, but he's making progress every day."
Gregory and defensive coordinator Pete Kwiatkowski will need a lot of output from those two young players, who will likely be second on the two-deep behind the starting duo of sophomores Jackson Sirmon and Edefuan Ulofoshio.
The latter especially received high praise from Gregory, who claimed he frequently arrive in the film room at 7 a.m. to find the Alaskan linebacker diligently studying the previous day's practice session.
"The kid is just hungry to learn more," Gregory said. "In the offseason, he was pestering me, I mean that in a positive way, where it could be eight o'clock at night and he's gonna text me something he saw on YouTube. You love those kind of guys. You love his kind of work ethic."
Some of the veterans were just excited to finally get pads on again after a long spring and summer spent finding new ways to workout effectively without that extra weight.
After pushing the occasional mid-sized sedan or F-150 around to stay in shape, Bronson had been looking forward to getting back to a regular practice routine before Wednesday's practice with pads.
"I kinda went back to the old school workouts," Bronson said. "It's been a full year since we've had some pads on. It was real fun — lots of excitement on the field."
With a healthy squad and an experienced secondary, the Huskies defense will need that excitement to translate into productivity as the Huskies continue their second week of fall camp. But, for now, it appears Husky fans won't have their answer at QB until at least early-November.
Reach reporter Nick Mendro at sports@dailyuw.com. Twitter: @m_mendro
Like what you're reading? Support high quality student journalism by donating here.