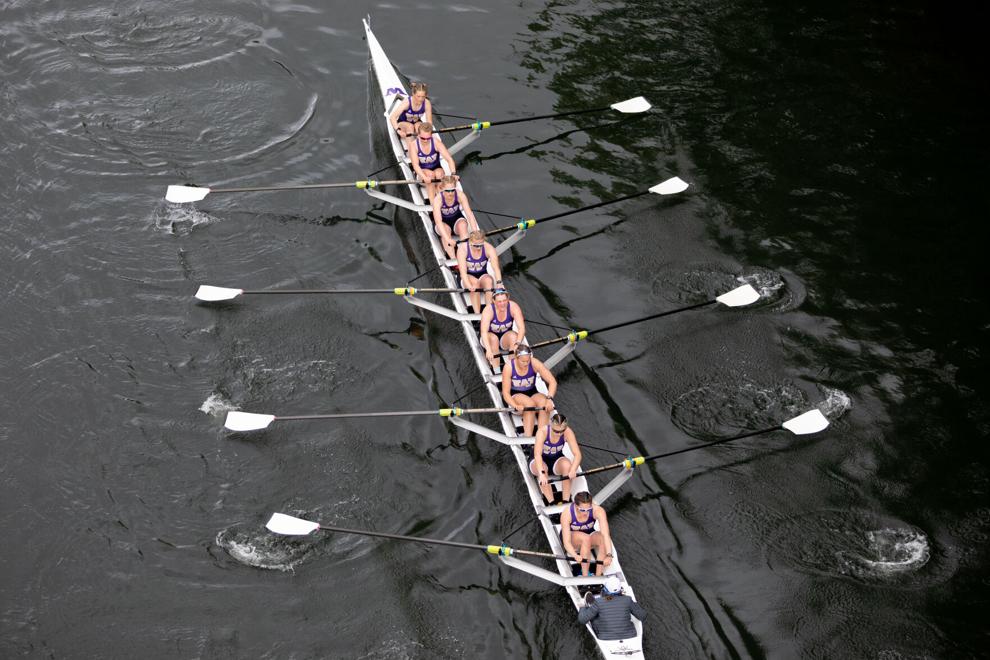 The Windermere Cup was step one. Next up is step two for the Washington men's rowing team — the Pac-12 Championships, which will take place Sunday morning.
The team has taken the season bit by bit, and it has clearly worked. The Huskies are the No. 1 ranked team in the country and have yet to lose a varsity eight or second varsity eight race.
"The guys' confidence is rising," head coach Michael Callahan said. "This is a three-step process, and it's really easy to start looking at the end of the year, the last step. We have to make sure everyone is focused on taking this next step before we take the last one."
With spirits continuing to rise following the Windermere Cup win over Cal, the rowers must make sure they are keeping composure while out on the water.
"That's one of the many skills we learn as rowers," sophomore rower Adam Krol said. "You've got to have that precise concentration in the boat, but at the same time bring a lot of good energy with it. We just have a really good crew that's able to come together in the boat every day."
Coming together in the boat is something many rowers weren't able to do last year, with the entire season being cancelled. 
Both the men's and women's teams each have two sophomores in their varsity eight boat, meaning they each have rowers who have never experienced the Pac-12 Championships before. 
"I'm super excited; we got to race only three times so far," Krol said. "I feel like the excitement is definitely building up because it's the first time we're not doing just a dual race, we'll actually have the proper six boats across the race. Definitely getting super excited."
Once again, all of the teams will race without an audience, which brings on a unique atmosphere that much of the team is used to at this point. 
The absence of fans, though, can be viewed as both a negative and a positive.
"When you have a really good boat, we tell everyone to keep your head in the boat," Callahan said. "Some of the external energy isn't there, but it also allows the guys to focus on what's happening between the gunnels. So we're kind of using it as a positive too: there's less distraction and more focus on execution. It's like many of the things that've happened this year, you can look at them as negatively or positively, and we've chosen to look at it positively."
Both the men's and women's teams are looking to capture their fourth straight Pac-12 Championship, with each of them having won the championship in 2017, 2018, and 2019.
Overall, the Washington women's team is heading into the Pac-12 Championship in a very similar spot as the men's, being undefeated with their top boats. The only loss that the No. 1 ranked women's team has faced all year was at Windermere, in a race that pitted their second novice eight against Seattle Pacific's first varsity eight.
As the team prepares for their toughest channel yet, they are looking to their experience to help lead the way out on the water. 
"This is something that the seniors and fifth years bring to the table — we've been through it before, we've seen it happen, it's happened to us in both scenarios, so I think that what prepares us most is training with each other throughout the year," fifth-year senior Lark Skov said. 
"We have kind of the whole array, which I think is really cool," Skov said. "This will be our fourth Pac-12 Championship, and then we have people who it'll be their first. It's really awesome when there's a boat like that and everyone's having this different experience, while it's the same experience at the same time."
An aspect of the team that Skov feels has helped them throughout the season is the competitive spirit that the entire team poses at not only all of the regattas, but also at each practice.
"If we do workouts on the rowing machine or workouts on the water, it's not one or two people that are always winning; it goes back and forth," Skov said. "We're always challenging each other and I think that really helps us not being complacent and we carry that over as we're competing against other teams."
Schedule
9:00 a.m. – Men's Varsity Four

9:15 a.m. – Women's Novice Eight

9:30 a.m. – Men's Freshman Eight

9:45 a.m. – Women's Third Varsity Eight

10:00 a.m. – Men's Third Varsity Eight

10:15 a.m. – Women's Varsity Four

10:30 a.m. – Men's Second Varsity Eight

10:45 a.m. – Women's Second Varsity Eight

11:00 a.m. – Men's Varsity Eight

11:15 a.m. – Women's Varsity Eight
Reach reporter Nathan Mathisen atsports@dailyuw.com. Twitter: @NathanMathisen
Like what you're reading? Support high-quality student journalism by donating here.