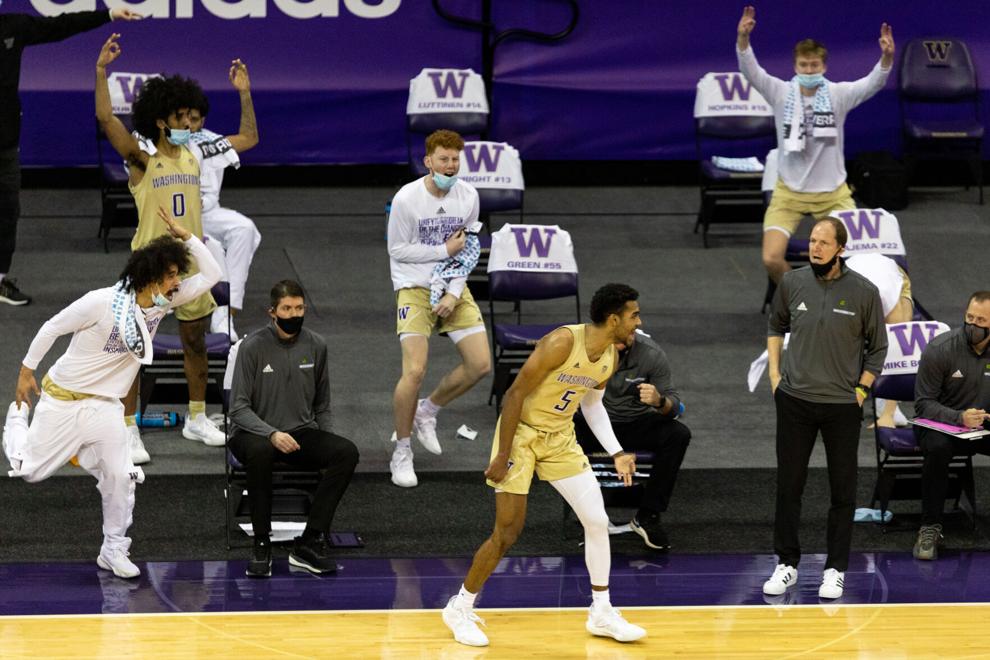 Jamal Bey has never played a game like this before.    
"I've never had a game this efficient before, never," he said. "My teammates were finding me, every shot I put up pretty much felt good so I thought, 'OK, if I'm open I'm gonna shoot it,' and it was helping our team so kept doing it." 
Facing Utah at Alaska Airlines Arena, Bey was at his best. With 15 minutes to play in the second half, the junior already had 17 points on a perfect 7-of-7 shooting. 
By the time Bey nailed a pair of free throws to ice the game for Washington, he had 28 points — a new career-high — to lead the Huskies to their second consecutive win, beating the Utes 83-79. Head coach Mike Hopkins called Bey an elite player, and praised his poise.  
"The thing I was most proud about tonight was he kept playing the right way," he said. "He didn't force anything, he just took what the defense gave him — just so proud of him and happy for him."
The Las Vegas native's offensive ascension, however, was not a straightforward one. Inserted into the starting lineup during the 2019-20 season near the beginning of conference play, Bey struggled to score or create in place of Quade Green. 
Despite averaging 24 minutes per game, Bey only scored 5.3 points and shot just 36% from the field. His three-point shot didn't fall either, with the junior only shooting 25% from beyond the arc. In 16 starts, Bey only scored in double-digits six times. 
The 2020-21 season started in a similar fashion. In Washington's first eight games, Bey averaged five points even though he played 24.6 minutes per game. Bey said he, and the whole team, had to face themselves to overcome their difficult start to the season. 
"For myself, I looked in the mirror and said, 'I'm better than this,'" he said. "'I can help our team win more than I have been,' and that's what I've been trying to show. And my mindset is I'm trying to win, regardless of what that is and what I'm trying to do. Whatever it needs from me, that's what I'm gonna do for us to win."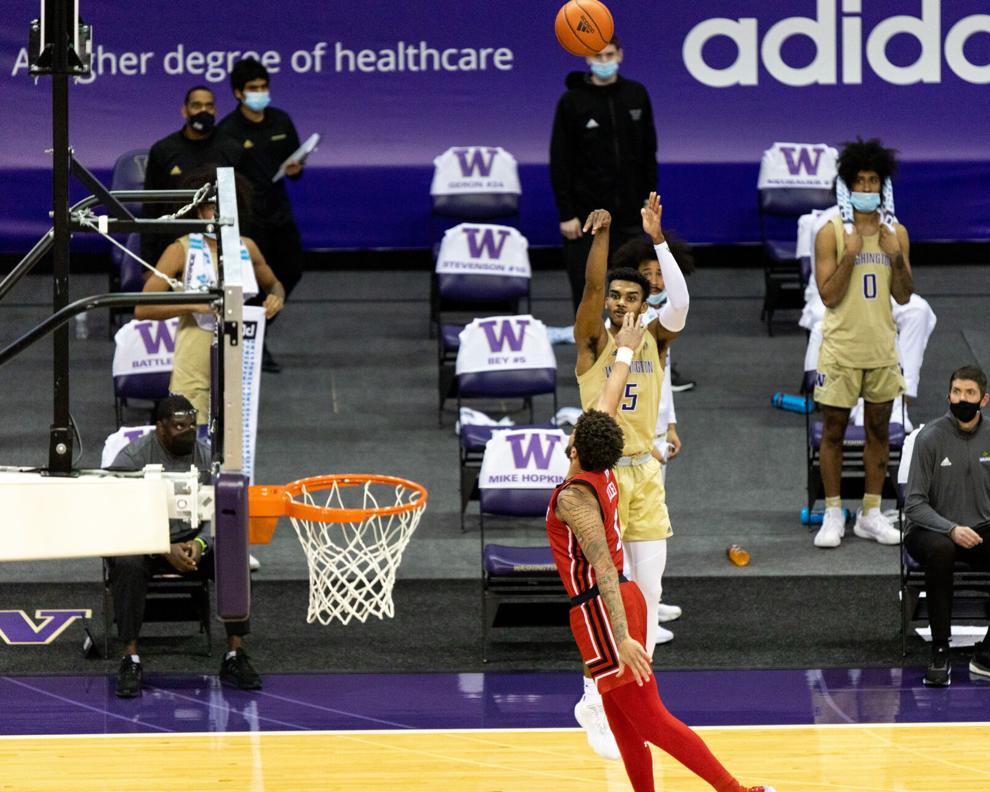 Bey found his confidence before Washington's trip to the Bay Area though. Against Stanford, he took ten shots for the first time all season, including seven attempted three-pointers. Bey finished the night with 15 points, a career-high he quickly broke with an 18-point performance against California two days later. Hopkins believes a slight change in Bey's offensive approach helped open up the rest of his game. 
"We started posting [Bey] up and he started getting some stuff easy," Hopkins said. "Then he started to see his three-point shot fall and you see him now with pull-ups, you see him scoring at all three different levels right now, you see his finishes become stronger."
Since Washington's Jan. 7 matchup with Stanford, Bey has averaged 15.3 points per game, a ten-point rise from the 2019-20 season. He's also been efficient, shooting 57% on field goal attempts and is 13-of-25 from three-point range. And to Hopkins' delight, he hasn't let up on the defensive end either, grabbing 10 steals and four blocks during that span. 
All of Bey's improvement culminated in his performance Sunday against Utah. Besides points, he set career-marks in minutes, field goals attempted and made, three-pointers made, and free-throws made. In 39 minutes, Bey scored 28 points on 10-of-11 shooting and a perfect 4-of-4 night from three-point range. He also grabbed five rebounds, dished two assists, added a block and snatched four steals. 
For now, it seems Bey's impact is here to stay, and in case fans are worried he might be lacking some faith in himself, Hopkins is here to reassure. 
"You just see this guy oozing with confidence," he said.
Reach Sports Editor Andy Yamashita at sports@dailyuw.com. Twitter: @ANYamashita
Like what you're reading? Support high quality student journalism by donating here.