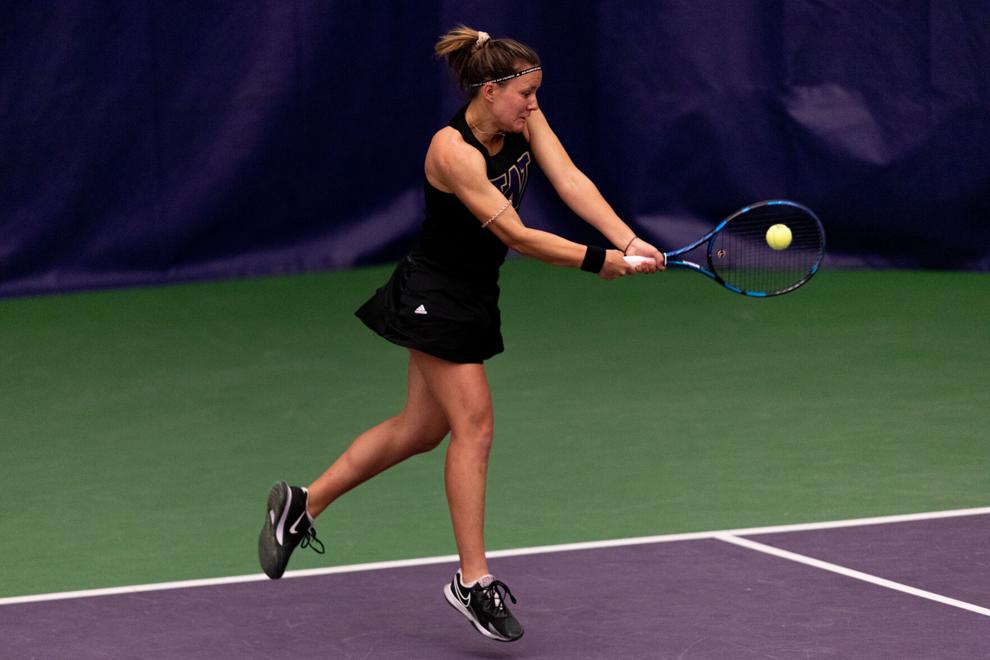 The courts at Nordstrom Tennis Center sizzled with more emotion and energy than they had witnessed in over a calendar year, since before the COVID-19 pandemic extended its grip on UW athletics.
Junior Nika Zupancic threw her racket down on court four and pumped her fist before her teammates stormed the court and embraced her. She'd just completed a comeback victory at fourth singles, sealing the 4-2 victory over Oregon for the Washington women's tennis team.
"You play for matches like this, honestly," Zupancic said. "My whole goal when I'm here is to give [my team] as much as I can — my energy, my wins, like anything that I have. And I feel like I succeeded in that today, and I'm really happy about that."
The return to Seattle was much more than the end of a two-week road trip for Zupancic, who'd spent much of her quarantine period back home in Otocec, Slovenia. Her return has given the Huskies (12-6, 4-5) a boost, as they've won their past three matches with her in the lineup.
For head coach Robin Stephenson, Zupancic's presence has extended well beyond the racket in her right hand. 
"I feel like the last few weeks we've just gotten better and better," she said. "Obviously with Nika coming back, it adds some depth and experience to our lineup. I just feel like we're just playing better as a whole."
Stephenson's comments surrounding Zupancic's performance on Friday afternoon — and during the Huskies' three-match win streak in its entirety — reflect the grit and energy they've brought to the court in recent memory, particularly today.
After dropping the doubles point, the UW women needed four singles victories to take home its first home victory since March 21. Facing an Oregon team experiencing its best season in recent memory, that would prove to be no easy task.
They clinched their first three easily, a trio of single-set matches sprinkled throughout the six-person lineup. Leading 3-2, the Huskies found themselves in a pair of third sets, on courts three and four.
Junior Sedona Gallagher won her first set 6-4 before dropping the second 5-7. On the other side of the facility, Zupancic had rallied from a set down to draw even on court four. The Huskies needed just one to pull through to secure the win. 
Zupancic took an early lead and never looked back, closing out the match amidst loud cheers from the player-guests podded throughout the indoor arena. Gallagher never finished, but she had a 5-3 lead over her opponent when they called the match early after Zupancic finished.
Regardless of Gallagher's hypothetical outcome, Stephenson never had a doubt in her mind that they'd win that match.
"I knew over the course of the match that a couple of our girls are just so tough in three-set matches, specifically Nika and [Sedona]," Stephenson said. "They've been in that situation so many times and come through so many times. When I knew the match was coming down to two third sets — and it's those two? I think the girls wanted it bad, and they know what's at stake."
What's at stake is a trip to the Pac-12 postseason tournament, and in order to earn an invitation, the Huskies likely need to close out their season on a five-game winning streak. They've completed three-fifths of that challenge now, after today's win over Oregon.
As they prepare for a trip to Spokane and a date with Gonzaga on Wednesday, April 14, the Huskies look to ride their emotional momentum into the final week of the season.
Reach senior staff reporter Nick Mendro at sports@dailyuw.com. Twitter: @m_mendro
Like what you're reading? Support high-quality student journalism by donating here.