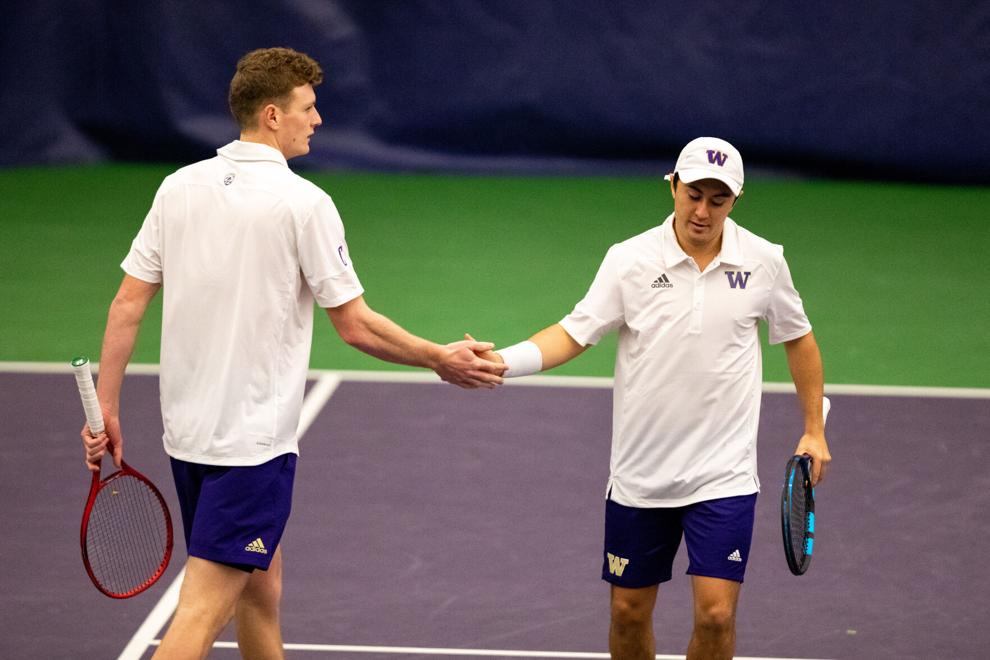 After getting their third win in a row against Portland, the Washington men's tennis team heads into next week with a home Pac-12 match against Utah and three away matches.
On March 12, the Huskies (7-5, 0-2 Pac-12) only lost the doubles point and defeated Portland 6-1. Not only did that give them their third win in a row for the first time this season, but it also kept their undefeated home record intact. 
Despite their impressive run, it's clear that Washington has been underperforming in the doubles matches lately. In the match against Gonzaga, junior Jack Davis and senior Alexis Alvarez dropped a 5-0 lead in the set but were narrowly able to come out on top. The doubles match against Portland also came down to the wire but Washington were not able to get the point.
"I want to execute the fundamentals better," head coach Matt Anger said. "I think we've been a little more inconsistent than we like, so we're going to be working hard in the doubles matches."
Starting off the Pac-12 season with two losses, the Huskies seek their first Pac-12 win against Utah at home. With momentum building and home-court advantage, this game is the chance for Washington to turn their Pac-12 season around. 
"This year with players just playing less because of the coronavirus, having home court has been a bigger difference than normal," Anger said. "I think players are just not as comfortable when they're on the move."
The game against Utah is only the beginning of a busy schedule, as Washington travels to Southern California where it will play against three different opponents. 
Their first game in will be against Pepperdine on March 22 and will face UC Santa Barbara only two days later. The three-game stretch will end March 26 Washington takes on San Diego State.
In direct contrast to their undefeated home record, Washington has struggled on the road, as it has not won an away match so far this season. However, Anger believes that the Huskies are becoming more comfortable when they travel and will continue to improve on the road.
"At this point in the season, we are getting more used to it," he said. "We got some matches under our belt so I think the level of tennis is going to continue to go up."
After this run of matches, Washington will only have Pac-12 matches to play and this busy week may be the challenge it needs to become prepared. 
"It's a tough week," Anger said. "Tennis-wise, it's going to be a step up, but I can't wait. I'm looking forward to it."
The Huskies play Utah on March 19 at 3 p.m. where they seek their first Pac-12 win and try to maintain their impressive home record.
Reach contributing writer Spencer Smith at sports@dailyuw.com. Twitter: @spencerssmith24
Like what you're reading? Support high-quality student journalism by donating here.