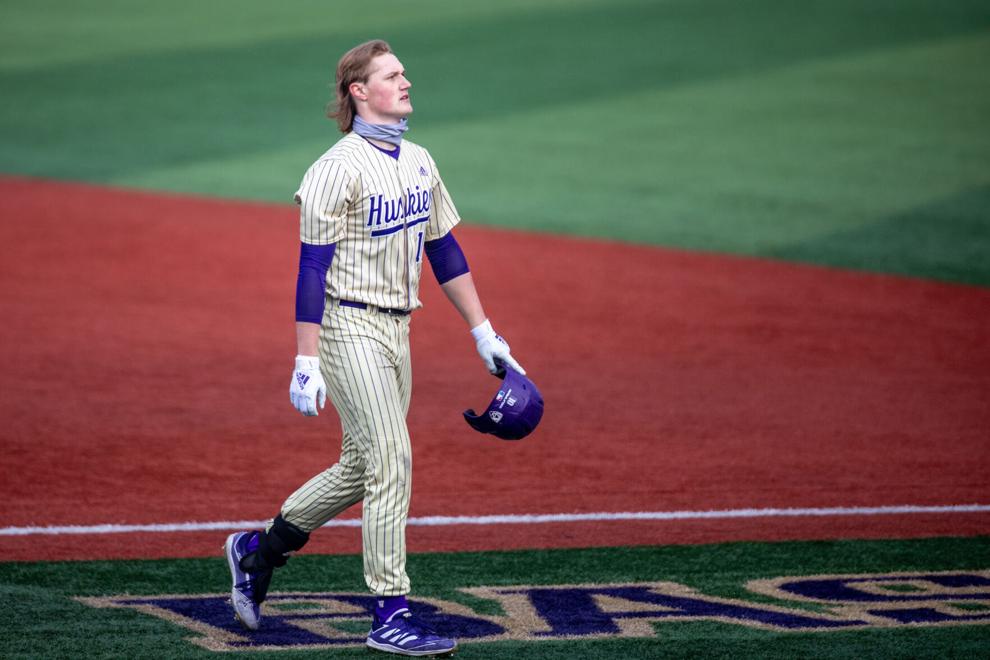 Four hours and 10 minutes after the game was supposed to start, Will Simpson came up just short of walking it off for the Washington baseball team. 
Facing Loyola Marymount's Matt Voelker with the tying run on second and two outs in the bottom of the eighth, Simpson jumped on the 2-2 pitch and sent it flying deep towards the left-center gap. 
He was 33 feet short. Instead of Simpson's hit sailing over the fence, the ball settled easily in the glove of LMU centerfielder Kenny Oyama. With the UW's offense struggling to produce runs, head coach Lindsay Meggs feels the team simply needs to learn how to take mature at-bats in key situations. 
"We've seen a lot of guys who are learning about what it takes to take quality at-bats with runners in scoring position," he said. "We just have to get better."
Simpson's fly out condemned Washington to a rain-delayed, eight-inning 3-2 loss Sunday at Husky Ballpark, and clinched the series for Loyola Marymount. 
Despite sticking with the youth movement that won him Game 2, Meggs and the Huskies (4-6) were once again plagued by a lack of offense. Washington only managed four hits against LMU Sunday, with half of them coming in the eighth inning. 
The Huskies also went 1-for-12 with runners on base and 1-for-8 with runners in scoring position. UW senior Ramon Bramasco praised the LMU pitching staff's game plan, but believes Washington has to be more disciplined at the plate going forward. 
"We were just swinging at pitches that were kind of out of character," he said. "We just haven't clicked yet."
Early on, it seemed like Washington had figured it out though. Meggs stuck with the lineup that scored seven runs in Game 2, and after waiting out a one-hour rain delay, it was the Huskies who struck first. Senior Braiden Ward led off the bottom of the first inning with a double against LMU starter Matt McClure (2-0), was bunted to second by Bramasco, and then scored on a groundout by freshman Nick Kresnak to put Washington up 1-0.
For the first few innings, it seemed like that might be enough. Making his second start of the season, redshirt freshman Adam Bloebaum (0-2) was dominant early on. He struck out the first four batters he faced, and only gave up one single in the first three frames, facing the minimum.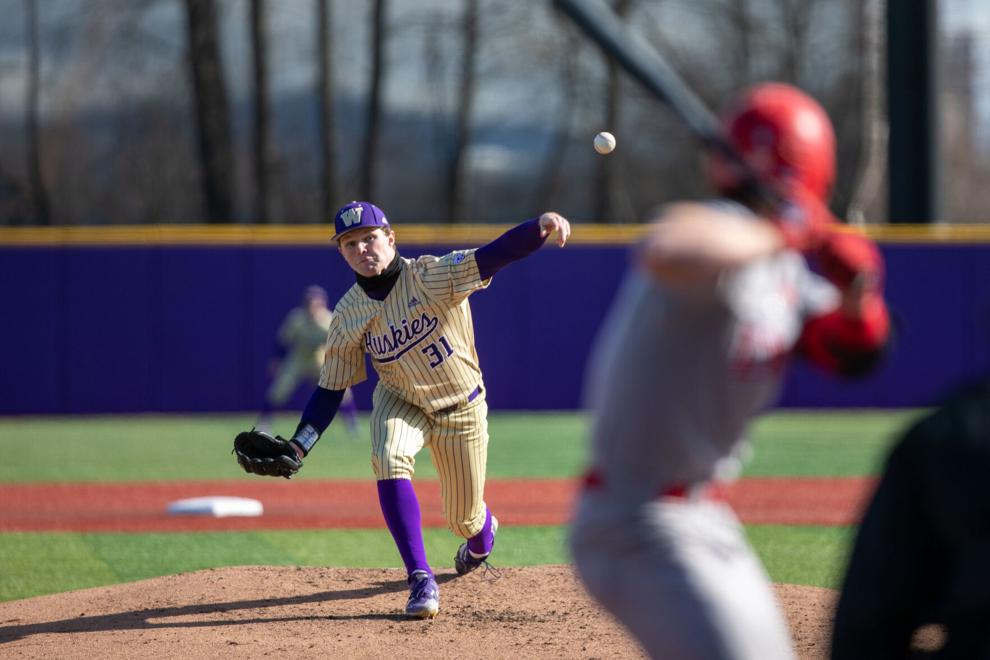 However, the lefty ran into trouble on his second time through the LMU lineup. Bloebaum surrendered two singles to leadoff the fourth, and a steal by Oyama put runners on the corners with no outs. The Lions cashed in on their opportunity, and freshman Diego Baqueiro doubled to bring home Oyama and tie the game.
A batter later, LMU took the lead as a groundout scored senior Julian Bury from third to make it 2-1. The Lions (6-4) almost extended their lead, but a nice play by UW third baseman Michael Snyder cut down Baqueiro at the plate to keep Washington within one. 
Bloebaum escaped the inning without giving up another run, ending the day with six strikeouts and two earned runs in four innings. Meggs was satisfied with the lefty's performance, especially in the first three innings. 
"I think when we're in these one run games and we're not scoring enough runs, everything is just magnified," Meggs said. "Your pitchers are going to make a mistake here and there, and you have to allow for that. Typically they're going to give up a hit an inning, and if we're handling things better on offense it's not even a noticeable thing."
LMU almost tacked on another run in the fifth against UW reliever Dylan Lamb, but a long throw from centerfield by Ward beat LMU's runner to the plate after he attempted to tag up on a shallow fly ball. 
While the Lions finally broke through, the Huskies bats went cold. Washington only had one hit between the second and seventh innings, and struck out seven times on the night. 
The Lions tacked on another run in the top of the eighth against UW reliever Stefan Raeth, though it was unearned as the runner reached because of an error by Bramasco. Washington finally showed life in the bottom of the frame, scoring one run on a single by pinch hitter Kelly Corl — who became the fourth freshman to get a hit in his first collegiate at-bat this year — but it wasn't enough as Simpson's flyout ended the game. 
"We've just got to stick to our plan when we're hitting, keep trusting the process," Bramasco said. "All we can do is look forward to Tuesday. It will be a good start."
The Huskies will look to bounce back with a midweek matchup against Portland on Tuesday, March 9. First pitch is scheduled for 5 p.m.
Reach Sports Editor Andy Yamashita at sports@dailyuw.com. Twitter: @ANYamashita
Like what you're reading? Support high-quality student journalism by donating here.