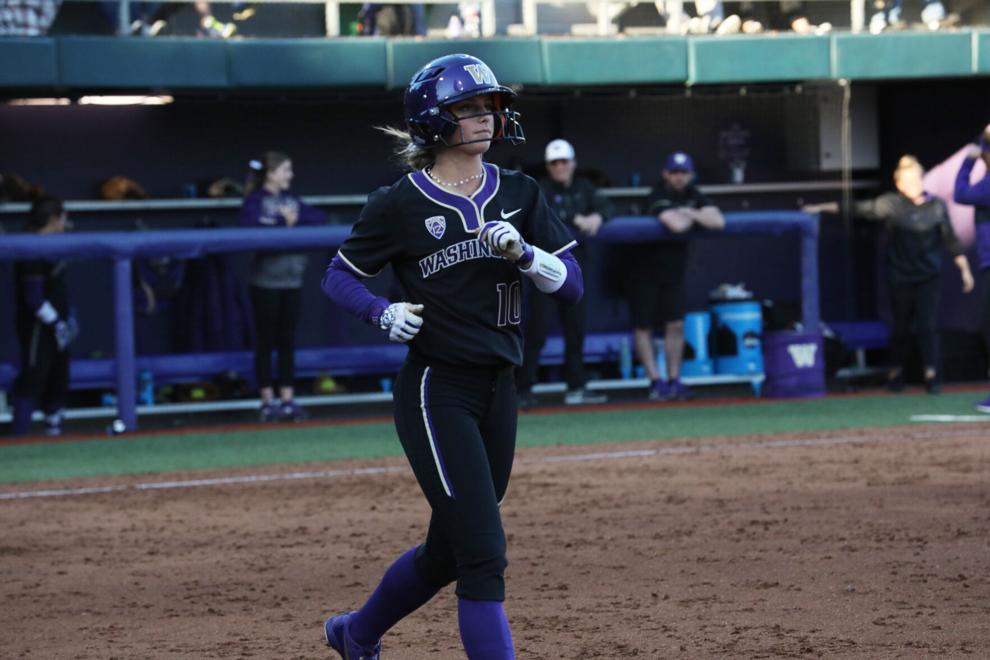 In its opening weekend of games, there was something noticeably different about the No. 2 Washington softball team.
Scoring 48 runs in an undefeated opening weekend certainly wasn't new, but it was the way that the Huskies scored those runs that stood out from seasons past. Washington hit 13 home runs over the weekend, nearly half of its shortened 2020 total and more than a quarter of the number it hit in 2019.
While the Huskies (5-0) have second-year power bats in infielder Baylee Klingler and pitcher Kelley Lynch to lead the team's power, other sources, such as junior outfielder Sami Reynolds, have produced more home runs so far in the young season.
Washington's power surge isn't a coincidence, though. It's the result of a new strength and conditioning program adopted over the offseason.
"We've changed our strengthening and speed stuff this year," Reynolds said. "It's been really helpful, and everyone is feeling faster and more powerful. It's kind of exciting."
With the COVID-19 pandemic affecting teams across the country, Washington sent its players home, and the team had to adapt. Players did whatever possible to stay in shape, whether it was working out at a home gym, like Reynolds, or going to take at-bats at a community park.
Once the Huskies were welcomed back to campus in the fall, they had access to more equipment. Although they couldn't practice in large groups during the offseason, Reynolds said they found a way to adapt.
"We've just been doing more heavy lifting, power stuff, speed squats, lots of jumping," she said. "We do sprint gates where we are sprinting more, which is awesome. We do our sprints every week, which we haven't done in past years."
The UW athletic department relocated much of its training equipment onto the concourses inside Husky Stadium and Alaska Airlines Arena in order to follow social distancing measures.
Even though the struggles of COVID-19 pushed the team apart for a period of time, the time off may have actually been a blessing in disguise, with the results on the field panning out in a big way.
"As a team, as a collective group, we feel like we've gotten so much out of it in these past couple of months and in the offseason," Reynolds said. "We feel pretty powerful and pretty quick. Everyone feels that way; I'm sure I am not the only one."
Reynolds hit three home runs on the opening weekend, just two shy of her career-high, set back in 2019. She also leads the team with nine RBIs and is tied for second with two doubles.
It's not just Reynolds who is seeing the results thus far in 2021, though.
Infielder Taryn Atlee, now in her fifth season with the team, has also noticed a much different routine this year.
"The way we are training this year, I just think it's really pushing us past a level we have ever been pushed before," she said. "If you could see through this [past] weekend, we feel really strong and in-click and explosive. I think it's really showcasing on the field as well."
If the Huskies can keep up the power throughout the season, the end result will be much different than years past.
Washington was carried deep into the postseason behind the arm of Taran Alvelo in 2018 and 2019, but eventually a sputtering offense was too much to overcome, as the Huskies came up just short of a national championship.
The biggest problem in 2019 was the lack of power to accompany catcher Morganne Flores, who accounted for 48% of the team's home runs. Along with Flores' powerful bat, Reynolds' improved power is a key piece for the Huskies in 2021 as they hope to make a run at their first national title since 2009.
"I'm just trying to hit the ball as hard as I can," Reynolds said. "If it goes out, that's awesome."
Washington will have a chance to add to its home run tally when it takes on BYU on Thursday at 1 p.m. at a neutral site in St. George, Utah. The Huskies will stay in St. George this weekend for four games at the Dixie State Classic.
Reach Assistant Sports Editor Anthony Edwards at sports@dailyuw.com. Twitter: @edwardsanthonyb
Like what you're reading? Support high-quality student journalism by donating here.