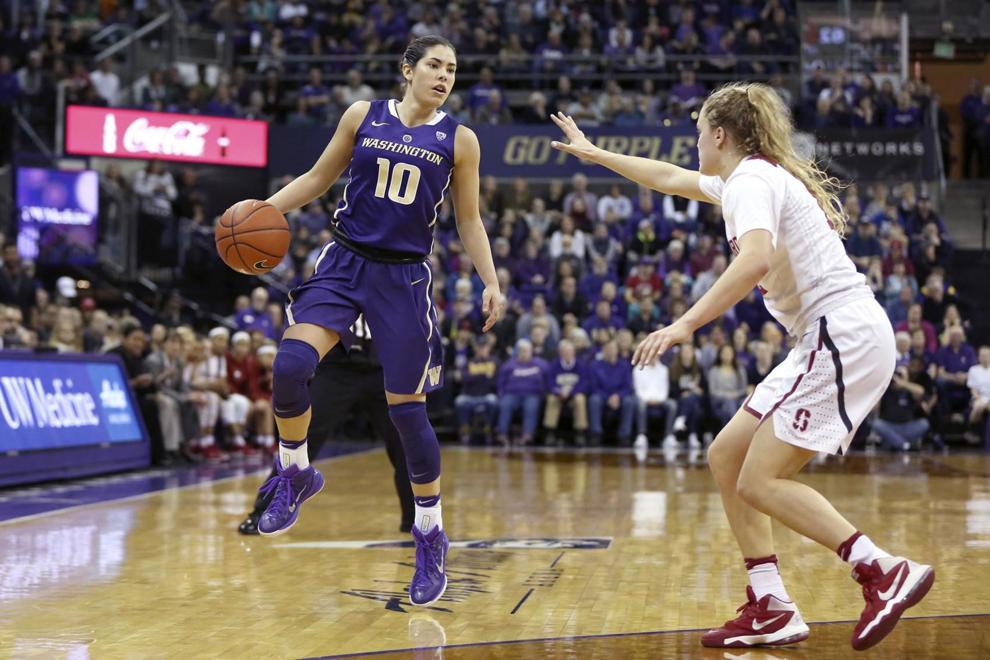 Kelsey Plum is making her Pac-12 debut. Not playing — that was against Arizona on Jan. 3, 2014, when she scored 23 points to lead the Huskies to a 55-52 victory over the Wildcats. This time she'll be behind the camera, serving as an analyst as the Washington women's basketball team takes on Arizona State.
Last time the Huskies (10-5, 2-2 Pac-12) played the Sun Devils at Alaska Airlines Arena, Plum led them in scoring with 29 points. Washington beat Arizona State 70-57, and Pac-12 scheduling and a foot of snow kept the two teams from playing again in Seattle until this weekend. 
"It is kind of ironic," she said. "Only a couple years out, getting to call this game, I don't think a lot of people get the opportunity to do that. I'm definitely going to make the most of it."
Plum has been playing and watching basketball her entire life, but it'll be her first time calling a game. 
In the three years since her graduation, Plum has spent her summers with the Las Vegas Aces in the WNBA and her offseasons in Turkey with Fenerbahçe, where she helped the team win two Turkish League championships. 
This season, though, she didn't return to Turkey and has alternated her time between playing exhibition games with Team USA and spending time in Seattle. 
"It's something you don't see happen all the time," senior Amber Melgoza said. "The last couple years she's been playing overseas so we haven't really had that opportunity, but this year just having her around, she sets a really good example for if you want to become a really great player, what you gotta do." 
Plum has showed up at the team's practices and games, and has made appearances at football games as well. When she's in Seattle she's been staying with Melgoza, who she took under her wing when she was a senior and Melgoza was a freshman. 
Melgoza won't be able to watch the game, since she'll be on the court, but she's looking forward to hearing Plum's insights into her game afterwards. 
"She's going to be good," Melgoza said. "I was joking around with her the other night, telling her 'don't be too mean on me out here.'"
Plum probably won't be the most objective analyst in the world. Washington is home for her, and she didn't exactly hide her bias toward her alma mater in her interview. 
"It's fantastic to be able to have her call the game as a Husky, as a legend of our game," said head coach Jody Wynn, who did color commentary when Plum's Aces visited Alaska Airlines Arena to play the Seattle Storm this summer. "It's going to be great for our fans to see her here in Alaska Airlines Arena again, doing something she hasn't done before. This could be a career for her long after her playing days are over."
Plum hasn't quite figured out if calling games is in her future yet. She still has a long playing career ahead of her, and she still hasn't called a game before. But it's definitely a possibility, especially if this weekend goes well. 
"I love sports in general, just hanging out, watching sports, talking about sports," she said. "So to be able to talk about them for your job is a pretty cool thing. I'd like to get through this weekend before I make any life-changing decisions but I think I'm going to have a ton of fun with it."
Reach Engagement Editor Hailey Robinson at sports@dailyuw.com. Twitter: @haileyarobin
Like what you're reading? Support high-quality student journalism by donating here.