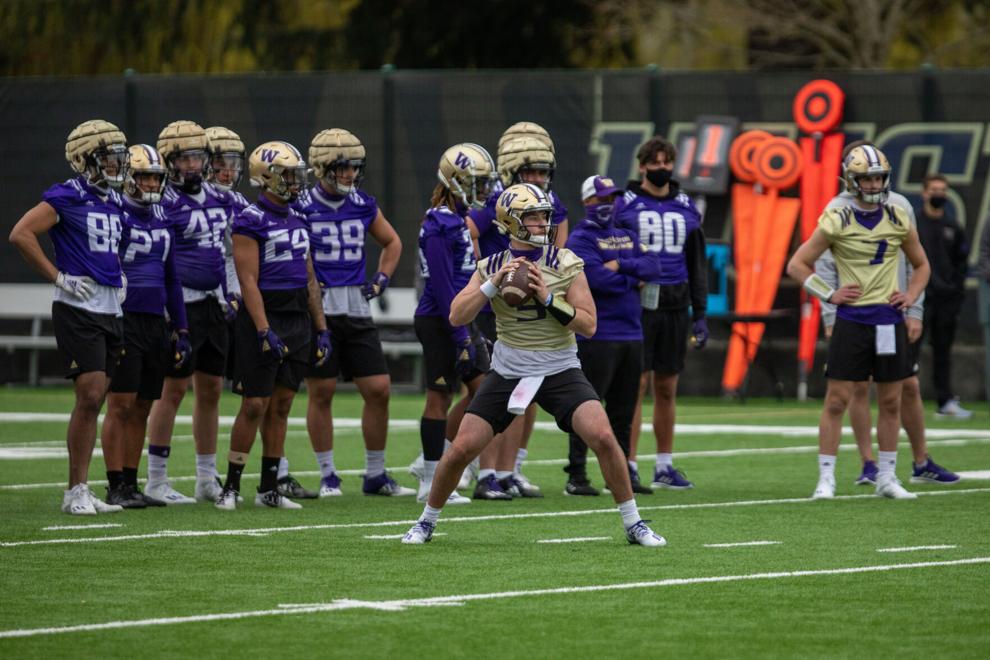 Cloudy skies, blustery winds, and spring football.
Things felt somewhat normal as the Washington football team took to the practice field Wednesday morning for its first spring action in nearly two years.
With the spring season comes a new set of questions for the returning team.
How will the receivers bounce back from four transfer portal losses? Is Zion Tupuola-Fetui human? And of course, which quarterback will start in the fall?
Nothing will be for certain until the first game of the fall against Montana, let alone the first day of spring practice. Nevertheless, there will be some interesting things to see as the team returns to spring play, or for many, participate for the first time. 
After all, due to changes to the 2020 season amid the pandemic and the amount of newcomers, more than half of the roster hadn't even participated in a spring practice prior to Wednesday.
"Everybody is just extremely excited, extremely pumped up, and you could feel it," Lake said. "A lot of good energy out there today." 
With the first practice came Lake's first press conference of the year, which he opened with some major news: the end of Laiatu Latu's football career.
A former outside linebacker, Latu suffered a neck injury at some point prior to the 2020 season and was never cleared to play. After extensively consulting with medical professionals, it was decided that Latu's neck injury would force him to medically retire. He plans to stay on with the team as a student assistant. 
"It's going to be good for him to be around his brothers and be around his coaching staff," Lake said. "But he was one of our smarter players, and I know he's going to add value to our team by being around our guys and helping these guys with their techniques and their fundamentals." 
Lake also announced the departure of two other Huskies from the program, tight end Jacob Kizer and defensive back Isaiah Gilchrist, both of whom opted out of the 2020 season.
As for the action on the field, it was Lake's first time conducting a spring practice as head coach, and it resembled any team's first practice: warm ups, drills, and short scrimmages.
Only time will really tell what direction the team seems to be moving in, but for Lake, the work in practice is all a part of his vision for the program.
"Practice is practice for us," Lake said. "And you're right, I cannot wait to practice, 'cause that's where championships are built is through practice. You can't just roll the ball out there on game day and think you're going to do anything worthwhile." 
Other notes: 
Freshman Sam Huard and sophomore Dylan Morris split first-team reps at quarterback, though the full defensive and offensive teams were not set. Morris took the bulk of the snaps in the simulated game toward the end of practice. Each threw an interception.

With four wide receivers joining the transfer portal, Washington is left with just four wideouts who have caught a collegiate pass, with one of them being Texas Tech transfer Ja'Lynn Polk. First team receivers at Wednesday's practice were Terrell Bynum, Jalen McMilllan, and Rome Odunze.
Asa Turner appeared in defensive drills, but did not come off the sideline for scrimmages. 

Junior tailback Richard Newton was not in attendance at Wednesday's practice. He did not play the final two games of 2020. Lake declined to comment on Newton's absence at the post-practice press conference.

Lake mentioned that as this week progresses and Friday and Saturday come around, the team is going to get more reps. "The more banked reps we can get, the more we can improve," he said. 
Reach Co-Sports Editor Sydney Nash at sports@dailyuw.com. Twitter: @sydneym_nash
 Like what you're reading? Support high-quality student journalism by donating here.