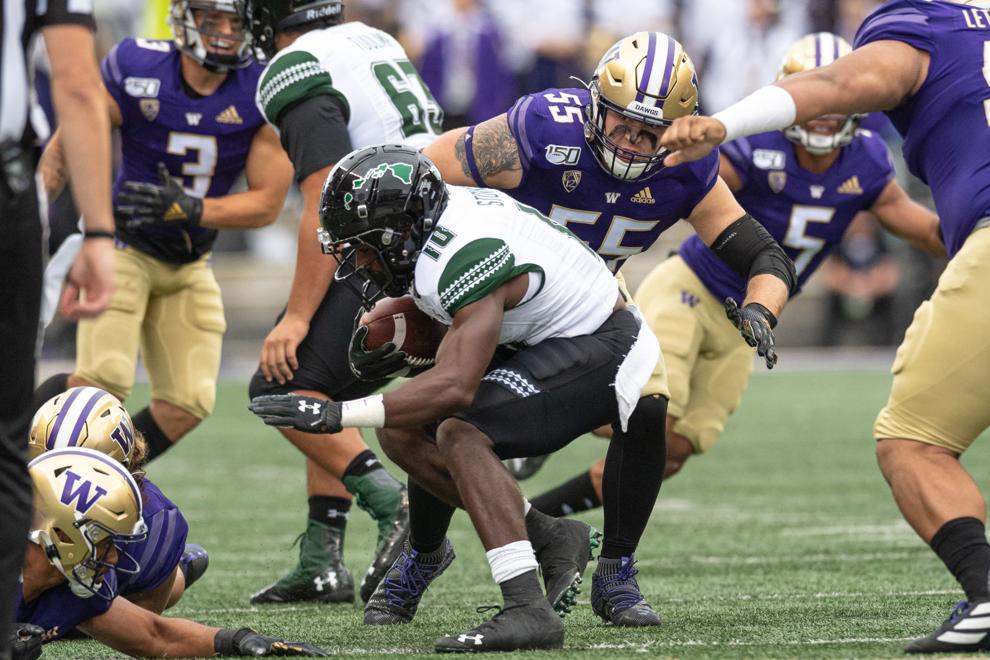 Senior Benning Potoa'e might be at a new position but now a third of the way into the season, his job description is pretty similar.
"It feels good to be in there, just causing havoc," Potoa'e said after practice Tuesday.
Potoa'e, who switched from outside linebacker to defensive tackle in the offseason, has been doing plenty of that, leading the Huskies (3-1, 0-1 Pac-12) with five tackles for loss and three sacks through four games. But he's far from the only UW defender wreaking havoc on offenses in a pass rush that has vastly improved from last year.
In its first four games of 2018, Washington managed six sacks as a team. In 2019, the Huskies are already at 10. And it's not just that the Dawgs are getting to the quarterback more; more Dawgs are doing so. Those six sacks last year came from two defensive linemen (Greg Gaines and Shane Bowman) and two defensive backs (Taylor Rapp and Myles Bryant). Washington didn't get a sack from an inside linebacker until the last weekend in October, and didn't get one from an outside linebacker until two games after that.
So far, the UW has 10 sacks as a team. All four position groups — the line, the secondary, and both linebacker spots — have gotten in on at least one, lead by five from the outside linebackers.
"I think we're settling [down], moving up each week," junior Ryan Bowman said. "We're getting better every week, which is our main focus, our main goal. If we weren't improving week to week, then we know there's an issue. That's exciting for us because we know that next week we're going to be better."
Bowman started arguably the biggest play of the day for the defense last Saturday in Provo, Utah, starting in a three-point stance and getting around the right guard for a hard hit on BYU quarterback Zach Wilson. The collision knocked the ball loose for Bowman's first forced fumble in over two years, and senior linebacker Brandon Wellington scooped it up and ran it back for a 69-yard touchdown.
For his part, Potoa'e added two tackles for loss of his own, including a sack that set the Cougars back 12 yards.
The only bad part of the game for the UW pass rush came on the first play of the second half when sophomore Joe Tryon hit Wilson too high and got ejected for targeting. He'll miss the first half of Washington's clash against No. 21 USC.
"It sucks, but I've got a ton of confidence in all our guys," Bowman said. "All our guys can make stuff happen."
With Graham Harrell, who played quarterback for WSU coach Mike Leach at Texas Tech, now the offensive coordinator at USC, the Huskies are getting ready for a Trojan team that's going to bring some Air Raid concepts to Montlake. That means even more pressure on the pass rush, which will both face more chances to get to the quarterback, but also will have to do so with fewer players.
When Hawai'i came to Seattle two weeks ago with a run-and-shoot attack, Washington played nearly the entire game with an extra defensive back, opting for extra coverage downfield in exchange for an extra rusher. Usually, that meant going with either one fewer down lineman or outside linebacker.
"It kind of just emphasizes that they've got to get a rush in and get some pressure in while we're dropping eight," senior safety Myles Bryant said.
That game against the Warriors, Bryant had the lone sack of the day for the Huskies, as well as two interceptions. Afterward, he talked about how turnovers can be contagious; once one guy gets one or two, they start flowing in for the rest of the team. In the past two weeks, Washington has had six takeaways. This week, Bowman, Potoa'e, and the rest of the pass rush have stressed how the same can be true in the trenches with sacks and pressure.
"Our mentality has to be nasty and relentless the whole game," Bowman said. "We're going to get double-teamed, we just need to keep fighting, get to the quarterback, and make him uncomfortable. If we do our job doing that, we're going to be able to change the game a lot."
Reach Managing Editor Josh Kirshenbaum at sports@dailyuw.com. Twitter: @J_Kirshenbaum