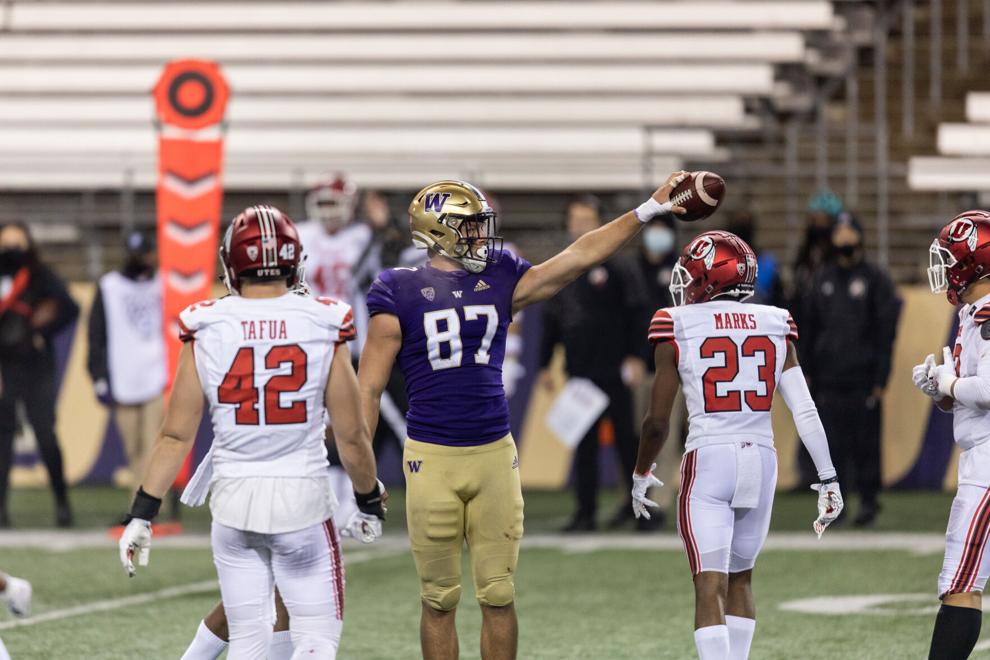 The game was all but over. 
After a lethargic first-half performance, the Washington football team found itself down 21-0 to a veteran coach and stingy Utah defense entering the break. However, the Huskies and head coach Jimmy Lake and his team found a way to rally for 24 unanswered points in the second half to polish off a miraculous comeback win.
"We said last night in our hotel, in our final team meeting that this was going to be a street fight," Lake said. "They landed a lot of blows, and that's what I told the team at halftime: 'Hey, Utah just landed some left hooks, some right hooks, some body blows, and we took them. Now, we need to come out in the second half, and we need to start throwing some of our punches, and we need to land a haymaker at the end.'"
Washington got its opportunity for a final blow thanks to sophomore Zion Tupuola-Fetui, who continued his hot start to the season. With 4:31 remaining in the game, and Utah near the 50-yard-line, the Hawaiian edge rusher got home twice, racking up consecutive sacks on third and fourth down to force the Utes (0-2) to punt. 
Then, the Husky offense did something it hadn't done all game long: control the ball.
Before the third quarter, the UW offense had failed to move the chains on third down going 0-for-6. On its final drive, though, it converted two critical third downs, bleeding the clock to less than 40 seconds.
Then, the Huskies (3-0) found their haymaker: In his third-ever collegiate start, redshirt-freshman quarterback Dylan Morris rolled to out to his right, and threw a dart on the run to junior tight end Cade Otton for a game-winning 16-yard touchdown.
Washington Football vs Utah
The score was Otton's second of two touchdowns in the second half — a telling stat, considering he had just one catch for four yards in the first 30 minutes of play. Morris similarly looked a different player in each half. The redshirt freshman threw the first interception of his career on Washington's first possession, and was nearly picked again on the second. 
Morris threw three interceptions in total against Utah, but passed for 195 yards in the second half and threw two touchdowns including making the play to find Otton.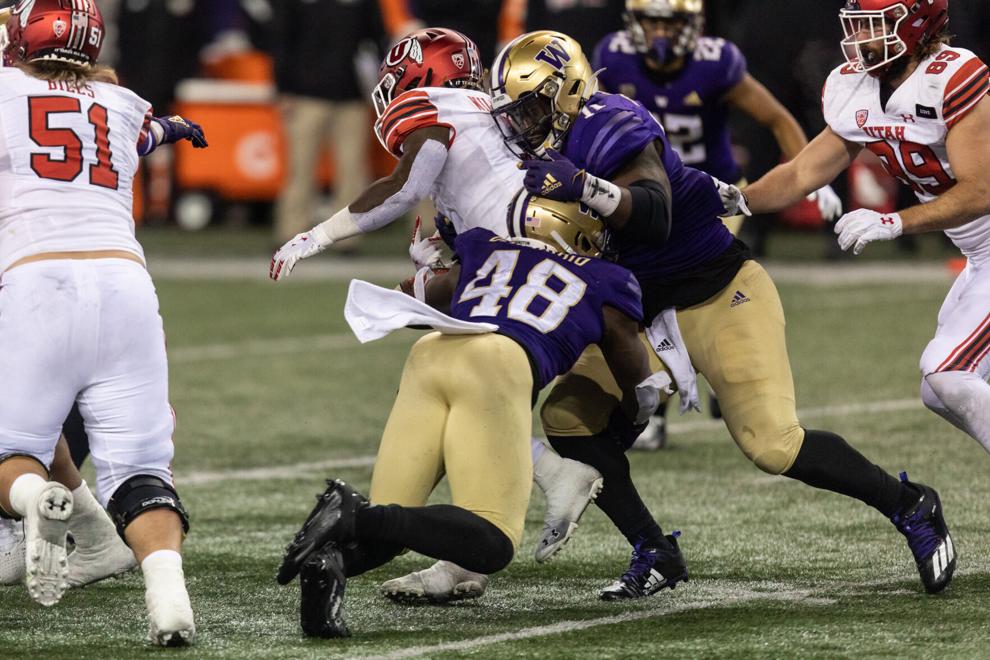 Morris and Otton's turnaround was also representative of an overall shift that took place across the Husky roster after halftime, which looked like a completely different unit in the second half of play. 
Saturday night represented something more, an emotional victory proving their capacity to fight back, both mentally and physically, as defenders of the turf at Husky Stadium.
"I was actually pretty emotional to be honest just because that was a street-fight of a game, and I got beat up," senior defensive back Elijah Molden said. "We kept on saying to each other, like, 'We're really going to do this, we're going to do this.' My message was, 'Don't be soft.' It's easy when things don't go your way to kind of hang your head and feel sorry for yourself. I think we were fighting that feeling."
The comeback revealed the resilient nature of the entire team, not just the young and less experienced players, like Morris and Tupuola-Fetui. For many of the older guys, the turnaround marks the first major comeback win of such magnitude.
"That's actually probably the first comeback I've ever been a part of," Tupuola-Fetui said. "I just had to take in the moment. I was just overcome, just in such awe of this team."
While many of Washington's players hadn't faced such deficits before, according to Tupuola-Fetui, it was faith in the coaches that helped engineer the Huskies' turnaround. 
"I was kind of down on my luck for a second, but you just kind of have to take a step back and reassess the situation," Tupuola-Fetui said. "For the coaches to come in and not even be fazed? They didn't flinch and just had so much confidence coming into that second half, no matter what the score was."
Tupuola-Fetui and Molden paid their coaches back, leading the defense to four crucial, emotionally charged turnovers in the last 30 minutes of the game. 
Meanwhile, the offense gained more than 100 yards more in the second half than the first, including six passing plays of 15 or more yards. And, most importantly, it scored 24 points more.
All in all, the Huskies accomplished a feat no fan had witnessed on Montlake since 1988 — the last time Washington came back from a 21-point deficit. So, if it was a streetfight Lake and his Dawgs were looking for, well, it was a streetfight they got.
And no matter how many welts and bruises they carried into the halftime locker room, their egos, apparently, remained unscathed. 
"Our guys went out there and just persevered through all kinds of adversity, when they could've just put their heads down and not wanted to fight," Lake said. "But these guys, they're all about fighting. And this is Husky football right here. 
"Last week, I said, 'That's Husky football.' And so is this right here."
Reach reporter Nick Mendro at sports@dailyuw.com. Twitter: @m_mendro
Like what you're reading? Support high-quality student journalism by donating here.