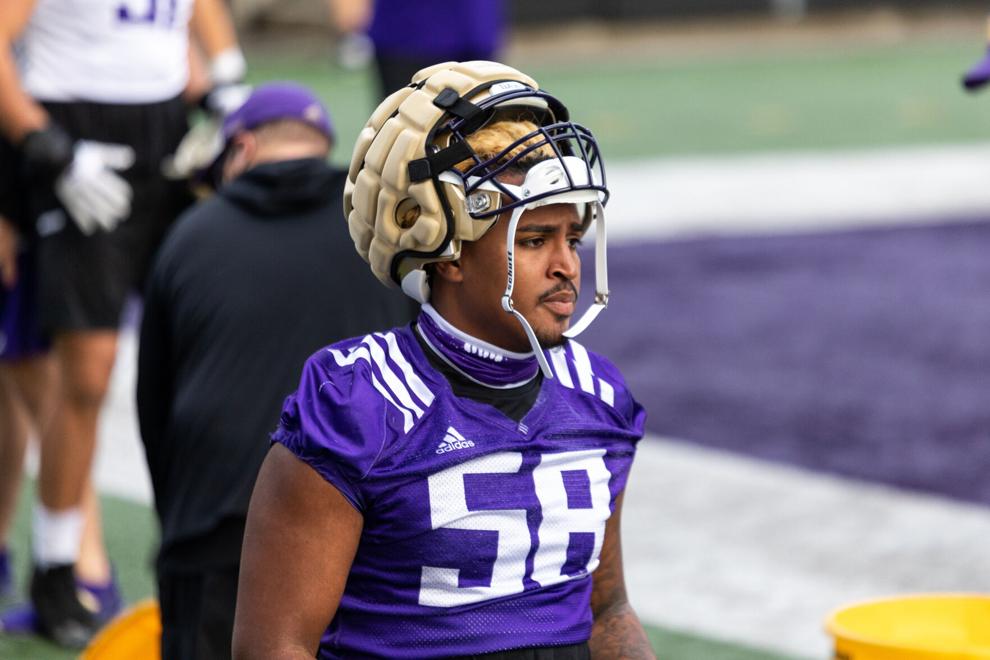 In a year that has shaken the consistency of just about every foundation of life, it appears the one terrain that's remained relatively stable is the turf at Montlake. 
"There's nobody that's slacking — there's nobody that's not working as hard as another guy," senior defensive lineman Ryan Bowman said in a press conference Sunday. "We all got a bunch of dudes with an eighth-grade mentality, always trying to absorb information and learn new things."
There's no better time than now to have such an "eighth-grade mentality," with practices and daily life so constantly in flux. Maybe that's what has UW head coach Jimmy Lake so excited during the month-long lead-up to his team's first game.
"I'm so focused on just doing the job right now, making sure our staff is dialed in, making sure that our guys are getting better," he said Sunday. "We're just extremely grateful to have this opportunity because just a short time ago, we were not going to be doing this. I think gratitude is probably the biggest word around here right now."
Despite the thankfulness, Lake's football team still runs on fierce competition. And while questions remain surrounding John Donovan's offense and who will start at quarterback, Lake made it clear that whoever earns a starting role will be the best at his position, throughout the depth chart.
As of now, though, it appears no player will be disqualified by his credentials on paper.
"I'm an equal opportunity employer," Lake said. "You come in here, and you compete and learn the schemes and techniques that we're teaching at all three phases, and you're the best guy? You are playing."
The decisions may be tougher than Lake makes them appear, though.
Both Lake and his defensive coordinator, Pete Kwiatkowski, couldn't stop raving about the talent and competitiveness emanating from the entire roster at the press conferences this past week, offering specific praise for the outside linebacker position. 
In fact, with so much youthful talent to evaluate, Kwiatkowski ran out of breath before he could even finish naming players in his linebacker room. One player he did manage to suggest could make waves this season was former five-star recruit and freshman outside linebacker Sav'ell Smalls.
"Sav'ell's showing up, he's flashing," Kwiatkowksi said. "For a freshman, he is physical, he's not afraid of contact, and he plays with good intensity. Sav'ell is definitely a guy that's showing up."
Supportive energy still starts on defensive side of the ball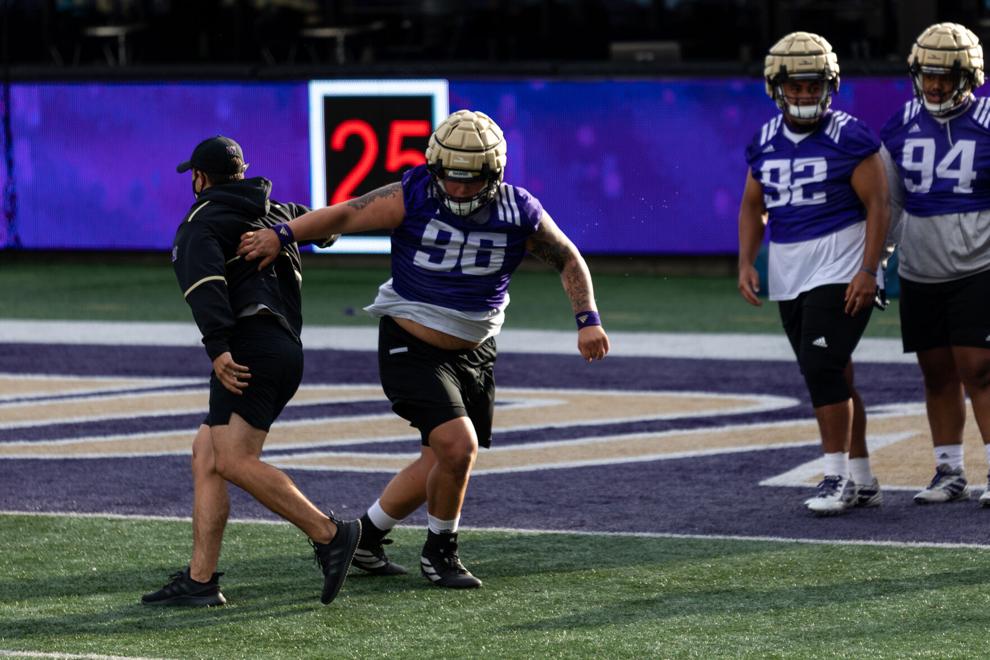 If the heaps of praise for the linebacking crew is any indication, another status quo remains unchanged for the Huskies: The defensive players still anchor Washington as both the emotional and physical leaders. 
Additionally, despite such widespread competition driving progress for players at nearly every position, players are still just as eager to compliment their teammates as they are to win respective position battles. 
Bowman, one man who has no fear of losing playing time, couldn't stop raving about the unwavering work ethic and talent of his younger peers, in spite of a five-month quarantine that included the early departures of Joe Tryon and Levi Onzuwurike.
"They all work tremendously hard, and just like the other guys that we've always had, there's no fall-off," Bowman said. "Everyone's a lot more vocal. There's a ton of energy, and guys are really excited to make names for themselves."
If there's one thing in particular Husky fans can glean from Lake's outlook on the first week of fall camp, it's solidarity. Throughout the consistent inconsistency of 2020, Bowman and the entire defense represent everything UW football has to look forward to this fall.
"One of our anchors is our uncommon unity that we have on this team," Lake said. "It's not just all about football here. To not be able to be around our guys [this summer] has been the most difficult thing, but we know that's one of our anchors, and we will continue to strive to be the tightest, most unified team in the country."
Reach reporter Nick Mendro at sports@dailyuw.com. Twitter: @m_mendro
Like what you're reading? Support high quality student journalism by donating here.