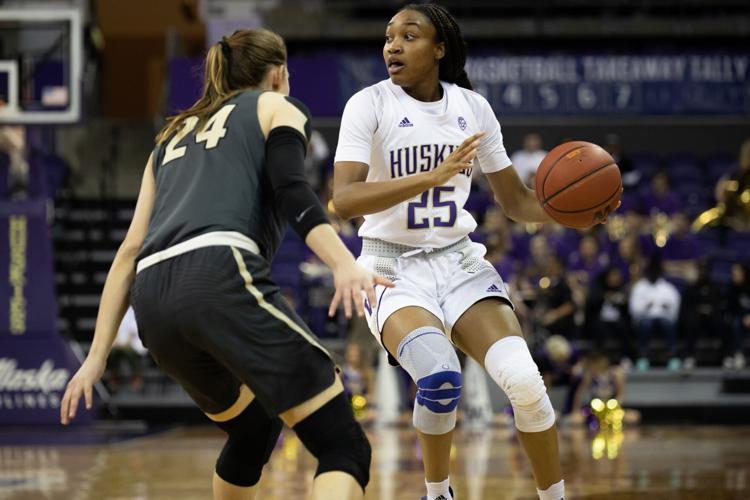 With the season opener planned for this week, the Washington women's basketball team heads into their two non-conference games amidst  another wave of setbacks to the roster. 
Adding to the Huskies' tumultuous pre-season, junior guard Grace Beasley will miss the season while recovering from hip surgery and junior guard T.T. Watkins is opting out due to COVID-19 concerns. 
Washington has been hit with several tough losses this season, starting with the transfers of center Ali Bamberger and guard Rita Pleskevich last spring and then getting worse following the ACL injury suffered by senior guard Missy Peterson that will keep her out for the entire season. 
The gaps in roster continue to put pressure on the freshmen, who must step up if Washington wants a chance at success this year.
Head coach Jody Wynn, who has emphasized the athleticism and excitement of the freshmen in every pre-season press conference, continues to drive her point home amidst the new losses.
"It's been great to see them compete everyday in practice," Wynn said. "And you're gonna see a lot of them on the court." 
In addition to the newcomers, the Huskies will need junior forward Haley Van Dyke to produce immediately if they want to have a shot at success this week and beyond. Averaging 8.2 points per game last season, she now returns as Washington's leading scorer and will have an expanded role after establishing herself as an impact player off the bench in 2019.
"I think a big thing for me is taking more control over scoring because obviously we don't have Amber [Melgoza] this year, so we need to all step up," she said. "Especially me because I was the second leading scorer next to Amber. So I think a big role for me this year is just being more confident with the ball and trying to create my own opportunities for scoring rather than relying on just running and passing and cutting."
Wynn is also hoping to see major improvement from sophomore Quay Miller, who may also prove to be a staple to the team amidst the losses. As a freshman, the center was sixth in scoring and second in steals, averaging 5.3 points per game and 1.3 steals per game. 
"She's improved her game tremendously," Wynn said. "She's in really good shape. She's really improved her face up game. She's somebody that has shot the three-ball really well in practices. She's got an unbelievable ceiling ahead of her.
"It's so high and she can be as good as she wants to be." 
UW prepares for two-game non-conference season 
Washington plans to open the season with two neutral site, non-conference games in the Las Vegas Bubble Tournament this week against San Diego State and BYU. 
"Not only do we have a shortened non-conference season, which is these two games out in Las Vegas, hopeful two games, but we haven't had any exhibition games," Wynn said. "Normally we have two exhibition or closed scrimmages every year to work out the kinks and indoctrinate the young kids or the newcomers into the college game or the speed at which we're gonna compete at."
Wynn has previously mentioned that the schedule for this year will be tough, with five Pac-12 teams ranked in the preseason top-25 and only two games available for the team to get settled into the season before taking on the 22 game conference schedule. 
This week's games will provide much-need preparation for the team. Less than two weeks after Wednesday's matchup, Washington is scheduled to take on No. 2 Stanford. 
"Well I know for a fact we are not going to be anywhere near perfect," Wynn said. "And I know we're going to make mistakes. We've said repeatedly, over and over again, that our effort will make up for mistakes." 
The start of the Washington men's basketball and football seasons have proved that no games this season are guaranteed, but as of now the non-conference season is set to begin at T-Mobile Arena on Wednesday, Nov. 25 at 7 p.m. against SDSU. 
Correction: This article was previously titled "Watkins, Beasley opt out adding to UW personnel woes ahead of season" which was incorrect. Beasley will miss the season due to injury, which is different than opting out. The title has been changed to accurately reflect this sentiment. 
Reach reporter Sydney Nash at sports@dailyuw.com. Twitter: @sydneym_nash
Like what you're reading? Support high-quality student journalism by donating here.