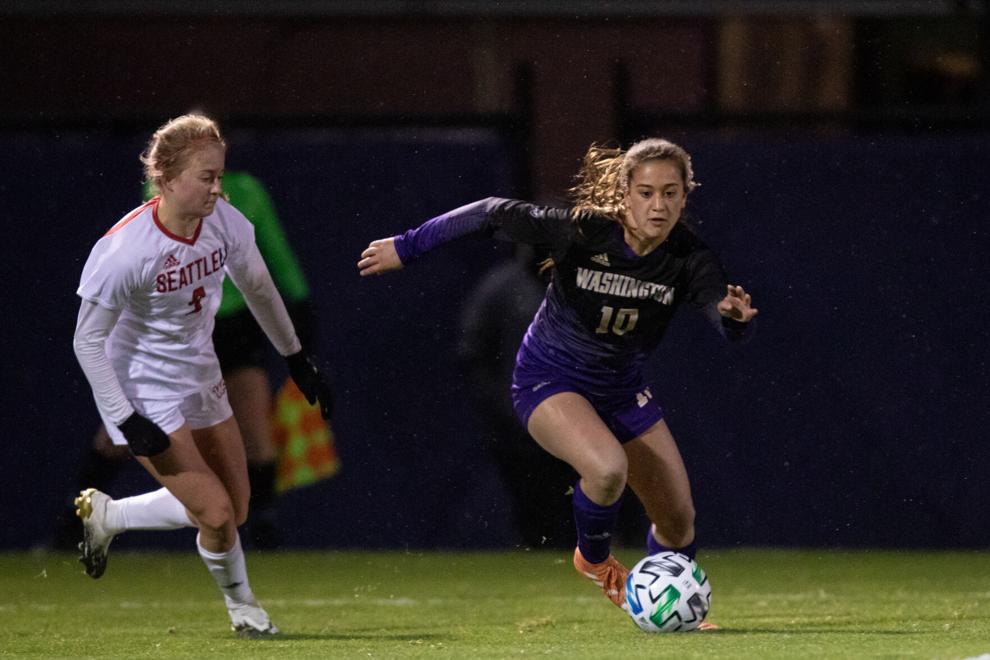 For the first time since November 2019, the Huskies will hit the road and travel to the desert. 
The Washington women's soccer team will play its first road games in more than a year this weekend as it faces Arizona on Friday, March 5, before going up against Arizona State on Sunday, March 7.
"We're excited to continue different opportunities together and really just prepare ourselves for that," head coach Nicole Van Dyke said. "We got to play two games last weekend, so we have a feel for the Friday, Sunday, and now we get to test that on the road."
Fresh off a 2-1 victory against Colorado, Washington will look to build on that momentum. One player in positive form is junior Summer Yates, who scored a brace to secure their latest victory. 
Yates, alongside seniors Ameera Hussen and Olivia Van Der Jagt, has controlled the tempo of the midfield in each game the Huskies (3-0-1) have played, getting on the ball early and driving into the heart of the defense at every opportunity. 
"Summer is wonderful on and off the field," Hussen said. "She worked her butt off in practice and really makes everyone else better, and she is a gamechanger."
The influence of the attacking central presence is integral to any team, but Yates fills that role exceedingly well, leading the Husky line and being a major part in their ability to have over 20 shots in each of the last two games. 
"The more that she grows in the central midfield position, the more it continues to develop our onfield chemistry," Van Dyke said. "She's creative and she's shown that she can score goals, and she's a team player."
In their second Pac-12 contest of the season, the Huskies find themselves up against the Wildcats (4-1-0) looking to rebound after their first loss, and then an undefeated Sun Devil (5-0-0) squad.
"I think that everyone has shown that any Pac-12 team can get a result," Van Dyke said. "They're two completely different teams from style of play, but again we're focusing on Arizona and what we can do to get a result there, and then we'll start dialing in to Arizona State on Sunday."
The Dawgs will start their road showcase at 5 p.m. Friday versus Arizona; then they take on Arizona St. at 11 a.m. this coming Sunday.
Reach contributing writer Rajan Hans at sports@dailyuw.com. Twitter: @RajanHans14
Like what you're reading? Support high-quality student journalism by donating here.