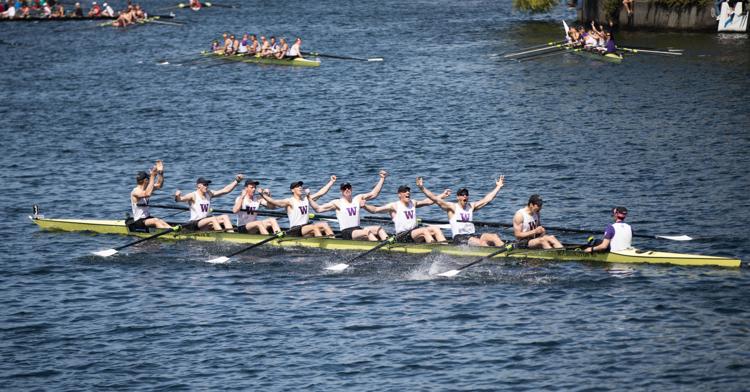 On a gorgeous Saturday morning, the Washington men's and women's rowing teams captured first place victories in their respective Windermere Cup races.
"We talked about making our start more effective and I thought the start in the varsity eight was excellent," women's head coach Yasmin Farooq said.
The Washington women came out with an incredible start and led at the 500-meter mark by about three seconds. Coxswain Marley Avritt and stroke Tabea Schendekehl led the varsity eight and maintained a lead they would never relinquish.
"It was amazing," Calina Schanze said. "I'm so happy this was my last Windermere Cup and it was against my own national team so obviously I'm really happy we edged them out."
The Washington women's A team finished in first with a time of 6:14.379 with Germany coming in second (6:19.883). The Husky B team came across in 6:21.183 for third while UCLA crossed the line in fourth (6:24.467).
The UW women have now emerged victorious in 12 of the past 13 Windermere Cups, with their lone second place finish coming to the Dutch national team last year.
Similar to the women, the men's varsity eight raced out to an early lead and had an advantage of just over two seconds through 500 meters. Washington didn't give the German national team a chance to close the gap as they continued to extend their lead throughout the race.
"There was a different mindset this morning than last night," UW head coach Michael Callahan said. "I feel like we're hovering between fifth and sixth gear and we need to get into sixth gear. It's this very technical thing so that's where we're trying to go."
Washington secured first place by crossing the line in 5:42.134 as the German national team finished second with a time of 5:47.042 and Boston University placed third in 5:49.358.
Senior Tennyson Federspiel stepped into his first Windermere Cup varsity eight due to a teammate's small injury. He filled in exceptionally during his late race on Montlake Cut and really enjoyed the experience.
"It was awesome," Federspiel said. "I'm always fighting to be in the varsity eight. It felt great to come out fast and clean."
With countless fans packing the entire 2,000 meters, the Montlake Cut provided a fantastic racing environment and atmosphere for the men's and women's squads from start to finish.
The Washington men's and women's teams have a week off from the water before heading to the Pac-12 Championships in Gold River, California.
Reach reporter Evan Wong at sports@dailyuw.com. Twitter: @evan_wong29