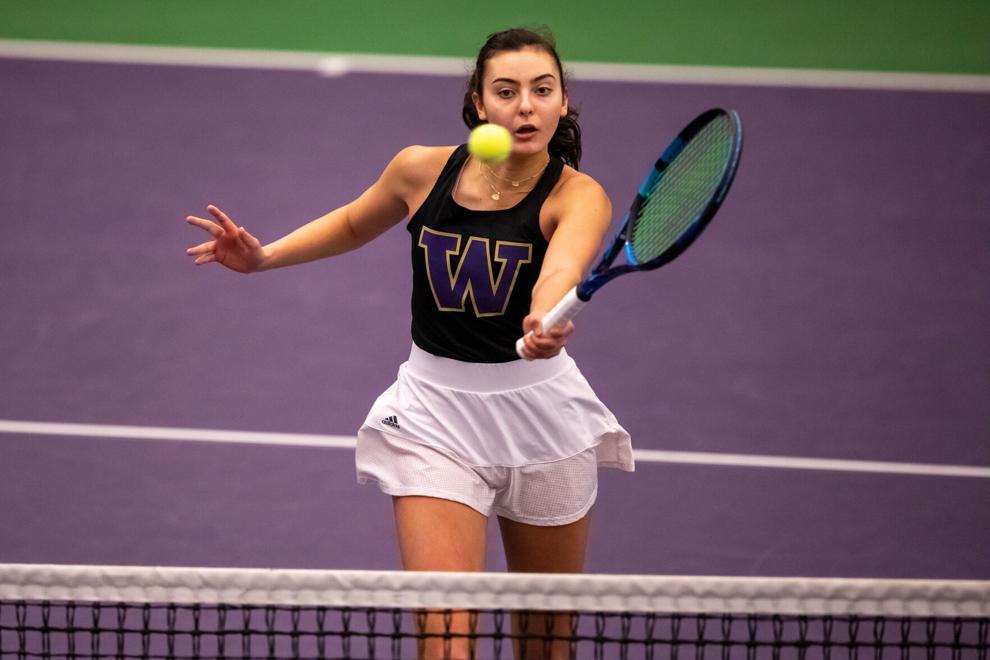 The Washington women's tennis team faced tough competition against Baylor, as it lost its first game of the season by a narrow score of 4-3.
The doubles matches gave the Bears (10-1) an early lead, as they were able to grind out two wins out of the three matches. Being down 1-0, the Huskies had to rely on their singles performance in order to get the win and knew that they were up against stiff competition.
"I think we felt a lot of pressure," Senior Vanessa Wong said.  "Their level has been higher than previous schools that we've played,"
The more inexperienced players seemed to struggle the most in today's match, as two freshmen lost their matches pretty convincingly.
Freshman Yolanda Lin didn't get into her groove, as she lost both sets 6-2, her first individual loss of the season. Freshman Tara Chilton also didn't figure out how to beat her opponent, as she lost both sets 6-3,6-2.
The remainder of the games went down to the wire, as two sets went to a tiebreaker and two games went to three sets. 
Wong was able to win the first set 6-4. However, her opponent forced a third set after winning 6-4 in the second. After being tied 4-4 in the third set, Wong was able to remain calm and close out the set with two wins, finishing with a 6-4 victory. 
"This was a really close one," she said. "Baylor's a really good team and we know what we have to work on so we're going to come back firing."
Junior Sedona Gallagher also proved her ability to face stressful situations, as she closed out both sets after being tied 5-5. In the first set, she won two games in a row to finish with a 7-5 victory, and, in the second set, she won a tiebreaker to ensure her win.
Freshman Sarah-Maude Fortin successfully challenged and overturned a call that would change the course of the game, as it forced a tiebreaker in the first set. She was able to win the tiebreaker and then won her second set 6-4. 
Junior Zoey Weil came out strong, as she finished the first set with a dominant 6-0 performance. However, her BU opponent was able to strike back with a 6-4 win in both the second and final set, giving her team the assured win over the Huskies. 
"If anything we're going to be more motivated by this," head coach Robin Stephenson said. "Down the road being in these positions and playing these matches is only going to help us."
The Huskies return on Sunday at 2:00 p.m. to play the University of Hawaii.
Reach contributing writer Spencer Smith at sports@dailyuw.com. Twitter: @spencerssmith24
Like what you're reading? Support high-quality student journalism by donating here.