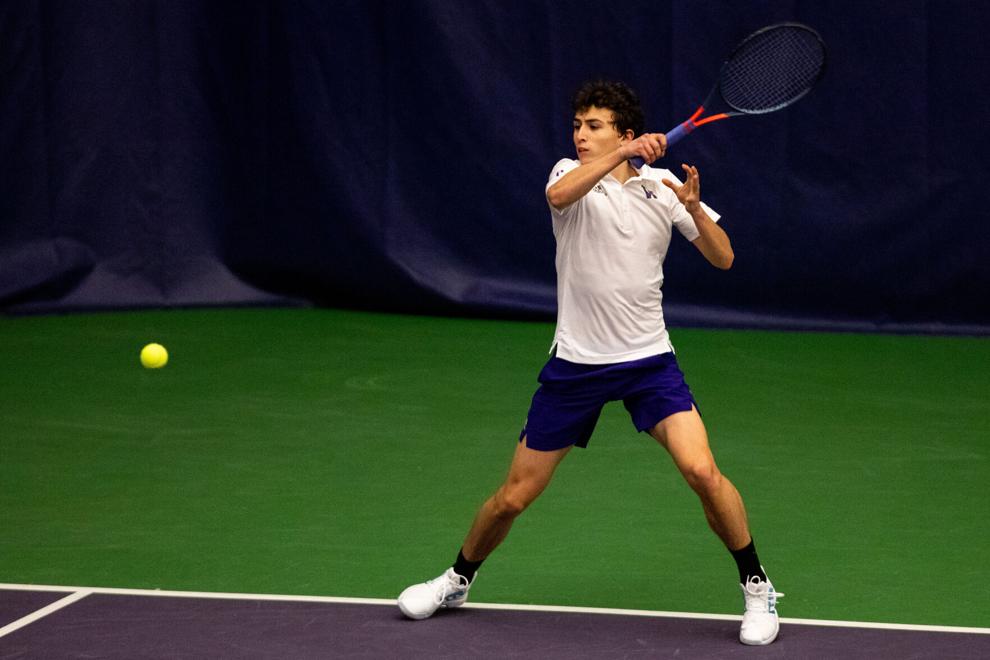 It was easy to tell the Washington men's tennis team was playing its second match in as many days, with fatigue setting in for many players during the Huskies' 5-2 loss against the Arkansas Razorbacks.
The match opened poorly for the Huskies (2-2), as all three doubles pairs had their serves broken in the first game. It looked as if the Huskies were able to shake off the Razorbacks' (5-0) early surge, breaking back on all three courts, but the pairing of Ewen Lumsden and Han-Chih Lin was unable later on, dropping their match 6-3.
On court number two, sophomore transfer Clement Chidekh and senior Thibault Cancel weathered an early 3-1 deficit to win 6-4. The pair is undefeated in four matches this season.
With the doubles matches tied at 1-1, the point boiled down to court one with junior Jack Davis and senior Alexis Alvarez. Although they opened the set trailing 2-0, the duo fought back and led 6-5 with a chance to win. The match ultimately ended with a Razorbacks victory in a tiebreaker as the Huskies dropped the doubles point for the second straight day.
Arkansas got out to a blazing hot start in the singles matches, winning five of the six first sets, with Washington's Jack Pulliam saving the Huskies from a sweep.
The second sets went better for the UW, especially on the first court as Chidekh continued to impress during his first season in the purple and gold. The French transfer dropped his first career set as a Husky, 6-3, before rallying with a 6-1 result in the second. Forcing his way into the first three set match of his career, Chidekh mounted a comeback 6-4 victory to remain undefeated in four singles matches this year. He is now 8-0 overall in singles and doubles.
Washington wouldn't have the same success on the other courts, with Davis, Lin, and Cancel all losing in straight sets. Lumsden looked to be down and out on court three after dropping his first set 6-1, but worked his way back for a 6-4 win in the second. With the result of the overall match already decided, the third set went straight to tiebreak, and the sophomore ultimately lost 10-6.
Sophomore Jack Pulliam bounced back from his straight-sets defeat yesterday, winning a three set match that went straight to tiebreak, 7-6, 3-6, 10-5.
Washington now has seven days before heading down I-5 to face Oregon in a rare non-conference meeting with a Pac-12 opponent, next Saturday at 2 p.m.
Reach reporter Anthony Edwards at sports@dailyuw.com. Twitter: @edwardsanthonyb
Like what you're reading? Support high-quality student journalism by donating here.