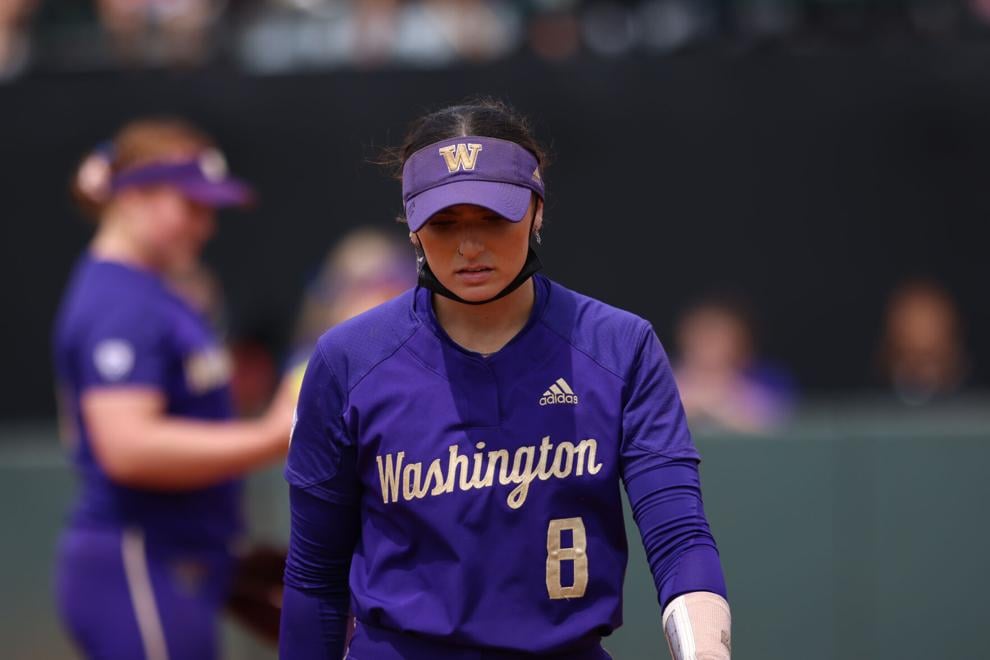 NORMAN, Okla. — The Super Regionals were supposed to be about No. 1 Oklahoma's offense versus No. 16 Washington's pitcher Gabbie Plain.
It was supposed to be a battle of whether the Huskies could keep up with the Sooners' powerful offense.
And indeed, it was a showdown in the making through nearly five innings, with the teams knotted up at 2-1.
But a key fielding error from center fielder Jadelyn Allchin in the fifth inning and squandered chances on offense were the Huskies' downfall, as they fell in Game 1 to the Sooners, 4-2.
"I thought we had a good chance to win that game," Washington head coach Heather Tarr said. "I'm proud of how hard we competed and can't wait to wake up again and do it again tomorrow."
Before the error from Allchin, the afternoon turned out to be a pitcher's duel between Plain (32-4) and OU freshman Nicole May (14-1), both of whom displayed poise, stranding runners on many occasions.
Early on, though, it seemed as if the Sooners' (49-2, 16-1 Big 12) plan was going to give the Huskies (45-13, 18-5 Pac-12) trouble all game.
May attacked the UW bats right away, beginning in the first inning. With pitches down in the zone, graduate senior Sis Bates and junior Baylee Klingler grounded out to third base, and then May got her first strikeout of the day, going down and in on graduate senior Morganne Flores.
Although Plain allowed just three earned runs, OU had a clear and obvious strategy at the plate that took her time to adjust to.
In the bottom of the first, after a leadoff double and a strikeout, Plain hit three of the next four OU batters she saw, atypical from the Australian, who had only hit 10 coming into the game. Following the third hit batter, which brought in a run to give Oklahoma a 1-0 lead, Tarr came out of the dugout to argue that the batter's boxes were drawn too close to home plate.
Unamused, the home plate umpire waved Tarr off the field as the bases remained loaded.
"Usually I don't cause a stink about those things, but when I knew it was probably resulting in Gabbie's reference points possibly being a little bit skewed, which is I believe, I went out and told the umpire, 'That's a result of the lines being too close,' but you can't really do anything about that," she said.
All Plain did to escape the jam was get a popout three pitches later, limiting the Sooners' damage and indicating her transition back to her usual self, going the rest of the way without hitting another OU batter.
The Oklahoma lead didn't last long, though, as Washington junior Sami Reynolds led off the top of the second with a bomb to deep center field, tying the game at one.
"It was a long at-bat for me and I was just trying to find a pitch that worked for me," Reynolds said. "I tried to get rid of some pitches that I didn't really like and then I just got one that I wanted and took my best swing off."
From there, the UW was unable to take advantage of May, but it was not without chances.
In the third inning, the Huskies put two on with one out, but squandered the opportunity to take the lead when Klingler and Flores went down consecutively on a popout and a flyout to the warning track in left-center field.
"We had every chance in the world to win that game," Tarr said. "Morganne's home run goes out versus stopping at the wall, there's just a bunch of things that could have gone our way, so we don't necessarily think anything is out of reach at this point."
After striking out in her first at bat of the day, Oklahoma senior Jocelyn Alo didn't waste much time striking back in her second at-bat. Plain left a ball over the middle of the plate for the most powerful bat in softball, and Alo sent the 0-0 pitch over the wall in left-center field to give Oklahoma a 2-1 lead in the bottom of the third.
Four straight scorless innings from the UW offense would turn out to be a regretful lull, as Alo would come around again in the fifth inning, leading off with a walk.
It looked like Washington was on the right path to limit the damage after a fielder's choice got one out, but then disaster struck.
Cleanup hitter Kinzie Hansen sent a ball over second base and into center field and with Alo digging around third heading for home, Allchin charged on the ball to make a throw home. But before making the throw, the ball escaped under her glove and to the fence in center field. 
Hansen chugged around to third base before the UW was able to get the ball to the infield and beat the throw home, extending the Sooner lead to 4-1.
Although the deficit was significant considering their lack of production early in the game, the Huskies were able to threaten in the seventh inning. Sophomore Kelley Lynch got her bat under a May riseball and sent it just deep enough over the wall in left field to cut the deficit to two.
Then, the UW got a big chance when fifth-year senior Taryn Atlee reached on a fielding error and freshman Sarah Willis hit a flare single to left field.
With two on and one out, Washington brought up Allchin looking to tie or take the lead, but instead the game came to a screeching thud.
Allchin hit a ball to second base, the Sooners got Willis with a force out but the throw to first was late to get Allchin for the double play. Looking to be aggressive, Atlee rounded third and headed home looking to make it a one-run game, but was gunned down, ending the threat and ending the game, 4-2.
"I wasn't sending [Atlee], I just didn't stop her," Tarr said of her coaching at third base on the play. "It was kind of one of those weird plays where it was like, 'Whoops, reverse,' like in a video game we would have done it. But in hindsight, I should have been more conscious that Jadelyn was likely to be safe on the trail and it would have set it up perfectly to have Sis come up with runners at first and third."
After Atlee was tagged out at home, the sold-out Marita Hynes Field erupted in cheers, as the Sooners are now one win away from the Women's College World Series, and the Huskies a loss away from snapping their run of for straight seasons advancing to the WCWS.
It was the first time all season that Washington had played in front of a full stadium. The reckless environment was surely a dramatic change from the mostly-empty Pac-12 venues this season, so they will enter Game 2 with a taste.
"It gave us a good glimpse," Reynolds said. "Some of our freshmen were like, 'Oh my gosh, there's so many people here,' and I was like, 'You guys have no idea, this is a quarter of what it's like in OKC [at the WCWS]. So it was kind of fun to get a glimpse of that and just to have that energy where you can feel everybody up."
After losing a game that they surely could have won, the Huskies will look to bounce-back Saturday, May 29, in the first-ever nationally televised NCAA softball game. Washington and Oklahoma play at noon and the game will be broadcast on ABC.
Before taking the field tomorrow, the UW will have some reflecting to do. But Tarr doesn't think the tough loss will affect her team in any way, though.
"Losing sucks and losing is hard, but being able to get over it is the same effort to get over a really tough loss or a game you thought you had all the control in the world over." she said.
Reach Co-Sports Editor Anthony Edwards at sports@dailyuw.com. Twitter: @edwardsanthonyb
Like what you're reading? Support high-quality student journalism by donating here.