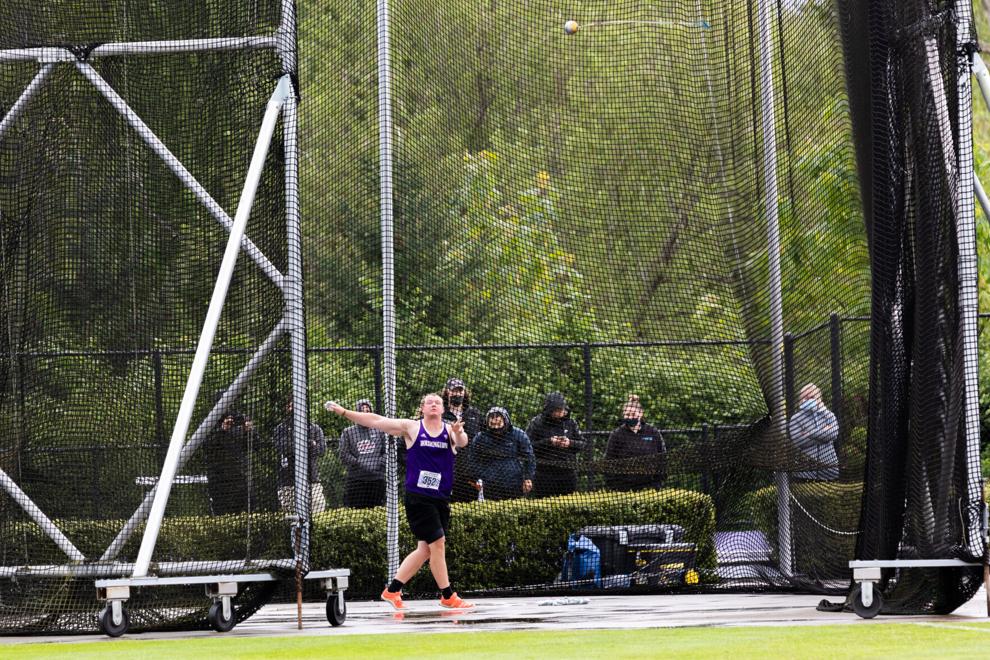 Day one at the Pac-12 Track and Field Championship was full of preliminary running events and Washington had a number of runners end up qualifying for the finals.
In total, nine Huskies qualify for the finals in their event. The long distance runs were definitely Washington's events, as seven runners qualified in the 1,500 meter run between the men and women.
On the men's side, there was a group of three in places four through six in addition to the final qualifier, who finished in 11th. 
Leading the pack time wise was Sam Tanner with a time of 3 minutes and 42.02 seconds. Leading the pack in placing was Luke Houser in fourth place with a PR-time of 3 minutes and 43.39 seconds.
The reason Houser placed ahead of Tanner was that the top two finishers in each heat were guaranteed a spot in the top four. While Tanner may have ran faster, Houser finished in the top two of his heat while Tanner finished third in his heat. 
The final two Huskies to qualify in the men's 1,500 meter were Mick Stanovesk, who ran a time of 3 minutes and 43.56 seconds, and Dustin Nading, who set a new PR with a time of 3 minutes and 43.25 seconds.
For the women in the 1,500 meter, Washington is sending three runners to the finals. 
Leading the way for the women in placing was Madison Heisterman in fourth place with her time of 4 minutes and 21.38 seconds. Allie Shadler had the best time of the group, with a time of 4 minutes and 19.62 seconds. The final qualifier for UW in the women's 1,500 meter race was Anna Gibson with her time of 4 minutes and 21.80 seconds.
The last two qualifiers for the finals on the track were Cass Elliot and Jonathan Birchman in the men's 400 meter hurdle.
As far as the UW field events went today, a number of competitors made some noise in their event.
In the men's weight hammer throw, two Washington Pac-12 Championship newcomers made an impact earning points for the team. Freshman Jayden White placed in fourth with a PR throw of 218 feet 8 inches, earning Washington five points. Senior Connor Jost also set a PR with his throw of 207 feet and 8 inches, landing him in seventh place and earning the team two more points.
Continuing with the men's javelin, Washington had three competitors and all three of them earned the team points, while two of them even earned a spot on the podium.
Wenatchee native Dalton Suggs launched a huge PR of 220 feet and 9 inches, earning him a silver medal and scoring eight points for the team in his first ever Pac-12 Championships. 
Zach Annanie followed Suggs for the bronze medal with his toss of 211 feet and 5 inches, earning Washingtin six more points. Brady Gockel got Washington four points in the javelin toss as well, with his throw of 200 feet and 4 inches.
Washington track and field will be back in action Saturday, May 15, beginning at 1 p.m. with the men's decathlon 110 meter hurdles.
Other notes
Haley Herberg placed third in the women's 10,000 meter with a time of 32 minutes and 51.96 seconds.

Andrew Jordan placed third in the men's 10,000 meter with a time of 28 minutes and 43.72 seconds.

Ida Eikeng placed fourth in the women's javelin with a toss of 167 feet.
Reach reporter Nathan Mathisen atsports@dailyuw.com. Twitter: @NathanMathisen
Like what you're reading? Support high-quality student journalism by donating here.