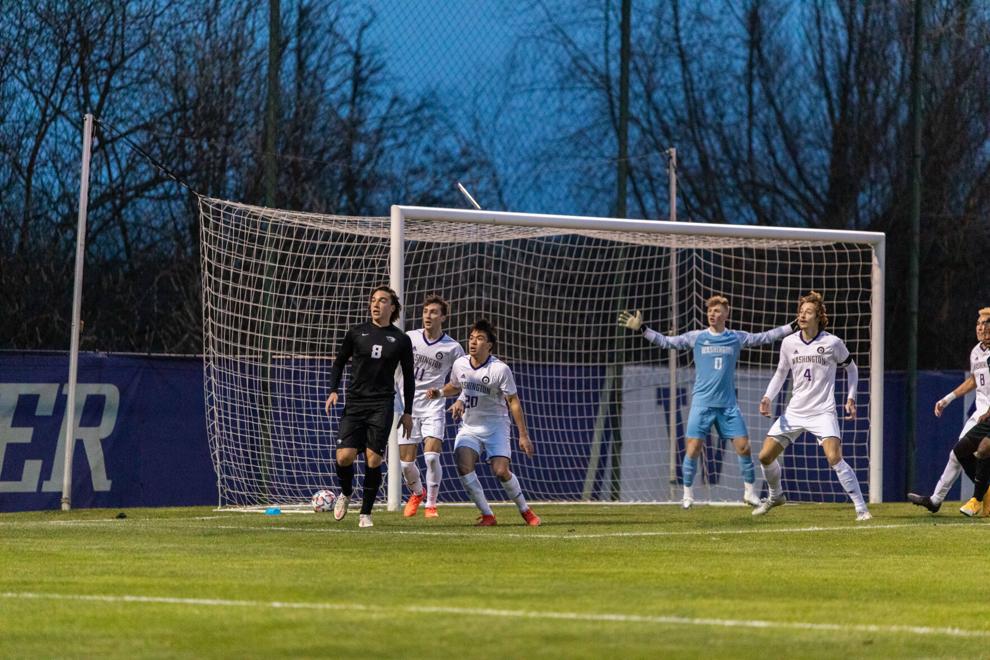 The No. 7 Washington men's soccer team came up short in the quarter finals NCAA tournament for the second consecutive season, losing 3-0 in a hard fought battle against second seed Pitt on Monday. 
The moment of the match came five and a half minutes into the second half when Valentin Noel scored the first of three second half goals for the Panthers (15-3-0, 9-1-0 ACC). The Pitt Midfielder rose highest in the box, powering a header beyond sophomore goalkeeper Sam Fowler to break the deadlock. 
Fowler, one of Washington's top performers on the day, made six saves, denying a rampant Pitt offense for much of the match. Although the Washington native ended the day with three goals conceded, Fowler kept the Huskies (12-4-0, 7-3-0 Pac-12) within one goal until the final minutes where he was caught off his line twice. 
Despite the lopsided scoreline, the Huskies produced a strong performance, forcing four saves out of Nico Campuzano in the Pitt goal.
After registering just one shot in the first half, Washington built a second half surge, outshooting their opponents 9-7 in the period. 
The Huskies came close to equalizing on multiple occasions, putting the Pitt defense under pressure in set piece situations. Although corners, throw-ins, and free kicks were a key feature for the Huskies offense this season, UW failed to create meaningful shots from set plays Monday. 
In the dying minutes, Washington had two chances to send the match to overtime. The first came in the 78th minute when redshirt junior Lucas Meek struck a shot destined for the far corner, only to hit the back of teammate Gio Miglietti, who was in an offside position. The Huskies created another opportunity 10 minutes later with the season's top performers, Dylan Teves and Charlie Ostrem, linking up before Campuzano was able to save Teves' effort behind for a corner. 
Monday's match was the first time this season that the Huskies have conceded three goals. However, Washington's tournament run displayed their defensive capabilities, shutting out their first two opponents, while keeping a historic Pitt offense at bay for most of the match. Pitt has scored an incredible 50 goals this season in just 19 matches this year, the second highest total in program history. 
Although the Huskies came up short in the Elite Eight for the second season in a row, the UW will have a good shot at getting past that hurdle next year, as nine of Monday's starters are set to return for next season.
Reach reporter Luka Kučan at sports@dailyuw.com. Twitter: @luka_kucan
Like what you're reading? Support high-quality student journalism by donating here.