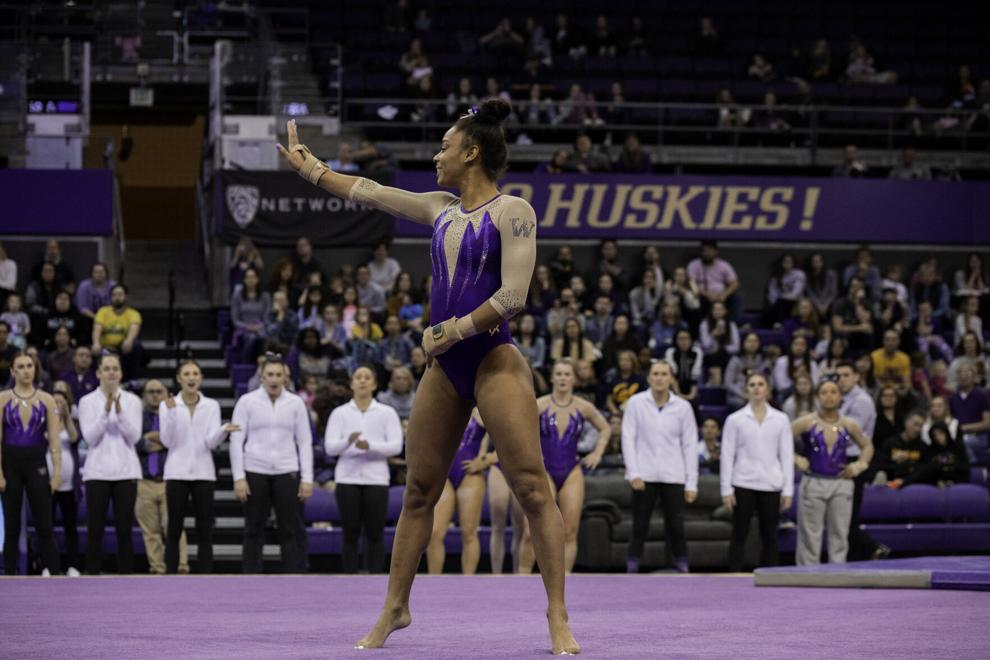 The No. 19 Washington gymnastics team opened its season Saturday afternoon in Corvallis against No. 13 Oregon State, struggling to dust off the rust in a 194.925-192.875 loss.
Following last year's shortened season and resignation of former head coach Elise Ray-Statz, the Huskies looked to get off to a fresh start under new head coach Ralph Rosso.
Things couldn't have gone much worse, as Washington finished with its lowest score in more than a decade. The last time the Huskies scored less than 193 points was Jan. 15, 2011, a four-team dual in which they finished with only 192.200 points.
"Not everyone had the best performance, but it's all things we can fix and improve upon in the gym," Rosso said. "There were some nerves and a little bit of rust. We started off timid, and I don't blame them, but after that we found our groove. I feel like this is just the first notch on the ladder, and the team can move forwards now. This was a fresh reminder, just a little different."
Despite the struggles, there were some things to be proud of, just not early in the meet, as the Huskies got off to a rocky start on bars with the Beavers on vault. A few small hiccups put the Dawgs in an early hole, trailing the Beavers 49.225-48.000.
After the teams switched events, things went from bad to worse for Washington, as freshman Katie McNamara took a tumble during vault warm-ups, forcing the Huskies to compete with only five gymnasts on vault.
Maybe a little adversity is what they needed though, as the Huskies improved on vault while the Beavers struggled on bars, closing the OSU lead to 97.025-96.750.
The momentum carried over to the floor event for Washington, as junior Amara Cunningham led the team with a 9.875. The UW finished with a 48.550 team score on floor as OSU showed off its own rust on beam, with its lead shrinking to 145.525-145.300.
While Washington was in position to challenge Oregon State during the final round, the lack of depth ultimately caught up with the Huskies on beam, as three gymnasts were unable to score higher than a 9.150. Last season, then-senior Evanni Roberson led Washington, scoring a perfect 10 multiple times in the event. Her absence was felt Saturday as the Huskies recorded their lowest score of the day on beam at 47.425.
Another veteran Washington will be without this season is junior Brenna Brooks, who will be out of the lineup for the remainder of the year with an undisclosed injury.
Despite the lack of veteran leadership, Rosso was happy with the performances of the younger gymnasts.
"It was great to be able to get back onto the competition floor after nine months away," he said. "We welcomed seven new Gym Dawgs to our lineups tonight and the experiences that they gained will be instrumental to our success this year."
Washington will look to get back on track when it hosts No. 4 Utah next Saturday at 7:00 p.m.
Reach reporter Anthony Edwards at sports@dailyuw.com. Twitter: @edwardsanthonyb
Like what you're reading? Support high-quality student journalism by donating here.