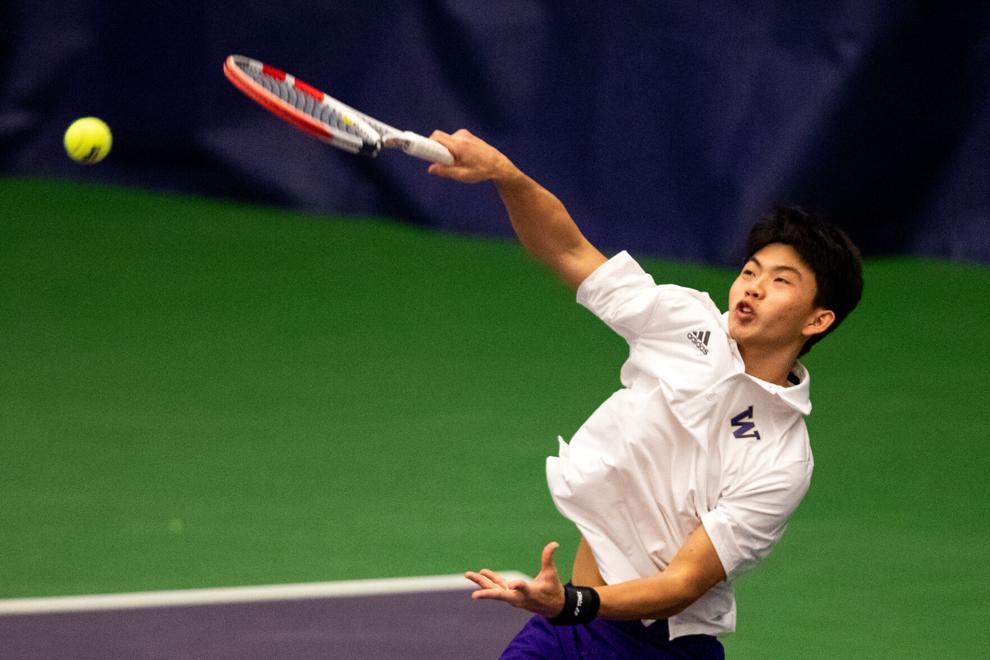 After facing three losses in a row, the Washington men's tennis team made a statement with a 7-0 win against Portland State.
The doubles point went to Washington, as all three matches went very quickly with two 6-2 wins and a 6-1 win.
"We got off to a pretty good start with the doubles," head coach Matt Anger said. "That always helps because the doubles can go by very fast."
With the score at 6-0, it was up to Nikit Reddy to seal the 7-0 sweep against the Vikings (4-4, 1-0 BSC). After the sophomore won the first set 6-4, the second set went down to the wire and Reddy's opponent, Sam Roberts, scraped out a 7-5 win. As all eyes were on the tiebreaker in the third set, Reddy came out on top with a 10-8 victory and prevented Portland State from earning a point.
"It was good to get Nikit out there because he does not have a lot of college experience," Anger said. "He gets a match under his belt and next time he'll be that much more comfortable."
Sophomore Clement Chidekh faced Portland State's Matteo Fortini, who was visibly frustrated during the game. With the overall score at 3-0, Chidekh took advantage of Fortini's frustrations and won both sets 6-2, guaranteeing a win for the Huskies (5-5, 0-2 Pac-12).
Freshman Han Chih-Lin was tied at 5-5 in the first set and handled the pressure calmly, winning the next two games and finishing the set with a 7-5 win. Lin went on to finish the second set quickly and efficiently with a 6-0 victory.
UW sophomore Ewen Lumsden proved to be a dominant force today, as he won both sets 6-1, and fellow sophomore Jack Pulliam also had no struggles, closing out both sets with a quick 6-1, 6-2 win. Junior Jack Davis joined his teammates with a fairly convincing game, winning in two sets, 6-1, 6-2.
Going into more Pac-12 games, the Huskies have learned a lot from these past couple weeks and hope to implement these lessons into future games.
"If you pick any sport at any level, you have to learn how to bounce back," Anger said. "We don't want to forget any details and we want to make sure that we're as ready as we can be to do everything we can do in these matches."
The Huskies hope to replicate this dominant performance when they face Gonzaga Sunday, Mar. 7 at 4 p.m.
Reach contributing writer Spencer Smith at sports@dailyuw.com. Twitter: @spencerssmith24
Like what you're reading? Support high-quality student journalism by donating here.