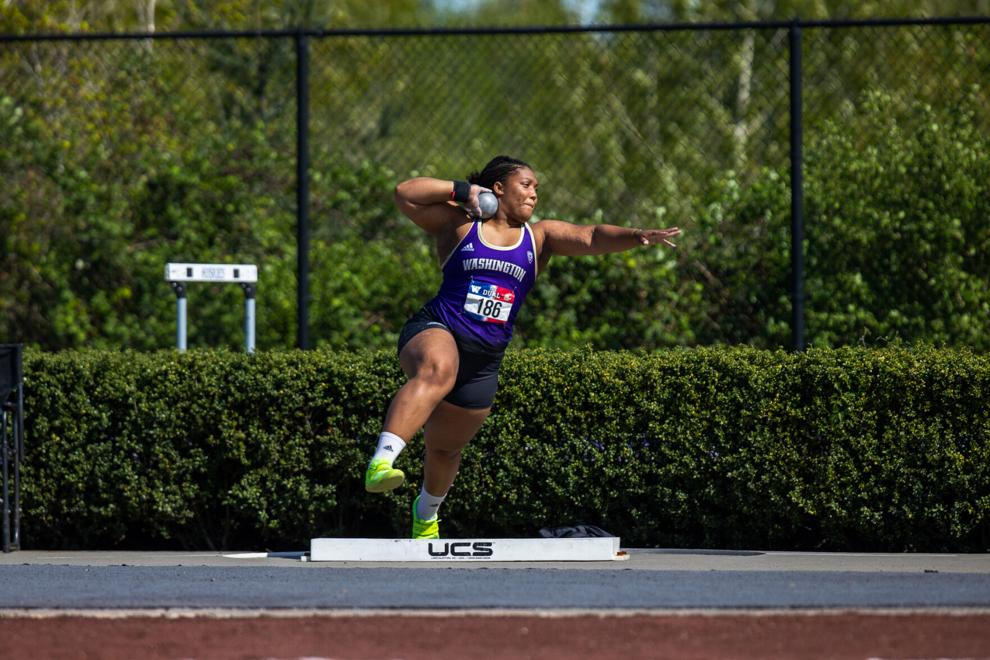 The sun was shining and the fans were cheering as the Washington track team battled it out with Washington State, winning both the men's dual and women's dual. 
For the women, Washington won by a score of 95 points to 68 points, while the men's competition was a little bit closer, as Washington only won 86-77.
Washington had a number of first place finishers on the day, including graduate transfer Dustin Nading who pulled off the victory in the 1,500 meter race in what was his first time competing outdoors for Washington.
"This is my first time racing outdoors in a Husky jersey period," Nading said. "I raced indoors for UW last year before COVID[-19] and the season was cancelled. This has been my first opportunity to race outdoors in a Husky jersey, so it feels really good to do it at home."
Nading has plenty of experience and is a true veteran in the sport, though, as this is his sixth year competing in collegiate track. The graduate transfer from Longview spent his first year in 2015 at Colby Community College and then spent the next three years at Western Oregon where he won a Division II championship.
"I feel like I've had a really unique journey to end up here," Nading said. "I started at community college my first year and then transferred to a Division II Western Oregon University, where I had a great experience for another three years. Found myself here for graduate school, ended up with some eligibility left and really wanted to compete at the Division I level with the exceptional team that's here."
With such a unique journey to the UW, Nading is simply thankful for all of the amazing opportunities and teams that he has been a part of.
"Just a fantastic staff and fantastic teammates and I'm thankful for the journey that has brought me here," Nading said. "The fact that I have eligibility at this point, the fact that I've gotten fantastic education at every point. Just really thankful for the journey I've had, it's really unique."
A number of other Washington athletes won their event, but perhaps the ultimate show of dominance can be seen with the women competing in the discus throw and shot put.
Washington earned all nine of the possible points in both of those events, with Makayla Kelby leading the way finishing in first at both events.
"Discus felt really really good, really just went out there and attacked it and made sure to execute what we have been working on in practice and it worked out," Kelby said. "For shot, tired from doing both hammer and discuss before, but to be able to get a mark in and get the win for the team and the points is all that really mattered."
With Washington grabbing all the points possible in both of those events, it highlighted the depth that the team possesses in throwing events.
"It just shows how deep and also how we have people that are ready to step up to the plate even if it's an event that they don't really practice, just to be able to tell the coach, 'alright I've got this' and have the confidence and just do it shows a lot," Kelby said.
Washington will be back in action Friday, April 30 at the West Coast Relays in Fresno, California.
Other notes:
Jayden White finished in first place in the men's hammer throw with his throw of 62.83 meters. Just behind White in second place was Connor Jost for Washington with a throw of 61.40 meters.

Chase Smith took first place in the men's pole vault, clearing a height of 5.09 meters.

Ida Eikeng set a new PR and grabbed first place in the women's javelin throw with her throw of 165 feet and 5 inches
Naomi Smith won the 3,000 meter race with a time of 9 minutes and 30.93 seconds.

Washington swept in the men's 3,000 meter race with Issac Green finishing in first at 8 minutes and 8.13 seconds. Following Green in second and third was Tibebu Proctor and Luke Houser.

Olivia Rivera took first place in the women's 200 meter running a time of 23.91 seconds. 
Reach reporter Nathan Mathisen at sports@dailyuw.com. Twitter: @NathanMathisen
Like what you're reading? Support high-quality student journalism by donating here.