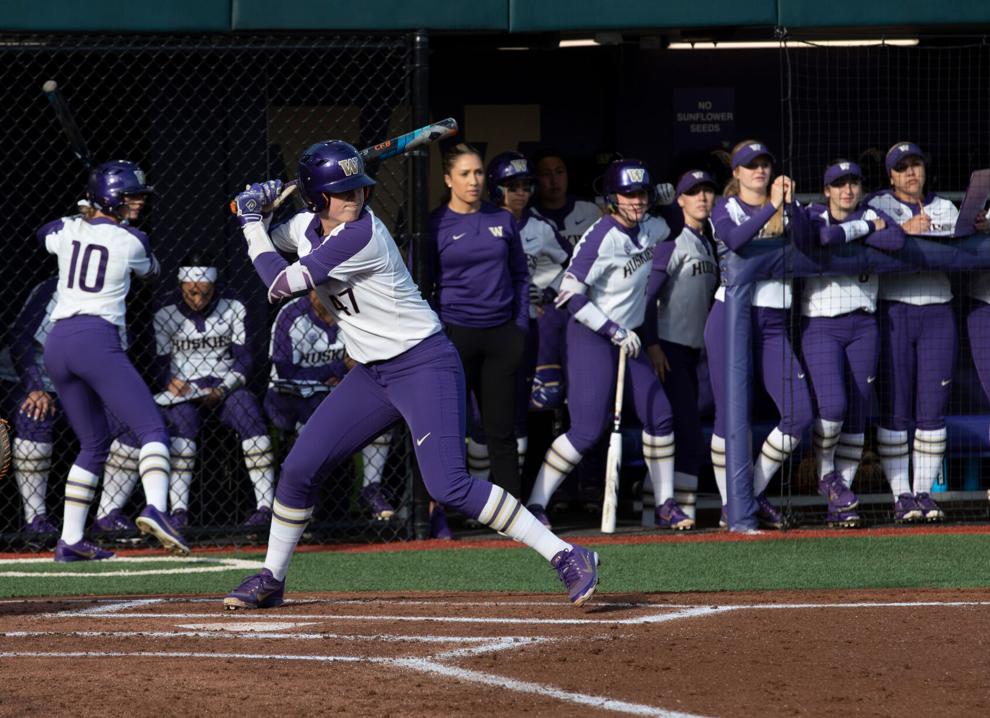 A day after getting roughed up in her first loss of the season, sophomore pitcher Kelley Lynch bounced back Saturday afternoon, throwing a complete game as the No. 2 Washington softball team run-ruled Utah State, 10-1.
Lynch got off on the right foot, sending the Aggies (1-7) down in order, striking out two batters in the first inning. It was all cruise control from there, as the sophomore struck out eight batters in six innings of work for her complete game of the season.
The Washington offense supplied plenty of support for Lynch too, scoring seven or more runs for the sixth time in just nine games. Sixth-year senior Morganne Flores got the Huskies' (8-1) offense going in the second inning with a solo home run, her third of the season.
Freshman Lilly Agan got the start for the second straight day, leading off the Huskies' third inning with an infield single. Flores added to her RBI total, clearing the bases with a double to make it a 4-0 Washington lead.
There was no slowing down for the Huskies, as they added three more in the fourth inning. Aided by an error and a walk, Washington pushed its lead to 7-0 as Agan recorded her second RBI of the season and fifth-year senior Sis Bates bagged the team's first triple of the year.
As the UW offense padded its lead, Lynch continued to dominate from the circle. A single with no outs in the third ended up being the only hit Lynch allowed on the day, retiring nine straight between the third and fifth innings.
Much of Lynch's success boiled down to improved command of the strike zone. Friday against Nevada, Lynch walked five and allowed four earned runs in just four innings of work. Against the Aggies, she walked just one.
The UW's scoring finished like it started, with Flores providing the fireworks.
After a 15-minute weather delay and a Utah State error, the bases were loaded yet again for Flores in the sixth, who laced one into the gap for a bases-clearing double to make it a 10-0 Washington lead. With seven RBIs, Flores finished the day just one RBI shy of tying the UW single-game record held by two players.
Fatigue may have been setting in for Lynch in the sixth, though, as she allowed two hits, a walk, and a run, before closing the door on the Aggies for good.
Washington will be back in action tomorrow for the final day of the Dixie State classic when it takes on Utah Valley at 10 a.m. The Huskies will then travel to California for a three-game series with San Diego State.
Reach Assistant Sports Editor Anthony Edwards at sports@dailyuw.com. Twitter: @edwardsanthonyb
Like what you're reading? Support high-quality student journalism by donating here.