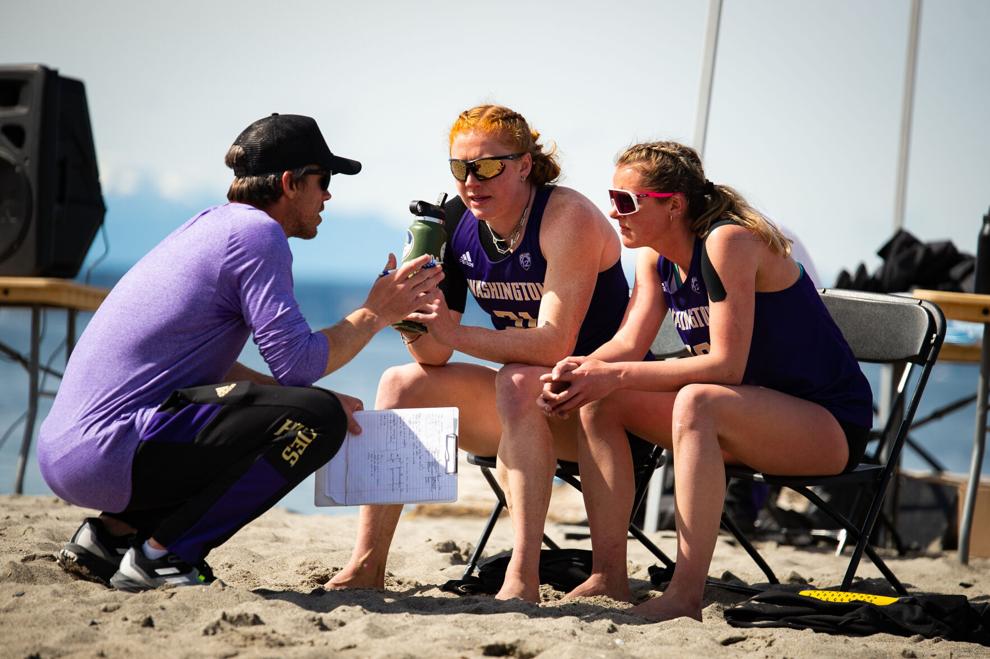 The Washington beach volleyball team suffered Sunday against No. 7 Grand Canyon and No. 11 California, in what were the final matches of the regular season, leaving Washington on a losing streak heading into the Pac-12 Championships next week.
The Huskies (11-18, 2-8 Pac-12) were unable to score a point against both the Antelopes (26-6) and the Golden Bears (23-11, 2-2 Pac-12), losing 5-0 in both matches. 
Everything changed for the Huskies on Sunday after star senior Chloe Loreen suffered an injury during the and match against Grand Canyon. Loreen and senior Natalie Robinson were winning 10-4 until they were forced to default. 
Due to this incident, the singular point Washington would have gained against Grand Canyon was lost.
Duo junior Paloma Bowman and junior Scarlett Dahl lost 21-14, 21-18, while duo freshman Audra Wilmes and redshirt freshman Maeve Griffin lost 21-12, 22-20, after putting up a fight in the second set.
Senior Emma Calle and senior Kyra Petersen lost 21-8, 21-9, while Shook and Yerex were the only pair to take their opponents to a third set, winning their first set 18-21 but losing their grasp on the next two sets 21-8 and 15-10. 
After Loreen's injury, the Huskies had to change their pairings heading into the match against the Bears.
Bowman and Dahl, who usually play together, took the No. 1 spot for this game while Robinson was now paired with Wilmes, their first pairing of the season. 
Other than the No. 1 duo, no pair was able to win a set against their Cal opponents. Bowman and Dahl won their first set 21-15 but lost the following two sets 21-15 and 15-12. 
In terms of Sunday's performance, Loreen's injury seemed to have a massive impact on the team. A general pattern for this season has been the No. 1 duo Loreen and Robinson being a sure point for Washington, but with the injury, Washington won't be able to rely on this duo scoring a point during the championships if Loreen is held out.
Washington has only a few days before it heads to Tucson, Arizona, where it looks to compete in the Pac-12 Championship, however, with Loreen's injury, there's no telling what this means for the Huskies.
Reach reporter Avantika Singh at sports@dailyuw.com. Twitter: @avantika.s03
Like what you're reading? Support high-quality student journalism by donating here.